Molly has found her forever family in Calgary.
---
Here is how our Calgary Pet Rehoming Team presented Molly to attract her new home: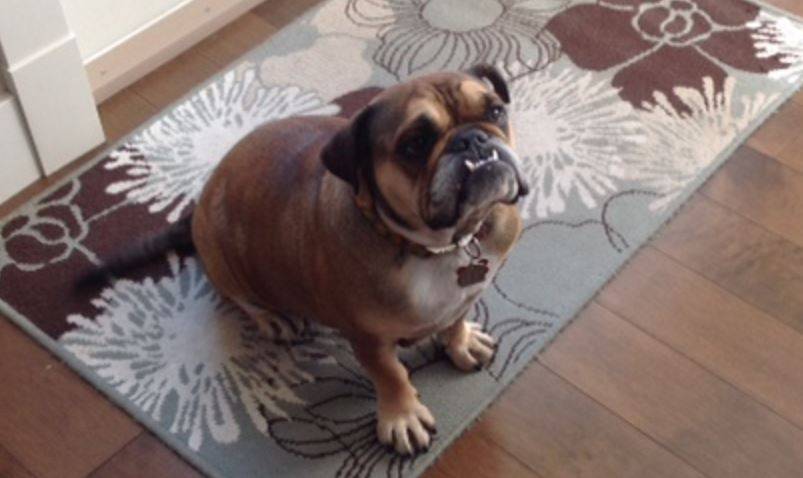 Meet Molly – Female English Bulldog For Adoption in Calgary AB
Molly is a typical English Bulldog – a face only a Mother could love, and an endearing, clownish personality. She is a real social butterfly – absolutely adores people of all ages and sizes, including small children. Molly is also good with other dogs. Cats…. not so much!
Molly is a healthy 1.5 year old dog. Like many English Bulldogs, she does have allergies, but they are well-controlled by adhering to a prescription diet.
Molly is a playful dog, but doesn't have a lot of energy. She is a great companion, content with a couple of short daily walks to keep her healthy and happy.  She is spayed, up to date on shots, house and crate trained. She has had some obedience training and already knows some commands such as sit and stay.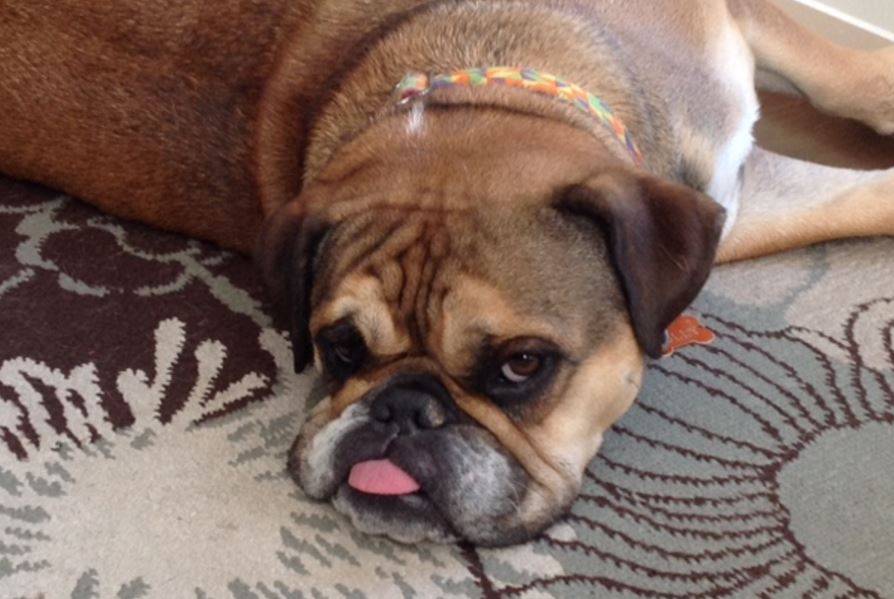 Molly needs a loving new home with owners who have lots of time to spend with her. She is being rehomed by her family, who are so sad to have to make this very difficult decision. Unfortunately, their busy schedules make it very difficult to give Molly the time, attention, companionship and playtime she needs and deserves. They want a better life for this sweet English Bulldog, and are hoping to find her the perfect home where she will be cherished.
Molly will be rehomed with all supplies the owners have on hand for her, veterinary records, and any advice or information about Molly that the new family may need.
Please adopt this sweet girl today. She can't wait to snort her way into your heart and home!
---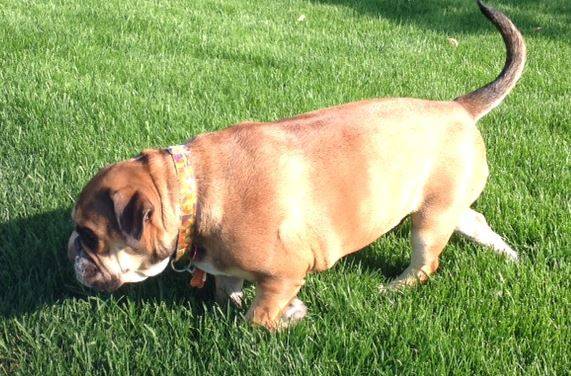 All About Molly Purebred English Bulldog For Adoption in Calgary Alberta Canada
Location: Calgary, AB, T3H0G9
Type of Pet: Dog
Breed: Female English Bulldog
Age: 1.5 years
Color/Coat Type: Tri colour brown, black some white
Size: 50 lbs
Health Issues: Allergies – well controlled by adhering to a special diet – see below.
Behavior Issues: No, nothing more than a puppy would.
Molly is:
Spayed, Crate Trained, House Broken, Leash Trained
Molly gets along with:
Toddlers, Small Children, Older Children, Dogs, Strangers
Personality
She is a great dog. Loves attention and to play. Great with our kids ages 4 and 9 and other kids. Will bark at the door bell but has never been aggressive. Loves to play and interact with other dogs and people, very social. She can sit and wait on command. Spayed and housebroken. As a Bulldog, low energy, 2 15-20 minute walks away and she sleeps a lot.
Food and Diet
Molly is currently on Other
Royal Canan GI fibre
Reason For Rehoming
We have found we are not able to give Molly all the attention she deserves.
Molly is a Female English Bulldog Dog Adopted in Calgary AB.