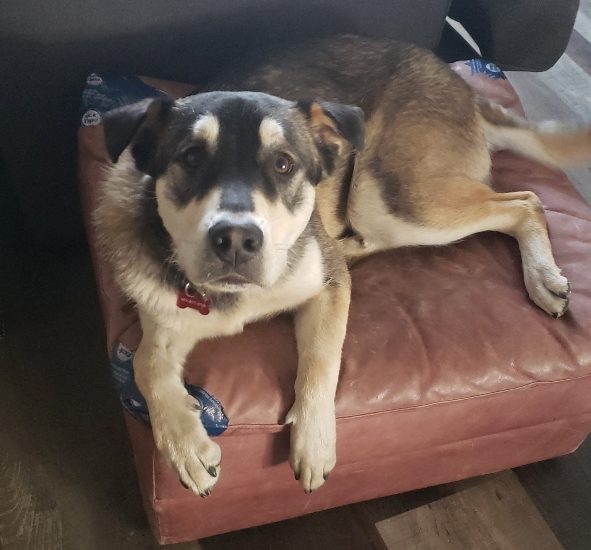 Adorable German Shepherd Yellow Lab Mix Dog For Adoption in Strathmore AB – Supplies Included – Adopt Kobe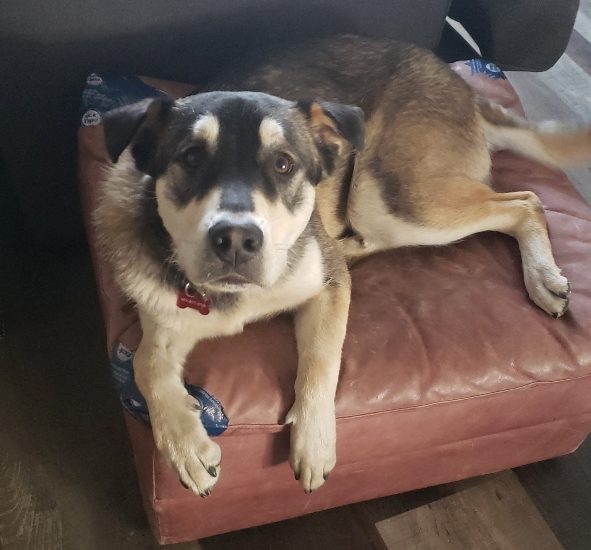 Meet Kobe – Pre-Loved German Shepherd Yellow Labrador Retriever Mix (German Sheprador) Dog For Adoption by Owner in Strathmore AB
Are you looking for an awesome family dog for your family? Meet Kobe, a very handsome and very sweet German Shepherd Yellow Lab mix (German Sheprador) for adoption near Calgary in Strathmore, AB.
Kobe is just 2 years old and is a large breed dog at 61 pounds. He has been neutered, fully vaccinated, house broken and crate trained, and is good with older, dog friendly children. Kobe has not spent time around cats.
Kobe has an amazing personality. He is a "love dog" in every way. He loves to cuddle and will give kisses to those he loves. He is a very friendly and lovable companion that has so much love and companionship to offer his forever family.
Kobe is looking for a home where he can be the only pet. He needs a house with a securely fenced, decent sized yard, and owners who have the time and ability to give him the playtime, exercise, companionship, love and care that he needs and very much deserves.
If you have room in your heart and home for this deserving German Shepherd Yellow Labrador Retriever mix dog, then please offer Kobe his forever home today. Kobe can't wait to show you the true meaning of unconditional love. Adopt this adorable German Sheprador today.
How To Adopt Kobe
Please fill out our online meeting request below. Once received and reviewed, our staff will ask the pets owner to reach out to you and arrange a meeting.
There is a $150 adoption/rehoming fee. Supplies and veterinary records will be included.
Questions about Kobe? Contact our Calgary dog rehoming team today.
Text "KobeSTRATHMORE" to (888) 833-2128. We look forward to hearing from you.
---
All About Kobe – German Shepherd Yellow Labrador Retriever Mix dog For Adoption in Strathmore AB
Name of Pet: Kobe
Location: Strathmore, AB, T1P 1L2
Type of Pet: dog
Breed of Pet: German Shepherd Yellow Labrador Retriever Mix
Sex of Pet: Male
Age of Pet: 2
Spayed/Neutered?: Yes
Health Problems: No
Behavior Issues: No
Up To Date on Vaccinations: Yes
Gets along with cats: Unknown
Gets along with dogs: No
Good with Children?: Good With Children aged 8 and up
House Broken?: Yes
Crate Trained?: Yes
Accessories Included: Crate, dog bed, toys and food dish, collar.
Kobe's Personality
Definitely live outdoors, loves cuddling, loves running, loves playing fetch
Kobe is an Amazing Companion Because He is:
Cuddles, kisses, loving, playful and friendly
Kobe's Favorite Toys, Foods, Activities?
Ropes, kongs, squeaky balls, bully sticks, rawhide, and Acana (red meat)
Why is Kobe Being Rehomed?
The pack dynamic isn't working
Kobe's Perfect Adoptive Home Will Be:
Friendly, kind, loving, patient, and respectful
Kobe – German Shepherd Yellow Labrador Retriever mix dog For Rehoming in Strathmore AB
Kobe is a German Shepherd Yellow Labrador Retriever mix dog for private adoption by owner in Strathmore AB. He is located close to the following towns and cities in AB:
Calgary AB,
Airdrie AB,
Okotoks AB,
High River AB,
Crossfield AB,
Drumheller AB,
Black Diamond AB,
Bassano AB,
Vulcan AB,
Three Hills AB,
Carstairs AB,
Nanton AB,
Didsbury AB,
Olds AB,
Strathmore AB,
Adopt this deserving German Shepherd Yellow Labrador Retriever mix dog in Strathmore AB today.