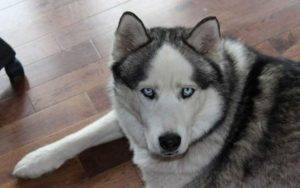 Hank has found his forever home on Vancouver Island.
Need to Rehome a Dog in Calgary and Area?
We specialize in helping caring owners find good homes for their dogs safely and effectively.
Contact our pet rehoming coordinator, or request pet rehoming services now.
Here is how our Calgary pet rehoming team presented Hank to potential adopters:
Meet Hank – Handsome 7 YO M Purebred Siberian Husky Dog  Calgary, AB Canada
Hank is such a sweet dog. He is very healthy at 7 years old, and has been fixed, is up to date on shots, and micro-chipped.
Hank is house broken and gets along well with people of all ages and sizes – and also other dogs.
Hank is an energetic boy who loves to be the center of attention. Some might call him "needy", but who doesn't love such a devoted soul?
Hank exudes love from his stunning blue eyes to his amazingly bushy silver tail that is always wagging.
Hanks owners love him so much. With the almost sudden addition of three little children to the home, giving Hank the attention, exercise and playtime he very much needs has been all but impossible.
Hank has become a sad boy, a bored boy and an anxious boy who has, at times, taken out his feelings on the home interior (but only when left alone).
Hank needs a loving home with people who can make him their focus, rather than an afterthought. He needs lots of exercise and playtime, and a doggie friend would be great to help keep his separation anxiety at bay.
Hanks owners will rehome him with all his supplies and vet records. All you need to add is lots of love and a safe, happy and healthy home where all his needs will be met.
Please offer this very special dog the loving, forever home he needs and deserves today. He can't wait to meet you and charm his way into your heart.
---
Location: Calgary, AB, T3M 1M6
Type of Pet: Dog
Breed: Siberian Husky
Age: 7 years
Color/Coat Type: White, black and grey with blue eyes.
Size: 65 lbs
Health Issues: No
Behavior Issues: Somewhat.
Hank is:
Neutered, Microchipped, Fully vaccinated, House Broken, Obedience Trained
Hank gets along with:
Babies, Toddlers, Small Children, Older Children, Adults Only, Dogs, Strangers
Personality
Gentle, gorgeous, quiet, energetic, great with kids. Cannot be left alone in the house or will destroy blinds, doorknobs and window screens to get out.
Food and Diet
Hank is currently on Other
Holistic Choice.
2 cups, twice daily.
Reason For Rehoming
Because we had twins and went from 1 kid to 3 little kids over night last all. When we moved to a new home to accommodate the growth, Hank has lost top billing for attention and leadership. I work 2 jobs and my wife is home alone with 3 little ones most days. Catering to his energetic ways and need for constant stimulation has been neglected. We love him, but he is moping and digging up the yard and getting out already.
Hank is a handsome blue eyed 65 pound male Siberian Husky dog for adoption in Calgary AB Canada, near Airdrie Okotoks Cochrane Banff Canmore Olds Drumheller High River Nanton Claresholm and not far from Edmonton Red Deer Lethbridge Brooks Medicine Hat AB Canada.