Meet Jasmine, Siberian Husky Mix Dog For Adoption in Calgary Alberta
Jasmine is a gorgeous Siberian Husky Yellow Labrador Retriever mix dog for private adoption to a loving rural home anywhere within a reasonable distance of Calgary, AB. This sweet and very pretty Husky Lab mix is 18 months old and weighs about 40 pounds – a medium sized dog. She is spayed, up to date on shots, very healthy, micro-chipped, house trained and ready-to-love.. She is best suited as an only-pet.
Jasmine has a wonderful personality and a lot of joy for life. She loves her humans with a passion, and has a very strong need to make sure all of her people are safe. Unfortunately, Jasmine considers other dogs and strangers to be a threat, and is constantly on self-imposed guard duty. This stress and anxiety that she creates for herself has been taking a toll on her tummy (she actually has "doggie Irritable Bowel Syndrome"), and it is clear that city living is simply not for Jasmine.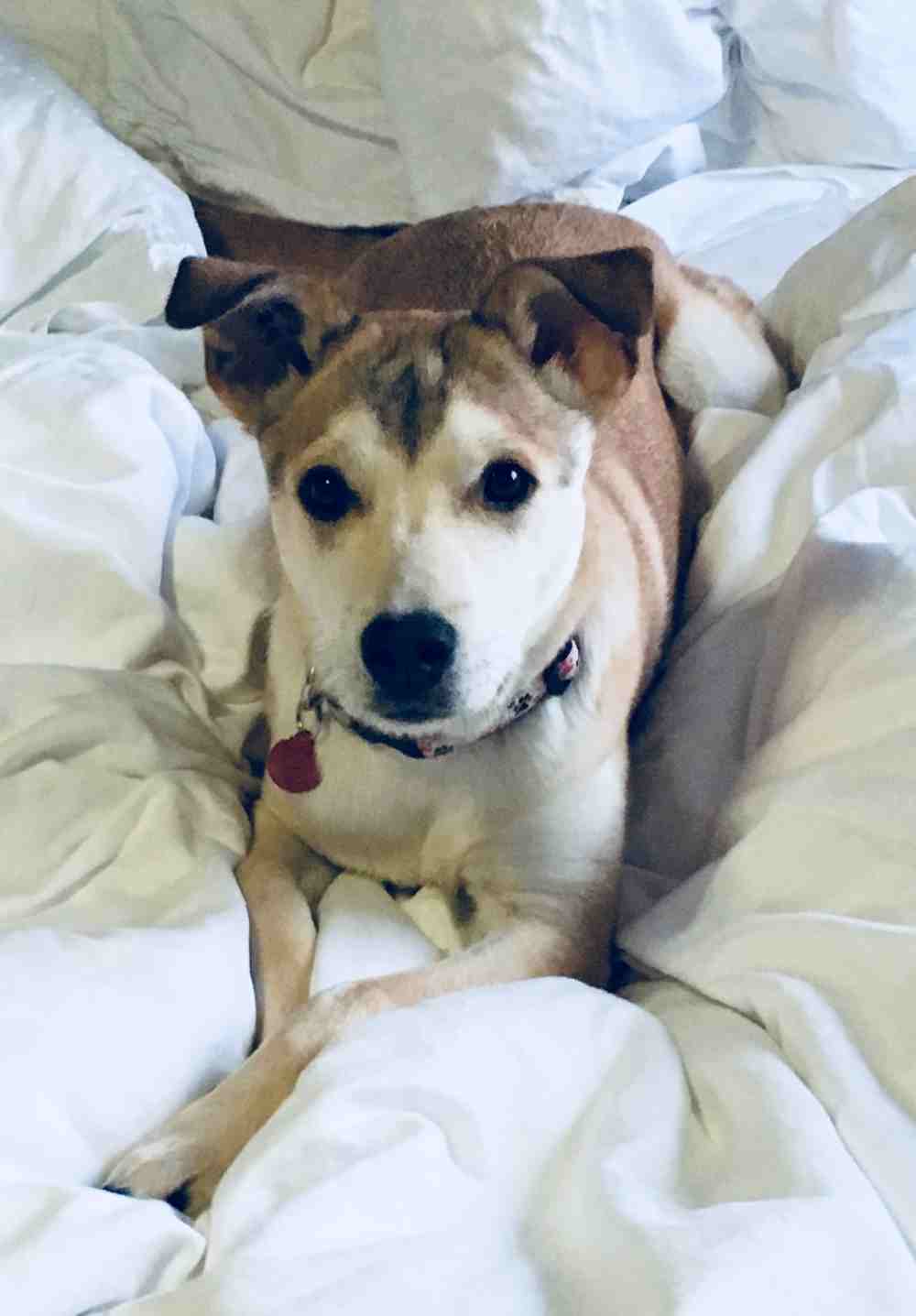 Jasmine is being rehomed by her owners, who love her to bits, and have really struggled to make the very difficult decision to rehome her. Jasmine is just far to overwhelmed with all the sights, sounds and smells of city living. She clearly needs a country home where she can enjoy being a dog without feeling on guard at all times.
Jasmine is looking for a forever home with a nice family who will cherish her and keep her safe, happy and healthy. As mentioned, she needs to be on an acreage or farm away from the chaos of the city. Her owners are willing to place her anywhere within a reasonable drive of Calgary. They want to find her the best situation in which she will live a happy life, and making a drive is well worth the effort.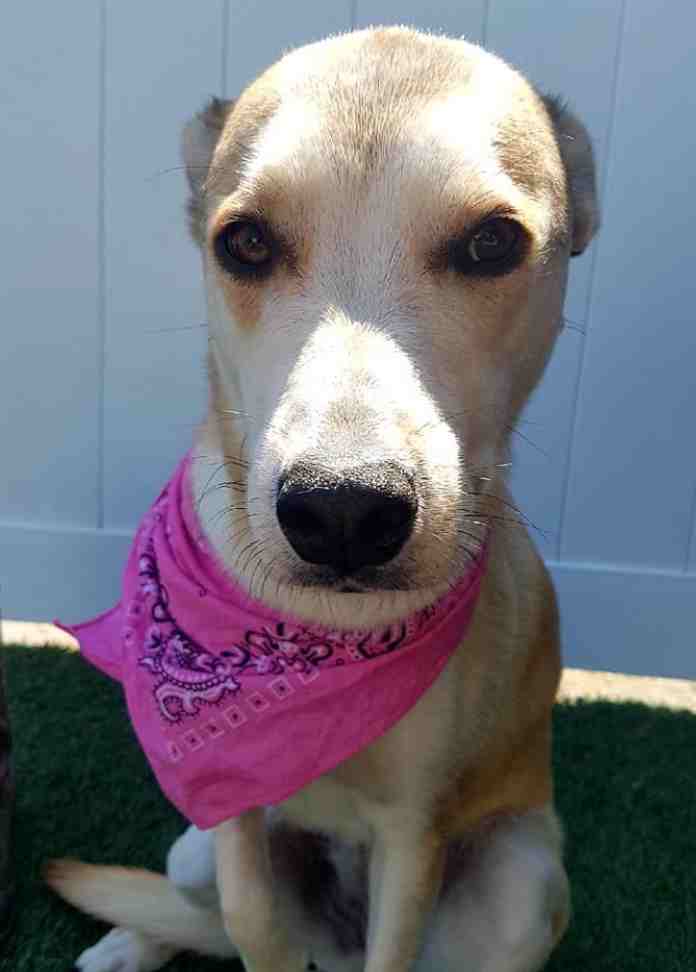 Jasmine will be rehomed with all the supplies her owners have on hand for her, along with veterinary records. Please offer this amazing Siberian Husky Yellow Lab mixdog the loving home she needs and deserves today.
There is a $75 adoption/rehoming fee. Supplies and veterinary records will be included.
Questions about Jasmine? Contact our Calgary Dog rehoming team today. Text "Jasmine" to (888) 833-2128 or email Jasmine@Dog-lover.us. We look forward to hearing from you.
---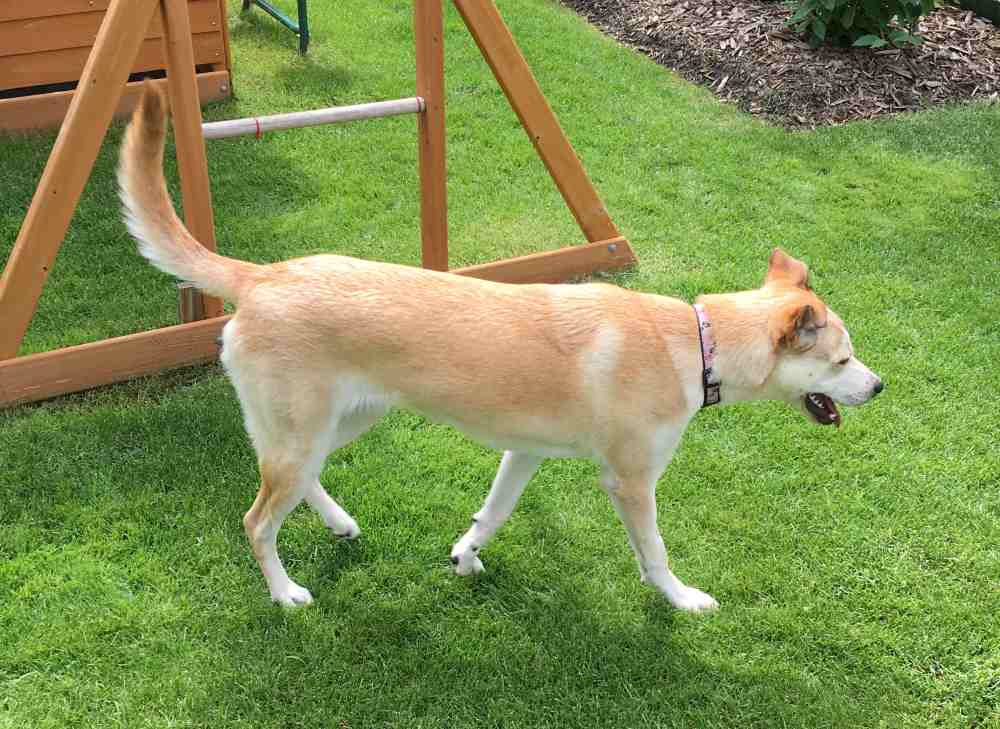 All About Jasmine – Lab Husky Mix Dog For Adoption in Calgary Alberta
Name of Pet: Jasmine
Location: Calgary, Alberta, T2z3r1
Type of Pet: Dog
Breed of Pet: Husky mix
Sex of Pet: Female
Age of Pet: 1.5 years old
Spayed/Neutered?: Yes
Health Problems: Yes When she gets stressed she tends to have diarrhea, sometimes with blood. This goes away quickly with her taking a vet prescribed medication.
Behavior Issues: Yes She is an anxious and fearful and this causes her to be skittish and reactive. When she encouters a dog she doesn't know or a person she will bark, pull on her leash, growl, lunge and jump. She will even do this with children and teenagers. She has on one occasion nipped at a younger child (5 years old) when she was startled by them but did not actually bite him, only scratched him. She has never shown any other aggression and is truly a gentle dog.
Up To Date on Vaccinations: Yes
Gets along with cats: Yes
Gets along with dogs: Yes
Good with Children?: Yes
House Broken or Litter Trained?: Yes
Crate Trained?: Yes
Accessories Included: We have a kennel, food dish, water dish, toys, bones, treats, leashes, coats, bed and food. We also have all her health records.
 Jasmine's Personality
There are many things I love about her. I love how she so lovingly looks into my eyes and licks my hand. I love how safe I feel with her on walks. I love how she plays with my children and how much joy she brings to them. I love when she comes up behind me and nudges me with her cold, wet nose. I love how trusting she is with me in this really scary world for her. I also love how she plays with the cats and will lick their little heads. I could go on and on!
Jasmine's Current Home Environment
We are a loud and active family. We have two young children and are always on the go. There are lots of people coming and going in our home. We live backing onto green space and so there is also lots of activity behind our house. We have a pretty big yard by city standards but even that seems small for her. We camp and go on long walks daily along the river.
Jasmine's Current Family:
We are a family of four. My husband works full time and I work 6-8 shifts a month. Given I am home most days, Jasmine is used to having people around all the time. She is kennel trained but when we leave the house she is left free. She goes to dog daycare when I work or a few times a week when I'm not working.
Jasmine's Favorite Toys, Foods, Activities?
She loves chewing!! She is a crazy chewer. She loves bones, stuffies, ropes and treats. I buy her raw uncooked bones from a local pet store and she loves these. She likes bully sticks, raw hide (which she gets occasionally) and sweet potato treats. She also likes antlers, hooves, horns, etc. Pretty much if you can chew it she will love it. She also loves her snuffle mat, tricky ball and another toy that treats are hidden in. She likes her Kong stuffed with peanut butter and loves a piece of cheese in the afternoon. She loves carrots, cucumber and apples. She loves walks, except when it's too cold. She loves looking out the window. Jasmine is a digger and likes to dig holes in the yard. She loves daycare and gets very excited to go. She's super good with the other dogs and staff but is initially fearful and standoffish when first entering the puppy room she frequents there. She's never had an issues there but is reactive when we encounter other patrons or dogs in the reception area.
Cute Jasmine Story:
Jasmine will sometimes put her paw on my arm and pull it towards her if she wants to be petted. It's super cute when she does this.
Why is Jasmine Being Rehomed?
Due to her reactivity from being fearful as we are concerned our home environment is too stressful and stimulating for her, thus causing her more stress.
Jasmine's Perfect Adoptive Home Will Be:
We want kind, loving, patient and compassionate people. They must love dogs and be willing to put in the effort she will require. Preferably someone with experience with reactive dogs. We want a quiet home for her with preferably older kids. She would probably do well in a home with another dog once she felt comfortable around the dog. Ideally someone who lives on an acreage or rural property so that outside stimulus is limited and she has lots of room to run and explore. She definitely needs to be an indoor dog with the ability to go outside when she needs and wants to.
How To Adopt Jasmine
If you are interested in adopting this special Husky mix Dog For private rehoming in Calgary Alberta, please fill out our online meeting request below. Once received and reviewed, our staff will ask the pets owner to reach out to you and arrange a meeting.
Questions about Jasmine? Contact our Husky mix Dog rehoming team today. Text "Jasmine" to (888) 833-2128 or email Jasmine@Dog-lover.us. We look forward to hearing from you.
Jasmine – Husky Mix Dog For Rehoming in Calgary Alberta
Jasmine is a Husky mix Dog for private adoption by owner in Calgary Alberta. This pet is located close to the following towns and cities in Alberta:
Adopt this sweet Husky mix Dog in Calgary Alberta today.