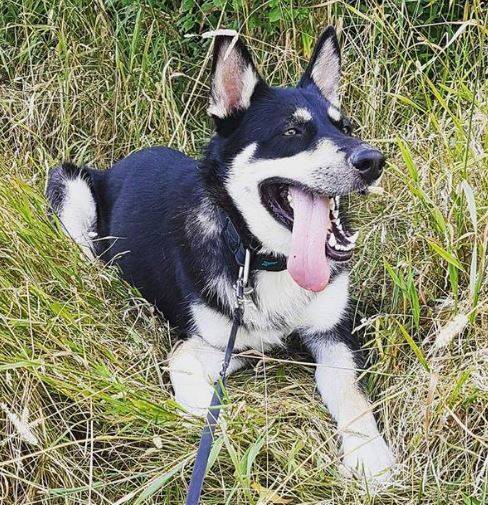 Meet Charlie – 1 YO Female Siberian Husky German Shepherd Mix Dog For Adoption in Mississauga ON
Charlie is the ideal family dog. She is just a year old – a lovely mix of German Shepherd and Siberian Husky. Charlie is very healthy, spayed and ready to love. She is house broken and very good with people and pets. She is very good with children – even toddlers.
Charlie is at the age where she has quite a bit of energy. She needs to be in a home with people who can give her the exercise, playtime, love and attention she needs and deserves. Her owner, a young man working very long hours, is unable to provide her with the right environment. He worries about her constantly, and wants her to have the very best home.
Charlie needs a home with a large, securely fenced yard to play in. She would love some active kids to play with her, and a family who do not have to go and leave her all alone for long periods of time. She is a very smart, very devoted dog. She is going to mature into the best companion ever.
If you would like to offer Charlie the home she needs and deserves, please get in touch. We will be happy to arrange for you to meet Charlie and her owner.
[button link="https://pet-net.net/adopt-a-pet/" size="large" variation="hotpink" align="center"]Request to Meet Charlie Here![/button]
There is a $75 adoption/rehoming fee. Supplies and vet records will be included.
---
All About Charlie – Female German Shepherd Husky Mix Dog For Adoption in Mississauga Ontario
Location: Mississauga, Ontario, L5A 3M2
Type of Pet: Dog
Breed: Shepherd/Husky
Age: 1 year
Color/Coat Type: Black, White, Tan
Size: Approx 70 pounds
Health Issues: no
Behavior Issues: no
Charlie is:
Spayed
Charlie gets along with:
Babies, Toddlers, Small Children, Older Children, Adults , Dogs, Cats
Personality
Very friendly, loves everything and everyone. Loves to run, and play with all dogs.
Great with kids.
Food and Diet
Charlie is currently on Other
Performatin Adult Dog Food
Reason For Rehoming
Single, 23 years old. Not as financially stable as I would need for dog. New job has me working long hours that I can't be with her. Constantly coming home to messes in the house as she is bored. Needs a lot of stimulation, as she is only still a puppy.
How to Adopt Charlie
If you would like to consider offering Charlie a loving, forever home, please fill out our Request To Meet A Pet form here:
https://pet-net.net/adopt-a-pet/
Once received, we will contact you to discuss your request and set up a mutually convenient time to meet Charlie and their owner in their home.
Charlie is a German Shepherd Siberian Husky mix Dog For Adoption in Mississauga ON. Adopt Charlie today.