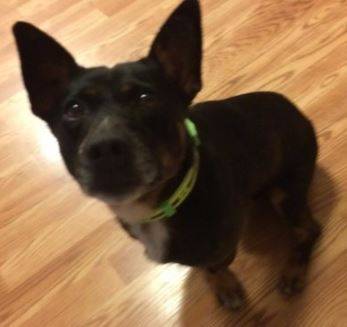 Meet Murphy – A Frenchie Chihuahua Mix Dog For Adoption in San Leandro California
Can you guess my breed? Many have tried, but nobody is completely sure. I look a bit like a miniature German Shepherd! My rehoming coordinator thinks I may be part Frenchie and part Chihuhua – and maybe some Miniature Dachshund, judging from the appearance of my feet.  At just 19 pounds, I am definitely cuter than a bug's patoozee – no matter what breeds went into making me!
I am just 4 years old, and mine is a rags-to-riches story. My foster owners found me as a stray in very bad shape on the mean streets of Modesto. She and her husband took me to the vet and got me all checked out, then nursed me back to health – into the amazing little creature you see before you!  I am pretty healthy, although the vet found a minor problem with my back, which may cause me to have some arthritis as I get older. It doesn't hold me back much at all, although sometimes I feel a bit stiff, and don't like to go outdoors to do my business (who would?)
I am 90% house broken, and for the remaining 10% of the time, I would probably do very well learning to use puppy pee pads or an indoor potty. I am so sweet and devoted that I am definitely worth the effort.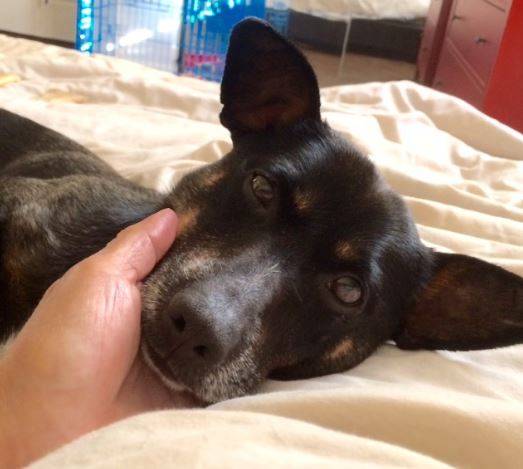 My foster Mom loves me so much, but unfortunately I do not get along with her other dog, who was there before me. I've probably had some nasty run-ins with other large dogs, so my anxiety around them gets the best of me. I would dearly love to be in a home without other dogs, where I can love on my humans and not have to share. I would be fine with dogs my size, too. It is just the big-uns that bother me.
I am a sweet, sensitive soul. I bring joy and companionship to life. I am a little furry Phoenix, having risen from the ashes of my former street life. I would so dearly love to find my forever home with humans who will cherish me and keep me safe, happy and healthy for the rest of my life.
I will be rehomed with supplies and vet records. I can't wait to meet you and snuggle up with you. Please offer me a loving home today.
Love and licks,
Murphy the Marvelous Mutt
[button link="https://pet-net.net/adopt-a-pet/" size="large" variation="hotpink" align="center"]Request to Meet Murphy Here![/button]
There is a $75 adoption/rehoming fee. Supplies and vet records will be included.
---
All About Murphy – Frenchie Chihuahua Mix For Adoption in San Leandro CA
Location: San Leandro, California, 94579 near Oakland and San Francisco
Type of Pet: Dog
Breed: A mix – looks to be French Bulldog and Chihuahua – possibly Miniature Dachshund
Age: 4
Color/Coat Type: Black and Tan with white
Size: 19lbs
Health Issues: Minor spine malformation – may have some arthritis as he gets older.
Behavior Issues: Anxious around large dogs – needs to be an only dog – or in a home with calm, smaller dog. (Murphy's size or smaller)
Murphy is:
Neutered, Microchipped, Fully vaccinated, Crate Trained
Murphy gets along with:
Older Children, Adults, Small Dogs, Strangers
Personality
Sweet, loves to be with people, stubborn at times,
Food and Diet
Murphy is currently on Blue Buffalo
Reason For Rehoming
Murphy found us about 2 months ago in Modesto California while I was doing a job. He was homeless and in bad shape.
I contacted the authorities and was told Animal control was closed (9 pm) so I could either leave the dog where I was or bring him home. I couldn't leave the dog. He was malnourished and absolute mess.
I brought him home to an already 3 dog family hoping it would work. I took him to the vet because he walked funny but in a cute way. That's when the X-rays were done and it turns out his spine has a little abnormally. This may cause arthritis in the future.
Unfortunately, he doesn't like our dog Moses who is the largest of the 3 dogs. We've tried training with a trainer and I don't think "we" did well.
Murphy is a really great dog that needs to be the only dog if possible. He's very independent and just loves attention such as belly rubs. We tried to find his original owner but never received a response.
He's semi potty trained but because of this spine issue I tend to think he may be inconsistent at times. We've had him neutered and micro chipped. His vaccinations are up to date. We love him!!! It's just been so stressful with the dogs fighting.
How to Adopt Murphy
If you would like to consider offering Murphy a loving, forever home, please fill out our Request To Meet A Pet form here:
https://pet-net.net/adopt-a-pet/
Once received, we will contact you to discuss your request and set up a mutually convenient time to meet Murphy and their owner in their home.
Murphy is a Frenchie Chihuahua Miniature Dachshund mix dog for Adoption in San Leandro, CA near  Oakland San Francisco Fremont San Jose Stockton Modesto Sacramento Ashland San Lorenzo Cherryland Castro Valley Alameda Hayward Fairview Moraga Piedmont Oakland San Ramon Orinda Danville Alamo Lafayette Mulford Brookfield Village Mulford Gardens Elmhurst Lorenzo Station Ashland Eastmont Robert Lockwood Gardens San Lorenzo Seminary Park Melrose Cherryland Castro Valley Fernside Russell City Alameda CA.
Adopt Murphy the small mix breed (Chihuahua French Bulldog Miniature Dachshund) today.