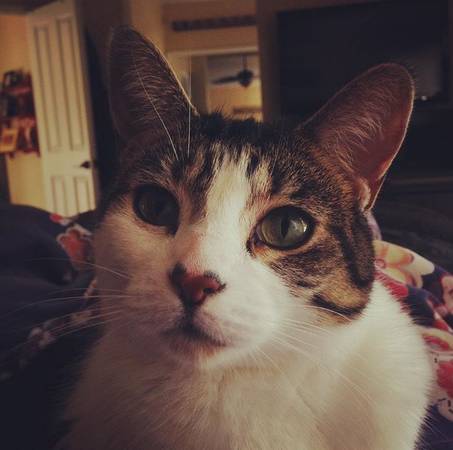 ADOPTED! Tabby Tuxedo Cat Encinitas CA – 8 YO Female Sweet Sano
Sano has found her forever home!
Need to rehome a cat, kitten dog or puppy in San Diego and area?
Contact our pet rehoming team today.
---
Here is how our San Diego Pet Rehoming team presented Sano to attract her forever family:
Sano is a very pretty and sweet little white cat with tabby markings for adoption in Encinitas CA, near San Diego. She is just 8 years old, very healthy, spayed and up to date on shots. She is looking for a loving home without dogs chasing her. She gets along well with cats and respectful children. She is cuddly, playful, funny and very cute! Please offer Sanyo a loving home today.
Hi, My name is Sano!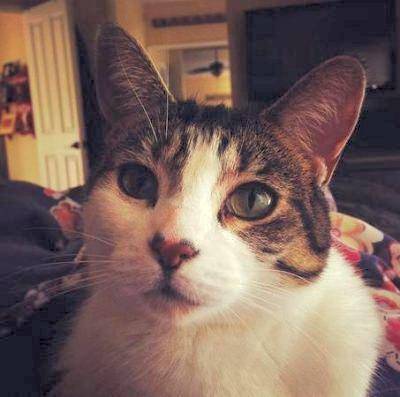 ---
ALL ABOUT SANO
Location: Encinitas, CA, 92024
Type of Pet: Cat
Breed: Domestic Medium Hair
Age: 8
Color/Coat Type: White with Brown Spots
Size: 6 lbs
Health Issues: N/A
Behavior Issues: N/A
Sano is:
Spayed, Fully vaccinated, Litter Trained
Sano gets along with:
Babies, Toddlers, Small Children, Older Children, Cats
Personality
Sano is a sweet kitty and will take time to adjust to new surroundings. She has moved with the Military quite a bit, and always takes a couple of weeks to adjust to her new home. She prefers females, but adapts to males as well. She loves to cuddle, especially at night in bed where she sleeps under the covers with you.
When she plays, she runs around the house like a mad woman and is actually quite talkative, especially when you have a treat or just got home! Her favorite thing to do is wait under the bed for someone to walk by, and she runs out and play attacks the legs… it is quite comical. She likes cat nip, toy mouses, and moist treats. She doesn't mind dogs, but my dogs were obsessed with her and chased her non-stop. She lived with another cat and they cuddled and were best friends.
Food and Diet
Sano is currently on Blue Buffalo
Free feeding
Reason For Rehoming
I recently went through a divorce with 4 animals (2 dogs and 2 cats). I am not able to buy another home by myself, and after trying for over a year, cannot find a place that will rent to someone with 4 animals. Also, my 2 dogs loved to chase Sano so she spent most of her time hiding under the bed or in the closet and she deserves to be in a home where she can be free to roam the entire house and dog free!