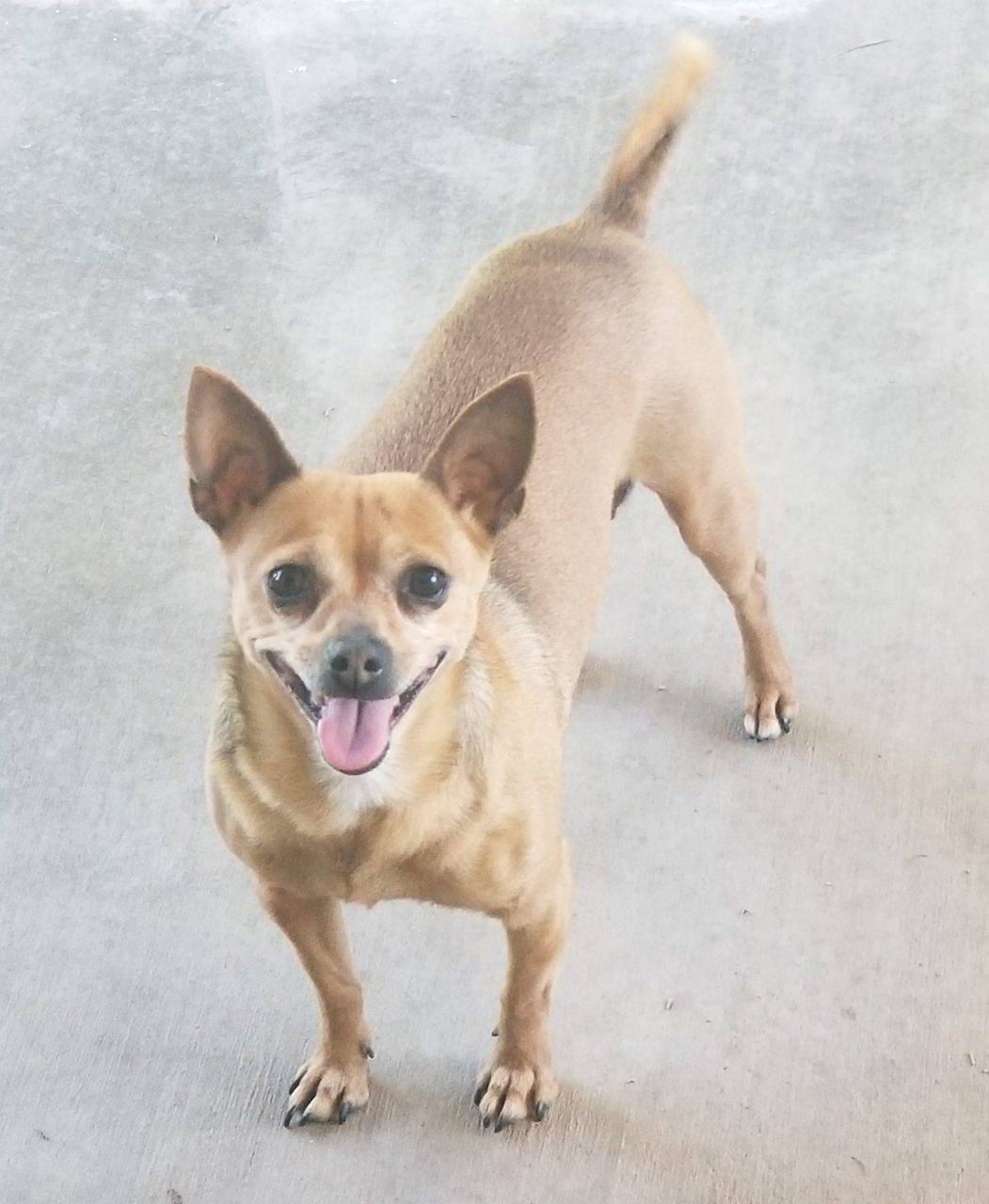 Chihuahua Frenchie Mix For Adoption in Murrieta CA – Meet Phoebe
Meet Phoebe, French Bulldog Chihuahua Mix Dog For Adoption in Murrieta CA
Just 6 years old, Phoebe is a sweet 9 pound Frenchie Chihuahua mix dog for adoption to a loving home in or near Murrieta. California. Everybody loves French Bulldogs for their friendliness. Chihuahuas are prized for their devotion and desire to always be near their owner. Phoebe is definitely the best of both breeds!
Phoebe is in good health. She is spayed, up to date on shots, housebroken and well behaved. She is good with other dogs, cats and respectful children.
Phoebe is being rehomed by her owner, who has had changes in his work schedule which require long hours and extensive travel. Phoebe hardly ever gets to see him, and is spending more and more time being boarded. This is not good for Phoebe or her owner, who is spending a fortune on dog care.
Ched, the owner, loves Phoebe very much, and is hoping to find her a loving home where she will have lots of companionship and cuddles. She is such a lovely little dog that she will add lots of love, joy, laughter and companionship to her new home.
If you have room in your heart and home for this sweet little fawn colored Chihuahua/Frenchie mix, please offer her a forever home today. She can't wait to charm her way into your heart and home.
There is a $75 adoption/rehoming fee. Supplies and veterinary records will be included.
Questions about Phoebe? Contact our Murrieta Dog rehoming team today. Text "Phoebe" to (888) 833-2128 or email [email protected] We look forward to hearing from you.
---
All About Phoebe – Chihuahua Frenchie Mix Dog For Adoption in Murrieta CA
Name of Pet: Phoebe
Location: Murrieta, CA, 92563
Type of Pet: Dog
Breed of Pet: Chihuahua French Bulldog
Sex of Pet: Female
Age of Pet: 6
Spayed/Neutered?: Yes
Health Problems: No
Behavior Issues: No
Up To Date on Vaccinations: Yes
Gets along with cats: Yes
Gets along with dogs: Yes
Good with Children?: Yes
House Broken or Litter Trained?: Yes
Crate Trained?: Unknown
Accessories Included: Everything the owner has on hand for Phoebe will be passed on to the new owner.
Phoebe's Personality
Phoebe is a typical Chihuahua. She loves being cuddled and to be up in your lap, but is also full of fun and loves to play with her toys like a puppy.
Phoebe's Current Home Environment
Single man who travels a lot for work. She is left alone far too much, and needs human company.
Phoebe's Favorite Toys, Foods, Activities?
Why is Phoebe Being Rehomed?
I travel for work and need to re-home.
Phoebe's Perfect Adoptive Home Will Be:
Phoebe will do best in any home in which she gets lots of companionship and attention. Ideally, a home with seniors, retired dog lovers or work-from home people would be best.
How To Adopt Phoebe
If you are interested in adopting this special Chihuahua Frenchie mix Dog For private rehoming in Murrieta CA, please fill out our online meeting request below. Once received and reviewed, our staff will ask the pets owner to reach out to you and arrange a meeting.
Questions about Phoebe? Contact our Chihuahua Dog rehoming team today. Text "Phoebe" to (888) 833-2128 or email [email protected] We look forward to hearing from you.
Phoebe – Chihuahua Frenchie Mix Dog For Rehoming in Murrieta CA
Phoebe is a French Bulldog Chihuahua Dog for private adoption by owner in Murrieta CA. This pet is located close to the following towns and cities in CA:
Hemet CA
East Hemet CA
San Jacinto CA
Rancho Santa Margarita CA
Vista CA
San Clemente CA
San Juan Capistrano CA
Oceanside CA
Adopt this sweet Chihuahua Frenchie Mix Dog in Murrieta CA today.