Extra Special Tuxedo Tabby Cat For Adoption in Okotoks AB – Adopt Easton
Looking for a special tabby cat for adoption in Okotoks, AB? From her little white paws and fluffy tummy to her cute pink nose and whiskers, Easton is one of those adorable little cats that easily steal your heart within moments of meeting her. Because of cat allergies in her family, this 4 year old, 7 pound tuxedo tabby cat is looking for a special new home with owners who will cherish her and keep her safe, happy and healthy.
Meet Easton, Tuxedo Tabby Cat For Adoption Near SE Calgary AB
Easton is a sweet female tuxedo tabby cat for adoption to a very loving home in or near Heritage Pointe, AB. This very special young cat is just 4 years years old and is quite small, weighing about 7 pounds. Easton has been spayed and litter trained. Easton is very healthy. She is spayed and up to date on shots. She is an adorable, purring bundle of love!
Life plays nasty tricks sometimes, and such is the case for Easton and her owners. They adopted her with the intention of being her forever family, but unfortunately have developed severe cat allergies, which makes living with Easton and being healthy impossible.
They have tried many things to alleviate the allergy symptoms, but nothing has worked. With winter here and heaters on, things have become even worse.
Easton's owners have made the very difficult decision to find her another home. They want the very best for her.
The best home for Easton:
Because she can be shy and frightens easily, it is best for her to be placed in a home where she can be the only pet. She is afraid of children for the most part, but would be fine with quiet, respectful kids 12 and older.
In a quiet home where she will feel safe and secure, her adorable personality will shine through. She likes to be cuddled (when she is in the mood, like most cats) and is playful and engaging. There is nothing sweeter than when she rolls on her back for tummy rubs!
If you have been looking for a "ready to love" cat with a charming personality, please consider offering Easton her forever home. She will come equipped with all supplies (including an expensive litter box bench and 2 scratching posts). All you need to add is a safe, quiet, no pets or small children home, and lots of unconditional love.
Easton can't wait to meet you and purr her way into your heart and home. Adopt this special tuxedo tabby cat in the Calgary area today.
There is a $50 adoption/rehoming fee. Supplies and veterinary records will be included.
Questions about Easton? Contact our SE Calgary cat rehoming team today. Text "Easton" to (888) 833-2128 or email [email protected] We look forward to hearing from you.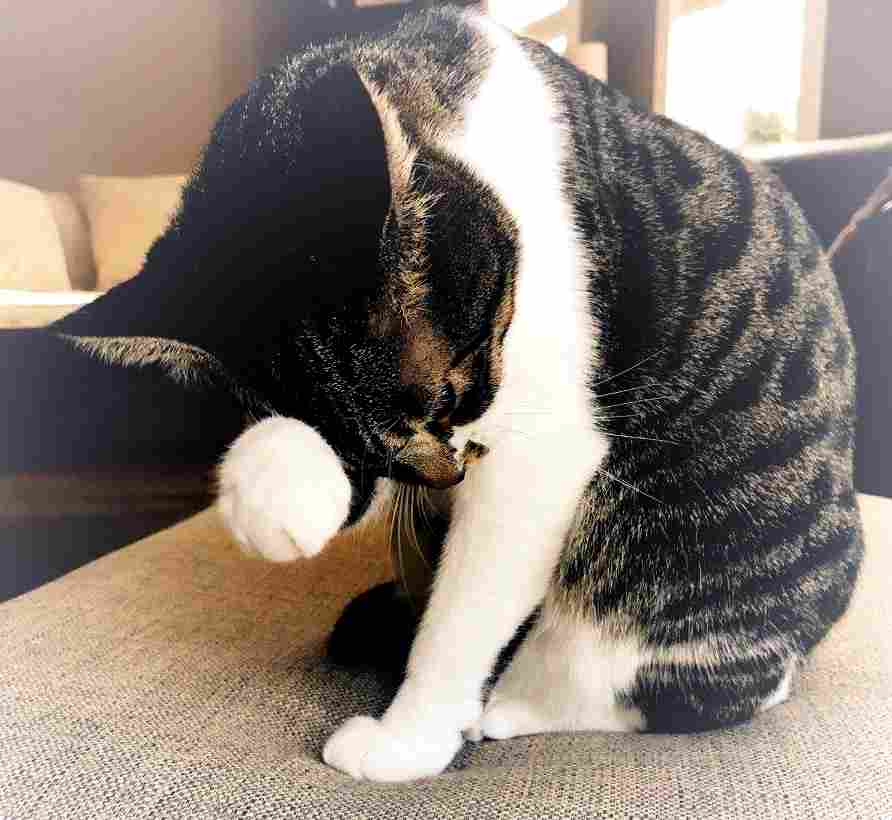 ---
All About Easton – Tuxedo Tabby Cat For Adoption in Okotoks AB
Name of Pet: Easton
Location: SE Calgary, AB, T1S 4J6
Type of Pet: tabby cat for adoption in Okotoks
Breed of Pet: Domestic Shorthair Tuxedo Tabby
Sex of Pet: Female
Age of Pet: 4 years
Spayed/Neutered?: Yes
Health Problems: No
Behavior Issues: No
Up To Date on Vaccinations: No
Gets along with cats: No
Gets along with dogs: No
Good with Children?: No
Litter Trained?: Yes
Accessories Included:
beautiful white wooden bench that holds a cat litter box
food and water dish
2 cat scratch posts
Easton's Personality
She is good company for our Frenchie.
She is cute and likes to play.
She is sweet, has a little heart shaped white print on her – she is small in size for a grown cat.
Soft fur and loves to get a belly rub.
When I carry her she looks up at me – and has cute expressions…
Easton's Current Home Environment
clean and quiet – she has run of the house – has never been outside in her life and has no street smarts
2 adults
1 teen at home
1 teen home half the year and away the other half playing hockey
usually quiet, calm, clean….
1 french bulldog 1 year 3 months old…they play well – but she is very scared of most dogs – freaked out when we tried to do photos with Santa bc she was so scared of other dogs
Easton's Favorite Toys, Foods, Activities?
lays on a chair most of the time…
will randomly run around the house from time to time
lays on her back for belly rubs…
sometimes plays with our puppy…
likes a stuffed mouse with a long tail…
 Why is Easton Being Rehomed?
Severe cat allergies – see above.
Easton's Perfect Adoptive Home Will Be:
Clean & quiet home.
Couple or single person.
If there are kids – I think a kind gentle teenager who will let her come to them and not force it. She is very much an (on her terms) kind of cat.
I prefer no pets – she gets upset when cats come to the window….and she is scared of all dogs that are not our dog.
Additional Comments:
At first I think I would like to know she is safe, loved, kept clean….this is very hard for me. I am trying to allow myself to move forward in life without a cat….but she matters to us. Her next and hopefully final home is very important to me.
How To Adopt Easton – Tuxedo Tabby Cat For Rehoming in Okotoks, AB
If you are interested in adopting this special Tuxedo Tabby For private rehoming in SE Calgary AB, please fill out our online meeting request below. Once received and reviewed, our staff will ask the pets owner to reach out to you and arrange a meeting.
There is a $50 adoption/rehoming fee. Supplies and veterinary records will be included.
Questions about Easton? Contact our Tabby cat rehoming team today. Text "Easton" to (888) 833-2128 or email [email protected] We look forward to hearing from you.
Easton – Tuxedo Tabby For Rehoming in SE Calgary AB
Easton is a Tuxedo Tabby for private adoption by owner in Heritage Pointe AB. This pet is located close to the following towns and cities in AB:
Calgary
Airdrie
Cochrane
Crossfield
Okotoks
Irricana
Black Diamond
Strathmore
Carstairs
High River
Didsbury
Olds
Nanton
Sundre
Three Hills
Vulcan
Adopt this sweet Tuxedo Tabby cat in Okotoks AB today.