Chihuahua Rat Terrier Mix Dog For Adoption in Cibolo Texas – Meet Benjamin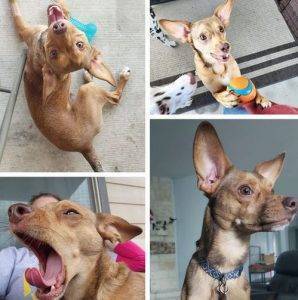 Looking for a small dog for adoption in Cibolo, Texas and area?
🎉🐾 Roll out the red carpet and prepare to meet the star of the show: Benjamin! This lovable mix of Rat Terrier Chihuahua Mix and Chihuahua is ready to leap into your heart and home in or around Cibolo, Texas. A special soul with a unique spark, Benjamin is just 3 years old and a trim 15 pounds.
You might be wondering, what makes Benjamin such a gem? Here are 5 things that make him a canine superstar:
1️⃣ Conversationalist Extraordinaire: Benjamin is not your average dog – he talks! Yes, you read that right. Sit down with him for a heart-to-heart, and he'll smile and chatter right back. Prepare for some adorable dialogues. 🐾💬
2️⃣ The Fetch Fanatic: Benjamin's passion for fetch is unmatched. He's the kind of pup who won't take no for an answer, and cleverly outwitted those sneaky ball throwing machines. Get ready to put your throwing arm to good use! 🎾💨
3️⃣ Tug-of-War Titan: Despite his size, Benjamin is a formidable competitor in tug-of-war. He's been known to out-tug a 65lb Dalmatian. A small dog with a big heart (and some serious muscle), indeed! 💪🐶
Despite his undeniable charm, Benjamin is in need of a new forever home due to circumstances beyond his owners' control. He's a wonderful dog who has so much love to give, and his owners want nothing more than to find him a home where he'll be loved unconditionally and kept safe, happy, and healthy.
Could that home be yours? If you have room in your heart and home for this extraordinary Rat Terrier Chihuahua Mix-Chihuahua mix, please consider giving Benjamin the loving forever home he deserves. He's eagerly waiting to show you the true meaning of unconditional love. ❤️🏠🐕
Ready to meet Benjamin? He's ready to meet you! 🌟🐾
---
Meet Benjamin | About Benjamin | Personality | Why Rehoming? | Location | Adopter Requirements | How to Adopt
---
Meet Benjamin – Pre-Loved Rat Terrier Chihuahua Mix dog For Adoption by Owner in Cibolo Texas
Benjamin is a Male Rat Terrier Chihuahua Mix dog for adoption to a very loving home in or near Cibolo, Texas. This very special dog is 3 years old and weighs 15 pounds
5 Amazing Things About Benjamin:
This is a potentially GREAT dog, but he's going to need some work before that's true.
• He actually talks to you. If you sit down and talk to him, he'll smile and chatter right back. It's insanely cute.
• He LOVES to play fetch. I mean to the point that he'll drive you nuts until you comply. He figured out how the ball throwing machines work and catches the ball before it goes anywhere. No shortcuts with this sweetheart.
• Benji is an EXPERT tugger. He consistently kicks my 65lb Dalmatian's ass when it comes to tug. 🤣
Benjamin's owners are very sad to have to rehome their cherished dog, but circumstances beyond their control have made rehoming a must-do.
Benjamin's owners are hoping to find the right home for their cherished dog, where this deserving dog will be loved unconditionally and kept safe, happy, healthy and well-cared-for.
If you have room in your heart and home for this deserving Rat Terrier Chihuahua Mix dog, then please offer Benjamin a loving, forever home today. Benjamin can't wait to show you the true meaning of unconditional love.
---
How To Adopt Benjamin
Please fill out our online meeting request form via the button below. Once your application is received and reviewed, our staff will ask the pets owner to reach out to you and arrange a meeting.
There is a $150 adoption/rehoming fee. Supplies and veterinary records will be included.
Questions about Benjamin? Contact our Cibolo dog rehoming team today. Just email [email protected] and a member of our rehoming team will get back to you asap.  We look forward to hearing from you!
---
All About Benjamin – Rat Terrier Chihuahua Mix dog For Adoption in Cibolo Texas
Name of Pet: Benjamin
Location: Cibolo, Texas, 78108
Type of Pet: dog
Breed of Pet: Rat Terrier Chihuahua Mix
Sex of Pet: Male
Age of Pet: 3
Spayed/Neutered?: Yes
Health Problems: No
Behavior Issues: Yes This dog has been alone for most of his life and as a result, he's clingy and attention starved. Over the past few months, he's definitely had more socialization time and I've seen great improvements in him, but he's still got a ways to go.
• He's incredibly reactive and barks at dogs outside of our fence without prompt. He's difficult to correct or redirect when he's like this. This behavior isn't present when he's sharing a yard with other dogs (dog park, with my boys, etc.).
• He alerts at almost everything. I have this on my bad stuff list because it's excessive. e.g. My boys alert when someone is at the door; Benji alerts when someone walks by our house.
• He steals treats and is quite aggressive when taking them. Shouldn't be treated or fed with other dogs. Again, he should be the center of attention and while he's capable of adapting, his best shot is as a solo act.
• He does NOT respond to "drop it" if it's something he shouldn't have (socks, tissues, etc.). He will run, growl, nip, etc. This is purely a negative attention grab and can be trained out of him. He never consumes the prohibited thing.
• His nails are all black and unmanaged. They're going to need some work to get them shortened down and healthy again. He's been quicked prior so he's understandably apprehensive.
• He's a yappy, skiddish little thing and his socialization skills need work. He has been bitten by another dog as a result of his inability to remain calm in enclosed greeting/social situations.
Up To Date on Vaccinations: Yes
Gets along with cats: Unknown
Gets along with dogs: Yes
Good with Children?: Good With Children aged 8 and up
House Broken or Litter Trained?: Yes
Crate Trained?: Yes
Accessories Included: two door metal kennel
variety of toys
Benjamin's Personality
This is a smart, capable, extremely athletic dog. He's loving and cuddly and will do almost anything to win your attention/affection. Very much chihuahua – little dog aggressive and possessive of people, toys, etc.
• No formal training or proper socialization, but in just a couple of months, I've worked with him 1 on 1 and he is now reasonably responsive to the basic commands (nose, sit, down, stay, drop it). I have no doubt he could accept and learn advanced training with attention and consistency. He LOVES learning and the attention that comes with it.
• He's extremely toy and food motivated. He'll work for fetch, snacks, or straight kibble.
• Fully potty trained. More so than he needs to be. My niece would leave him for 10-12 hours while she was at work. Will potty on or off leash.
• He's good on a harness and leash. No issues putting his gear on. He'll get excited and pull a bit, but it's easily corrected with consistency.
Benjamin's Favorite Toys, Foods, Activities?
• Small Kong and Chuck-It balls are his favorite
• He'll shred shredders he doesn't like in 2 minutes flat, but if he likes it, he'll carry it around and sleep with it.
• He currently eats Purina Pro Plan Small Dog shredded chicken. 1 cup per day.
• Chicken Zukes are his favorite training treat, but he's not picky.
• Oravet Dental Chews at least every other day.
• He LOVES to steal socks. He doesn't damage them, he just hoards them. Check under the bed.
• He likes to be tucked in at night. Completely under the covers. ❤️
Why is Benjamin Being Rehomed?
My niece adopted him well before she was ready to have a dog and because of her schedule, he's by himself a LOT. He needs stimulation and training and human companionship.
Benjamin's Perfect Adoptive Home Will Be:
Highly recommend he is the only pet.
Someone who will take him with them whenever/wherever they go.
Needs an active lifestyle; he loves to go to the park and play fetch, but active can just mean the backyard. At the end of the day, Benji just needs someone to be with him and to play with him regularly.
---
Benjamin – Rat Terrier Chihuahua Mix dog For Rehoming in Cibolo Texas
Benjamin is a Rat Terrier Chihuahua Mix dog for private adoption by owner in Cibolo Texas. Benjamin is located close to the following towns and cities in Texas, and can be adopted from anywhere within a reasonable distance.
Cibolo TX,
Schertz, TX
Universal City, TX
Converse, TX
Live Oak, TX
New Braunfels, TX
Kirby, TX
Seguin, TX
San Antonio, TX
Canyon Lake, TX
Leon Valley, TX
San Marcos, TX
Kyle, TX
Lockhart, TX
Pleasanton, TX
Austin, TX
Adopt this deserving Rat Terrier Chihuahua Mix dog in Cibolo Texas today.