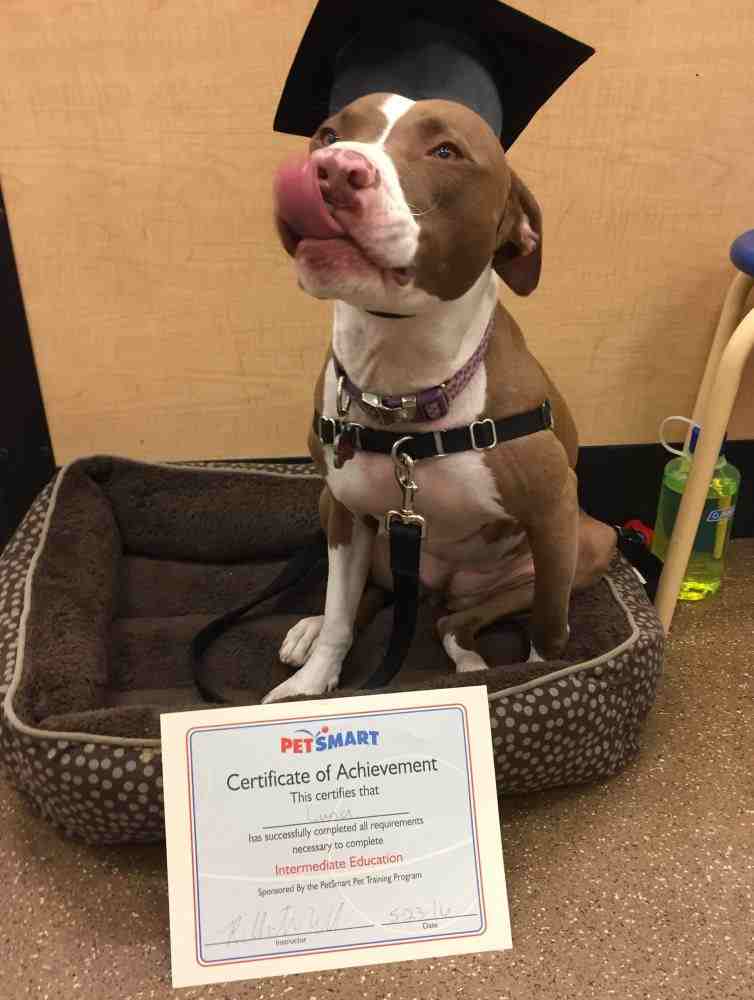 Meet Luna, Pit Bull- Pointer Mix Dog For Adoption in Denver Colorado
Luna is a Female Pit Bull- Pointer Mix Dog for adoption to a very loving rural home in or near Denver, Colorado. This very special Dog is 4 years years old and weighs 55-60 lbs pounds.
Luna is one of the most devoted dogs you will ever meet. She thrives on the companionship of her one special person.
Luna is very healthy. She is spayed, micro-chipped, up to date on shots and obedience trained (Elementary and Intermediate classes through PetSmart). She is very intelligent, and eager to please her person.
Luna comes from an uncertain past situation. She was found as a stray in New Mexico and brought to Colorado through a rescue organization. She likely had some abuse in her past, and neglect was certainly an issue. As a result of this, Luna has some trust issues around people and things she is unfamiliar or uncertain with. These include small children, skateboarders, bicyles and yappy small dogs.
She is also territorial, and can have some resource-guarding issues in areas that she deems to be her territory (places where she spends time with her owner).
In spite of these issues, Luna is a very affectionate, smart, funny and adorable dog.
Luna's owner is devastated to have to find her a new home, however she is pregnant and will soon have a little one in her home. Having Luna in the home with a small child is not feasible, and she is dearly hoping to find a forever home for Luna where she will be loved unconditionally, and which is the right environment for her.
Luna's ideal home will be with dog lovers who live in the country. She is best suited for a home with just one or two people, and no other pets. Homebodies who do not do a lot of entertaining and who would welcome the companionship and sense of security a dog like Luna can offer.
If you have the right situation for Luna and would like to meet her, please reach out. Luna and her owner can't wait to meet you.
There is a $75 adoption/rehoming fee. Supplies and veterinary records will be included.
Questions about Luna? Contact our Denver Dog rehoming team today. Text "Luna" to (888) 833-2128 or email [email protected] We look forward to hearing from you.
---
All About Luna – Pit Bull- Pointer Mix Dog For Adoption in Denver Colorado
Name of Pet: Luna
Location: Denver, Colorado, 80218
Type of Pet: Dog
Breed of Pet: Pit Bull– Pointer Mix
Sex of Pet: Female
Age of Pet: 4 years
Spayed/Neutered?: Yes
Health Problems: Yes Luna is taking 40 mg daily of fluoxetine for her anxiety.
She occassionally gets a rash on her belly that is easily treated with topical treatments.
Behavior Issues: Yes She has a high reactivity/aggression towards cats, skateboards, motor scooters, sometimes bikes when they get too close or are on the sidewalk. She has nipped at random people in the dog park, but has the opposite of leash aggression on her leash (besides those triggers mentioned above).
She can be stubborn sometimes, knowing you want her to come to you in the house and not doing so the first time, stopping on the sidewalk refusing to move when she does not want to go a certain way down the street. Eventually she gives in.
She is reactive and aggressive towards other people in her/my home/my parent's home when I am around. Otherwise she is fearful of unfamiliar people in general.

Up To Date on Vaccinations: Yes
Gets along with cats: No
Gets along with dogs: Yes
Good with Children?: No
House Broken or Litter Trained?: Yes
Crate Trained?: Yes, No
Accessories Included: I can provide a crate, a bed, toys, coat, booties, Supergirl outfit, broncos shirt, bowls, any treats and food I have left or a starter bag of food and can food. Leashes and collars.
Luna's Personality
Her playfulness.
Her love of affection (hugs and belly rubs, and likes to cuddle on the couch).
She is just super cute to look at.
She likes to dress up (her fave outfit is a superwoman cape and skirt outfit).
She prances when she approaches other dogs she wants to meet.
Luna's Current Home Environment
I currently live at home alone in a 750 sq ft condo in Denver. Boyfriend is in town two weeks out of the month and is at the house often during those times, but Luna is aggressive towards him at times.
I am currently 5 months pregnant.
Luna's Current Family:
It has just been me and Luna the first two years I have had her, then I met my boyfriend over a year ago. We are planning to move in together before the baby arrives.
Luna's Favorite Toys, Foods, Activities?
She likes tug-o-war toys; toys that make her work for treats to come out; she likes to chew on bones; she does best on limited ingredient dog foods, but she also enjoys graham crackers (from my dad when we visit my parents) and variety of dog treats- she is not that picky of an eater anymore; she likes to run around and chase/be chased by other dogs; she likes to hike (as long as no bikers on trail) and go for long walks when its not too hot or too cold (she likes wearing her coat and tolerates booties in the snow).
Why is Luna Being Rehomed?
I am pregnant and her reactive behaviors are too risky to have her around a baby or children not old enough to learn how to handle her reactive behaviors.
Luna's Perfect Adoptive Home Will Be:
A home that does not get frequent visitors or does not have frequent parties held at their house.
A home with no small children (well behaved teenagers may be okay).
A home with a 6 foot fenced yard, and maybe another dog her size or bigger (no small or very submissive dogs).
A home with patient owners that can understand her anxiety and can be patient and loving when she is being stubborn.
Owners that are not afraid to command her when she is challenging power.
Additional Comments:
I am extremely upset with this process and I don't think it would be good for me or her to see each other after I rehome her. She is very attached to me and I expect her to go through some depression upon first separation. She gets mopey with me even now when we return to the city after visiting my parents in the mountains.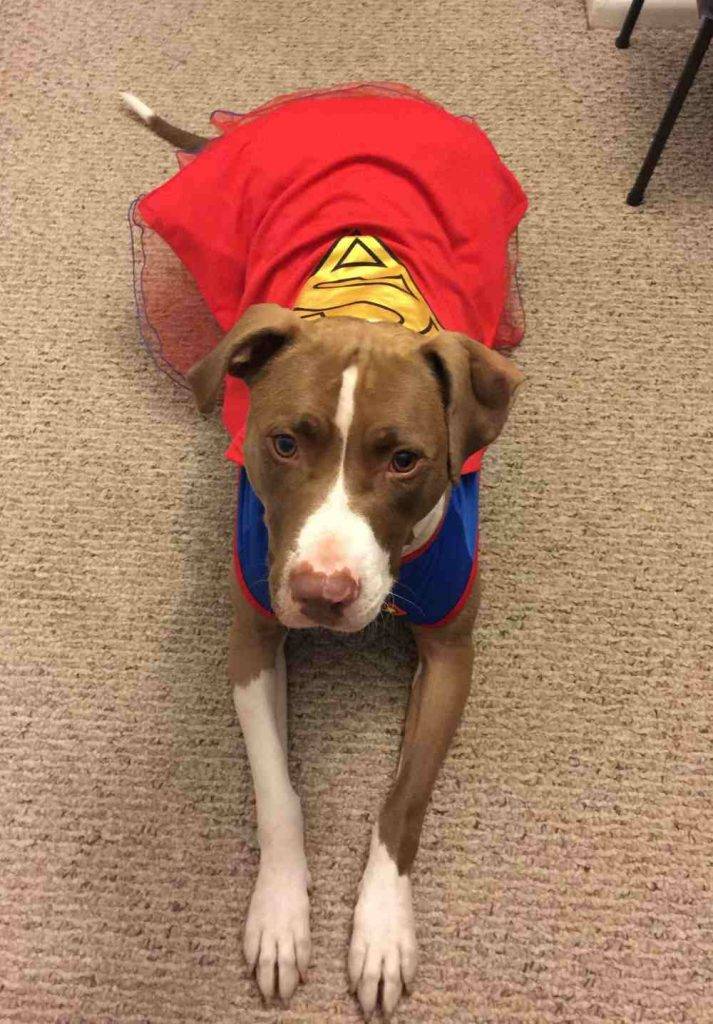 How To Adopt Luna
If you are interested in adopting this special Pit Bull- Pointer Mix Dog For private rehoming in Denver Colorado, please fill out our online meeting request below. Once received and reviewed, our staff will ask the pets owner to reach out to you and arrange a meeting.
Questions about Luna? Contact our Pitbull Dog rehoming team today. Text "Luna" to (888) 833-2128 or email [email protected] We look forward to hearing from you.
Luna – Pit Bull Pointer Mix Dog For Rehoming in Denver Colorado
Luna is a Pit Bull- Pointer Mix Dog for private adoption by owner in Denver Colorado. This pet is located close to the following towns and cities in Colorado:
Wheat Ridge CO,
Lakewood CO,
Commerce City CO,
Englewood CO,
Arvada CO,
Sherrelwood CO,
Welby CO,
Westminster CO,
Federal Heights CO,
Aurora CO,
Greenwood Village CO,
Littleton CO,
Thornton CO,
Applewood CO,
Northglenn CO,
Alamo Placita CO,
Glendale CO,
Edgewater CO,
Spivak CO,
Mountain View CO,
Utah Junction CO,
Lakeside CO,
Zuni CO,
North Washington CO,
Berkley CO,
Wheat Ridge CO,
Sandown CO,
Lakewood CO,
College View CO,
Commerce City CO,
Twin Lakes CO,
Englewood CO,
8 miles to Aurora CO,
63 miles to Colorado Springs CO,
Adopt this sweet Pit Bull– Pointer Mix Dog in Denver Colorado today.