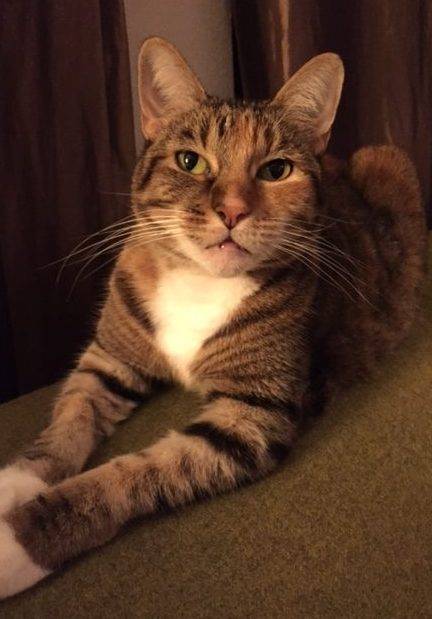 Female Calico Tuxedo Tabby Cat Rehomed in Dallas Texas – Gemma
Gemma has been rehomed. Thank you for your interest, but this sweet girl has found a loving home in Dallas.
If you are interested, we have another Tuxedo Cat For Adoption in Dallas, called Minima.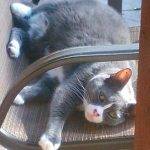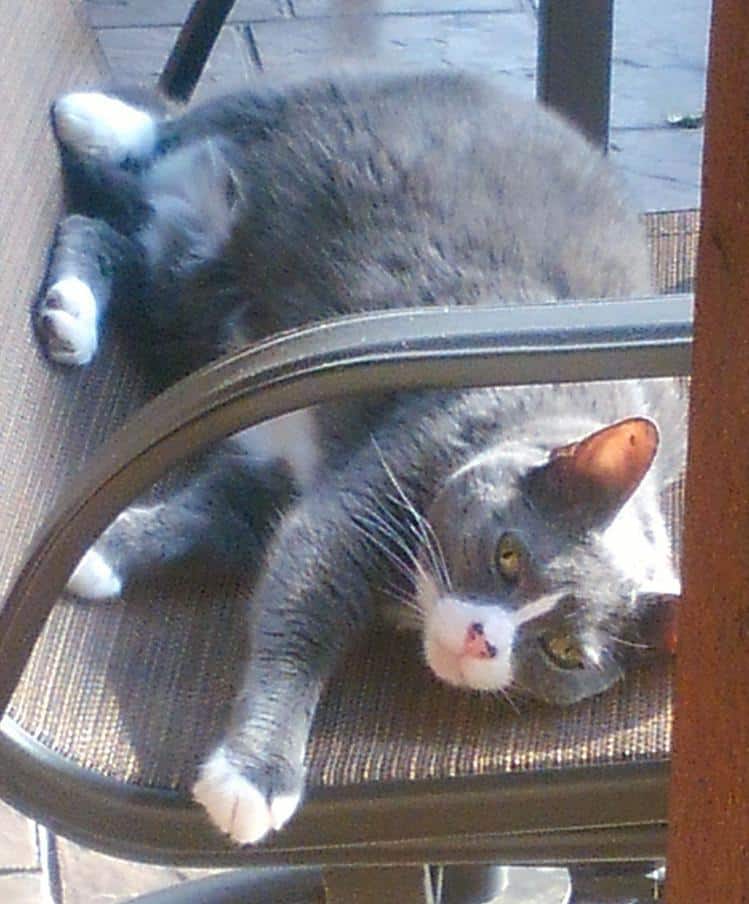 Minima
Need Help Rehoming a Cat in Dallas TEXAS?
Our Dallas Cat Rehoming team can find your cat or kitten a very loving home – safely and effectively. Contact our pet rehoming team today! Call us toll-free at (888) 720-3322, TEXT "Rehoming" to (888) 833-2128 or email [email protected].
We will be happy to speak with you about your situation and answer any questions you may have.
Ready to Rehome Your Cat?
---
Here is how our Dallas cat rehoming team presented sweet Gemma to attract the perfect new home for her:
Sweet and beautiful Calico tuxedo tabby cat Rehomed in Dallas, Texas. Meet gentle Gemma!
Meet Gemma – Female Calico Tuxedo Tabby Cat Rehomed in Dallas Texas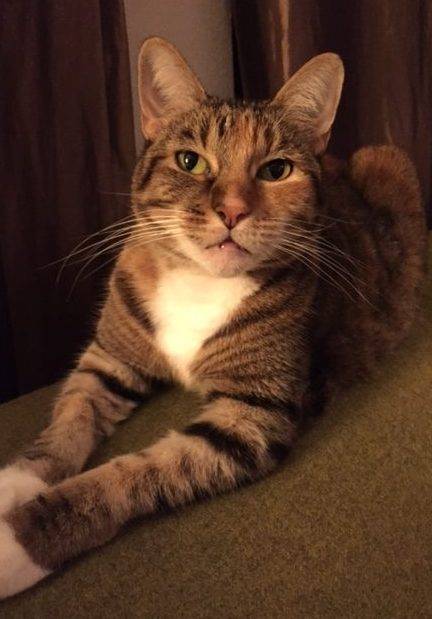 Gemma is a healthy 8 year old calico domestic shorthair cat with gorgeous tabby markings accented with her white chest and paws. Gemma is one of those cats that is so cuddly – she is like a baby. You can pick her up and carry her around – she loves to be snuggled. Gemma is a very clean and well behaved cat. She would love to be an only cat and have her owner's love and attention all to herself.
Gemma's owner has had her since she was a kitten and has lovingly cared for her ever since. As much as she loves Gemma, with a move and dramatically increased travel required for work, she just is not able to provide Gemma with the environment where she will be happy and healthy. This is a kitty that thrives on human attention. She loves to play, follow you around, and snuggle with you.
Gemma has been spayed, is up to date on shots and is very healthy. She is clean and perfectly litter trained.
Gemma is very good with children – a gentle and very sweet playmate. She would also be fine with cat-friendly dogs.
Gemma is Dallas' sweetest Calico cat. Please offer her the loving, forever home she needs and deserves today!
---
All About Gemma Female Calico Tuxedo Tabby Cat Rehomed in Dallas Texas
Name of Pet: Gemma
Location: Dallas, Texas, 75208
Type of Pet: Calico Domestic Shorthair Cat
Breed of Pet:  Tuxedo Tabby Cat with Calico Markings
Sex of Pet: Female
Age of Pet: 8 1/2
Spayed/Neutered?: Yes
Health Problems: No
Up To Date on Vaccinations: Yes
Gets along with cats: Unknown
Gets along with dogs: No
Good with Children?: Yes
House Broken or Litter Trained?: Yes
Crate Trained?:
Accessories Included: One piece of cat furniture (if desired), a couple weeks worth of dry and wet food, a description of her normal eating routine, a few toys, a Breeze System litter box, and complete veterinary records.
Gemma's Personality
1. Her soft coat (like rabbit fur)
2. The goofy positions she sometimes sits/lays in.
3. Her friendliness and playfulness.
4. How I can hold her like a baby in my arms
5. How I can lay her over my left shoulder (she only likes the left, oddly!), like I did when she was a kitten
Gemma's Current Home Environment
Other than the last 2 months while she has been in foster care, Gemma has been sharing a small two-story house with me and my adopted male cat Mosi (who arrived a few months after Gemma was adopted) since she was a 4-week-old kitten. It's a fairly quiet setting, except when there's music going or a friend or two is visiting. She is indoor only, having never been allowed outside. My partner is around about 25% of the time.
Gemma's Current Family:
I am not married and have no children. I am in a longterm relationship with my partner of 8 years.
Gemma's Favorite Toys, Foods, Activities?
Gemma loves to chase rubber bands, hair elastics and string. Set down an empty box or bag and you'll find her inside of it as soon as she's discovered it. She responds to catnip and will roll around with any soft little toy that's infused with it. Her favorite thing of all is to have attention/affection from people. She loves wet cat food and eats dry as well. She's always been fed high-quality natural food (never human food), but she isn't very picky. She also enjoys little cat treats.
Cute Gemma Story:
Gemma really seems like she's remained a kitten all her life. From her squeaky little voice to the way she'll ambush your toes when you come close to her hiding spot under a blanket or curtain, she's such a playful little spirit.
Why is Gemma Being Rehomed?
I am selling my house and basically uprooting. I will be moving to a small apartment and will be traveling much more frequently for my work than I have in the past. Gemma would not be happy in my new life scenario. She deserves more time with humans than I will be able to give her.
Gemma's Perfect Adoptive Home Will Be:
I am looking for a home that has no dogs and where she can be kept indoors. She would likely adapt to the presence of other cats over time, but if there are people home a lot to give her daily love and attention, she could easily be content as the only pet of the household. She is great around children. A home that has good windows to look out of would be wonderful.
Additional Comments:
Gemma has shown signs of anxiety that I am convinced were triggered by the early introduction of my second cat Mosi, who is a bigger and more dominant male. I've had to monitor the amount of food I give her at any one time (I feed twice daily) because she will eat too fast and then go eat the other cat's remaining food as well, and then she will vomit.
She keeps her distance from him, but she has become harassing to Mosi on occasions that he's escaped outside and then was brought back in. It's for this reason that I feel very comfortable adopting her out separately from Mosi. This is not to say that the presence of different/other cats will be problematic like this; that's anyone's guess.
Gemma – Sweet Calico Cat Rehomed in Dallas TX Texas
Gemma is a beautiful Calico cat Rehomed in Dallas TX Texas, close to Garland
Plano
Arlington
Fort Worth and near Highland Park
University Park
Irving
Balch Springs
Duncanville
Farmers Branch
Mesquite
Grand Prairie
Richardson
Addison
Carrollton
Garland
Lancaster
DeSoto
Rowlett
Oak Cliff
Highland Park
University Park
Rawlins
Fruitdale
Eagle Ford
Cockrell Hill
Arcadia Park
Meaders
Reinhardt
Oldham
Kenwood
Gifford
Bouchard
Irving
Cole
Highland TX Texas.