Golden Retriever German Shepherd Mix Dog For Adoption in Ardrossan AB – Supplies Included – Adopt Max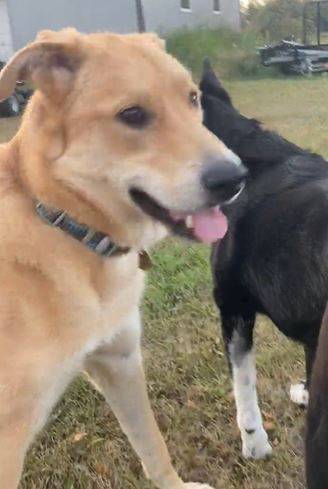 Golden Retriever x German Shepherd Mix Dog for Adoption in Ardrossan, Alberta
Looking for a Golden Retriever x German Shepherd Mix Dog to adopt near Edmonton in Ardrossan, Alberta and area? Just 2.5 years old and weighing 65lbs, Max is a healthy and well behaved dog that loves people of all ages and sizes.
Max is what we call a "ready to love" dog, since he has had all his vet care done up to date – he's been fixed, fully vaccinated, housebroken, microchipped, leash trained and crate-trained. He is such a sweet natured, calm, silly and affectionate dog. He loves to cuddle with everyone in the family and is very patient – even with the little ones.
Max's owners are very sad to have to rehome their cherished dog. Unfortunately, Max and another dog in the home do not get along, and for the sake of Max's happiness, he is being rehomed. His owners are heartbroken to have to make this very difficult decision, and are hoping to find a new home for Max where this special Dog will be cherished and kept safe, happy, and healthy for life.
How To Adopt Max the Golden Retriever Mix Dog Near Edmonton AB
If you are interested in adopting this special Golden Retriever x German Shepherd Mix in Ardrossan Alberta, please fill out our online meeting request below. Once received and reviewed, our staff will ask the pets owner to reach out to you and arrange a meeting.
There is a $150.00 adoption processing fee. Supplies, accessories, and veterinary records will be included.
Questions about adopting Max?
Text MaxARDROSSAN to (888) 833-2128. We look forward to hearing from you!
---
All About Max – Golden Retriever x German Shepherd Mix Dog For Adoption in Ardrossan Alberta
♥ Name of Pet: Max
♥ Location: Ardrossan, Alberta, T8G 2A9
♥ Type of Pet: Dog
♥ Breed of Pet: Golden Retriever x German Shepherd Mix
♥ Color / Coat Type: Short/medium blonde
♥ Age of Pet: 2.5
♥ Size of Pet: 65lbs
♥ Health Problems: No
♥ Behavior Issues: No
♥ Gets along with: Children, Adults, Most other dogs, cats
♥ Pet is: Fixed, Fully Vaccinated, Housebroken, Microchipped, Leash Trained, Obedience Trained, Crate-trained
♥ Food: Other
Kirkland red/blue usually about 4 cups total per day (they get fed twice a day)
Max – Golden Retriever x German Shepherd Mix Dog For Adoption in Ardrossan Alberta
---
Max's Personality
Max is sweet, loving, cuddly and silly. He is patient and just so calm. He's amazing.
Why is Max Being Rehomed?
Max will make someone the absolute perfect dog- he and our other dog Thor cannot live together. They are miserable with each other, we have to keep them separated.
Maxie is great with everyone- slow introduction to other dogs ( he's gotten beat up a few times by our one dog ) but he's always good with them. He is perfect. It breaks my heart to rehome him.
Nearby Locations
Max is located in Ardrossan, Alberta, close to the following towns and cities:
Edmonton AB,
Saint Albert AB,
Sherwood Park AB,
Beaumont AB,
Devon AB,
Fort Saskatchewan AB,
Spruce Grove AB,
Morinville AB,
Leduc AB,
Bon Accord AB,
Stony Plain AB,
Calmar AB,
Millet AB,
Lamont AB,
Tofield AB,
Wetaskiwin AB,
Thank you for your interest in this deserving Golden Retriever x German Shepherd Mix Dog for adoption near  Edmonton Alberta.