Goldendoodle For Adoption in Seattle WA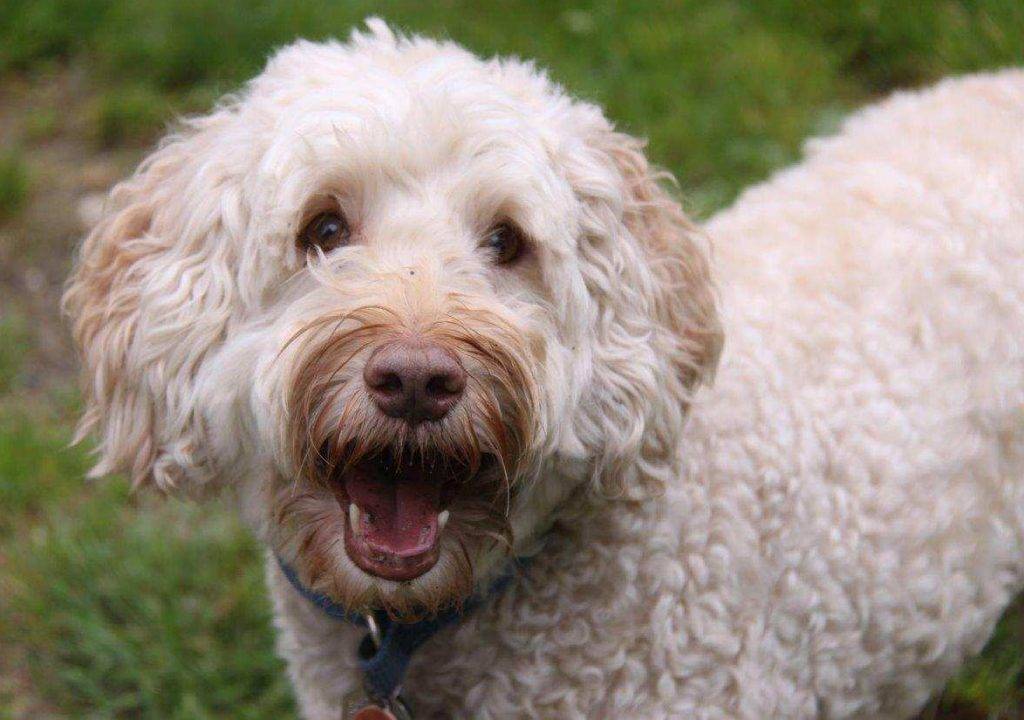 Meet Nalle, Goldendoodle Dog For Adoption in Seattle WA
Are you looking for the best family dog in Seattle? Nalle is one of the nicest dogs you will find. She's a beautiful medium Goldendoodle with a heart of pure gold.
85 pounds of pure love, Nalle is in good health at age 8, and has been spayed, fully vaccinated and microchipped. She is well trained, housebroken and very good with children and other pets.
Nala has some health anomalies which are currently asymptomatic. She had a benign heart murmur, and idiopathic seizures. There have been no seizures for years, and she lives a happy, symptom-free life.
Camry's owners are heartbroken to have to look for a home for her, but due to very severe allergies, they are left with no choice. They are dearly hoping to find her a wonderful home where she will be cherished and kept safe, happy and healthy for the rest of her life.
They would love to stay in touch with Nalle in her new home, but only if it's something her new owners will be comfortable with.
Nalle is a very loyal and affectionate companion. She would fit in well in almost any home, so long as there are people to adore.
Her ideal home will be with homeowners who have a securely fenced back yard for her to play and pee in. She would be wonderful with a family with children or as a companion for a retired couple – just so long as she gets her daily quota of hugs and kisses.
If you have room in your heart and home for this beautiful medium Golden doodle dog, please get in touch with us today.
Nalle will be rehomed with any supplies the owners have on hand for her, complete vet records and their sincere gratitude. They would love to keep in touch with her, but only if it's something the new owners are comfortable with.
Offer Nalle a loving home today. She can't  wait to wow you with wiggles and lick her way into your heart and home.
There is a $150 adoption/rehoming fee. Supplies and veterinary records will be included.
Questions About Nalle? Contact our Seattle dog rehoming team. Text "Nalle" to (888) 833-2128 or email Nalle@dog-lover.us  We look forward to hearing from you!
---
All About Nalle – Goldendoodle Dog For Adoption in Seattle WA
♥
Name of Pet:
Nalle
♥
Location:
Seattle, WA, 98105
♥
Type of Pet:
Dog
♥
Breed of Pet:
Goldendoodle
♥
Color / Coat Type:
hair coat, medium to long length, similar to poodle
♥
Age of Pet:
8
♥
Size of Pet:
47lbs
♥
Health Problems:
yes
Nalle has a heart murmur. It has not affected him so far as we know. He has also had seizures twice that we know of. No definitive cause was discovered for the seizures.
♥
Behavior Issues
: Some people might say he barks too much at the door when someone comes to the house. He's not aggressive, just wants to say hello to everyone.
When he get's excited, he tends to have trouble remembering his commands (like come here, sit, stay), in particular if he has a chance to say hello to someone (new or old).
♥ Gets along with: Small Children, Older Children
♥ Pet is: Spayed, Fully vaccinated, House Broken
♥ Food: Other
We normally feed Nalle twice a day, morning around 8:00 AM or so, and evening around 8:00 AM. He normally gets walks just after being fed.
We feed him Acana Pacifica (fish based) food for the most part, sometimes switching between the sea and fresh water fish foods.
Nalle's Personality
Nalle is super friendly and thinks that everyone is his friend. He is constantly trying to say hello to other dogs and people on walks and is the first at the door when someone arrives at the home to greet them.
Nalle's favorite toy is his red hard rubber squirrel. He enjoys fetching it and throwing it himself. His favorite food is fish, and he prefers a fish based dog food. He enjoys walks in the sun or the rain and performing his commands to be fed.
He sits, lies down, heels and stays and comes before every meal, and gets super excited at repeated sit / lie down commands, mostly because he knows the food is coming. He really likes to play before eating, and sometimes does not eat or eat well when he does not get to play before food. He also enjoys playing hide and seek with my son (who does the hiding part).
Nalle also likes visiting with other dogs that are friendly, although we have not had him live with another dog, so are unsure how he would cope with full-time exposure.
All of Nalle's command words are in Swedish, and an adopter would have to learn the commands or retrain him to English. There are only 8 or so commands, so learning them should not be that hard, but Nalle is also very smart, and I believe would learn new words fairly easily as well.
Why is Nalle Being Rehomed?
Our daughter has a worsening allergy to dog and cat dander. It has gotten to the point that she is taking several different medicines to control her reactions, and they are having health threatening side effects when combined with some other health challenges she is facing.
She must avoid touching the dog, and the dog is kept away from the part of the house her room is in. Despite this, and vigorous efforts to contain dander, and the someone low allergy nature of Nalles breed (Goldendoodle), the problem has gotten bad enough that we feel compelled to take action. This is the last thing we want to do, but at this pont we feel we do not have any choice but to give Nalle up.
Nalle's Perfect Adoptive Home Will Be:
Nalle woupld fit in well into most homes. He loves to go for a couple of long walks each day, so owners should be reasonably active. He loves people, so it would be good to find owners who can give him lots of companionship. Owners who would be willing to keep in touch with Nalles' current owners would be ideal.
How To Adopt Nalle
If you are interested in adopting this special Goldendoodle For Adoption in Seattle WA, please fill out our online meeting request below. Once received and reviewed, our staff will ask the pets owner to reach out to you and arrange a meeting.
There is a $150 adoption/rehoming fee. Supplies and veterinary records will be included.
Questions About Nalle? Contact our Seattle dog rehoming team. Text "Nalle" to (888) 833-2128 or email Nalle@dog-lover.us  We look forward to hearing from you!
Nalle – Goldendoodle Dog For Adoption in Seattle WA
Nalle is a Goldendoodle Dog for rehoming in Seattle, WA. He is located near the following towns and cities in WA:
Mercer Island
Bellevue
White Center
Kirkland
Burien
Newcastle
Tukwila
Renton
Shoreline
SeaTac
Lake Forest Park
Redmond
Kingsgate
Kenmore
Sammamish
Yesler Terrace
Belltown
Capitol Hill
Madrona
Broadway
Queen Anne
Broadmoor
Mount Baker
North Broadway
Madison Park
South Seattle
Ross
Youngstown
Wallingford
Edgewater Park
West Seattle
Georgetown
Adopt this Goldendoodle Dog in Seattle today.