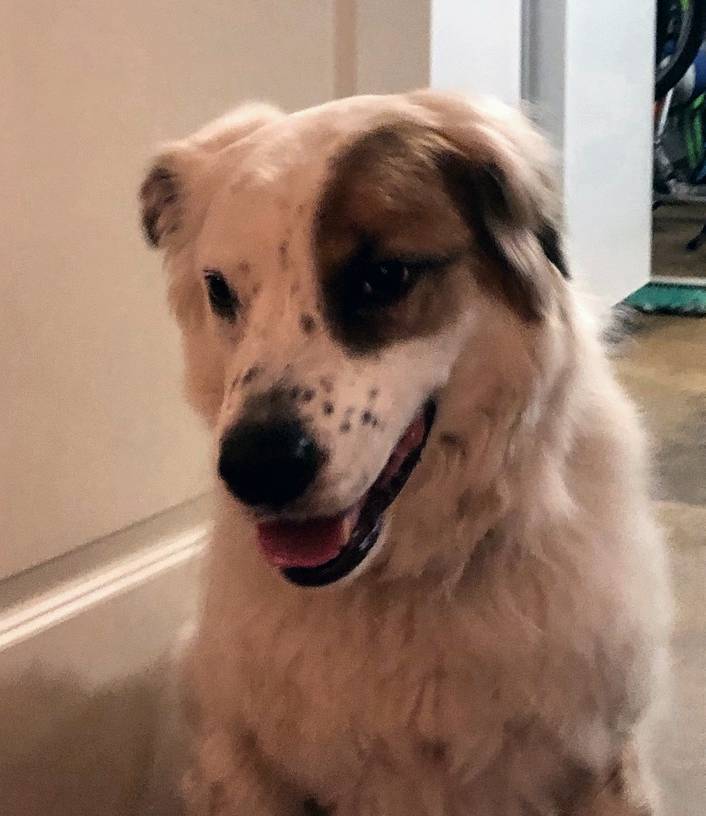 Great Pyrenees English Setter Mix Dog For Adoption in Ocala, Florida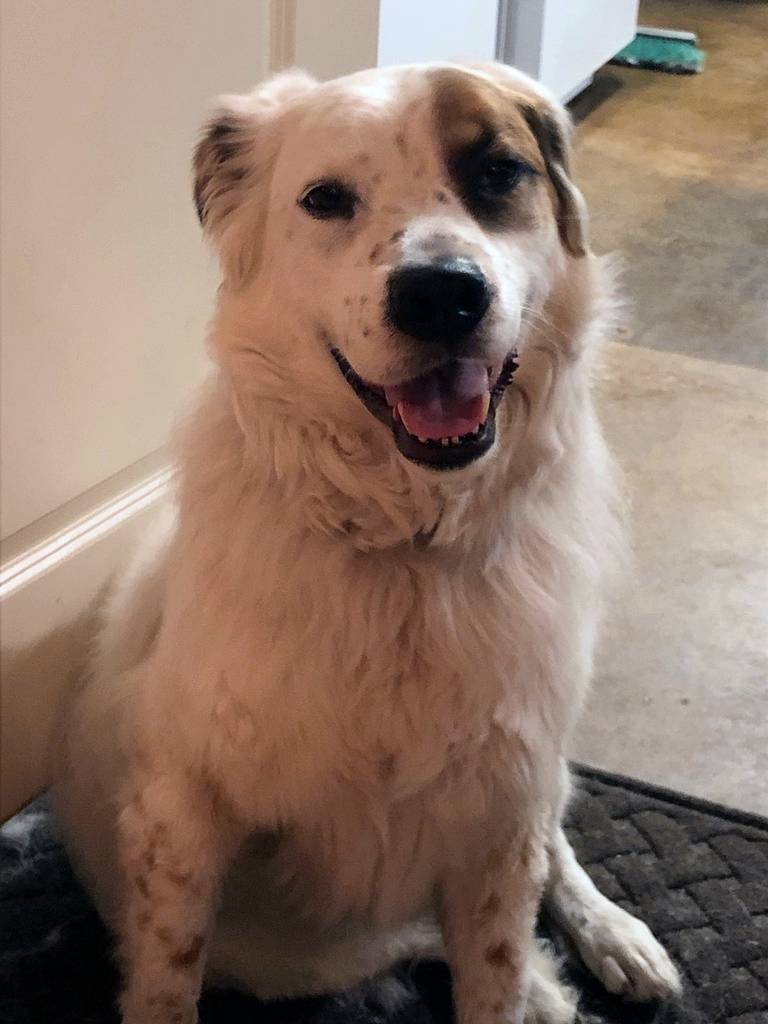 Meet Biscuit – Great Pyrenees English Setter Mix Dog For Adoption in Ocala, Florida
[button link="https://pet-net.net/adopt-a-pet/" size="large" variation="hotpink" align="center"]Request to Meet Biscuit Here![/button]
There is a $100 adoption/rehoming fee. Supplies and vet records will be included.
Questions About Biscuit?? Text "Biscuit" to (888) 833-2128 or email [email protected]
Biscuit is a big, beautiful baby! He combines the best traits of the Great Pyrenees with (probably) English Setter or Collie. He is a 65 pound bundle of love and licks. At just 5 years of age, Biscuit is very healthy and extremely well behaved. He is fixed, fully vaccinated, house trained, crate trained, leash trained and obedience trained.
Biscuit's owners love him so much, but unfortunately are not able to give him the environment in which he feels comfortable. He has some anxiety around small children, and usually likes to get to know new people well before they pet or interact with him. This fear sometimes causes him to nip unfamiliar folks who try to pet him without his consent. With so many children in their busy neighborhood, his owners fear that he will inadvertently nip someone.
When in his happy zone, there is no more loving a dog than Biscuit. He is a snuggle bunny and lets you know just how much he cherishes you constantly. He is an absolutely fabulous companion.
Biscuit is looking for his forever home. His ideal home will be with homeowners who have a large, securely fenced yard. A quiet, country setting would be even better. Respectful older children would be alright, and Biscuit is great around other dogs. Above all, he needs a home with owners who will love him unconditionally, and be patient and pro-active as regards his anxiety around little kids and strangers.
This is one very special dog looking for an equally special home. He will be rehomed with all supplies and vet records. If you have the type of home in which Biscuit will do well, please get in touch today. He is prepared to relocate for the right home, providing his new owners will come and meet him and his family.
[button link="https://pet-net.net/adopt-a-pet/" size="large" variation="hotpink" align="center"]Request to Meet Biscuit Here![/button]
There is a $100 adoption/rehoming fee. Supplies and vet records will be included.
Questions About Biscuit?? Contact our Florida dog rehoming team. Text "Biscuit" to (888) 833-2128 or email [email protected]
---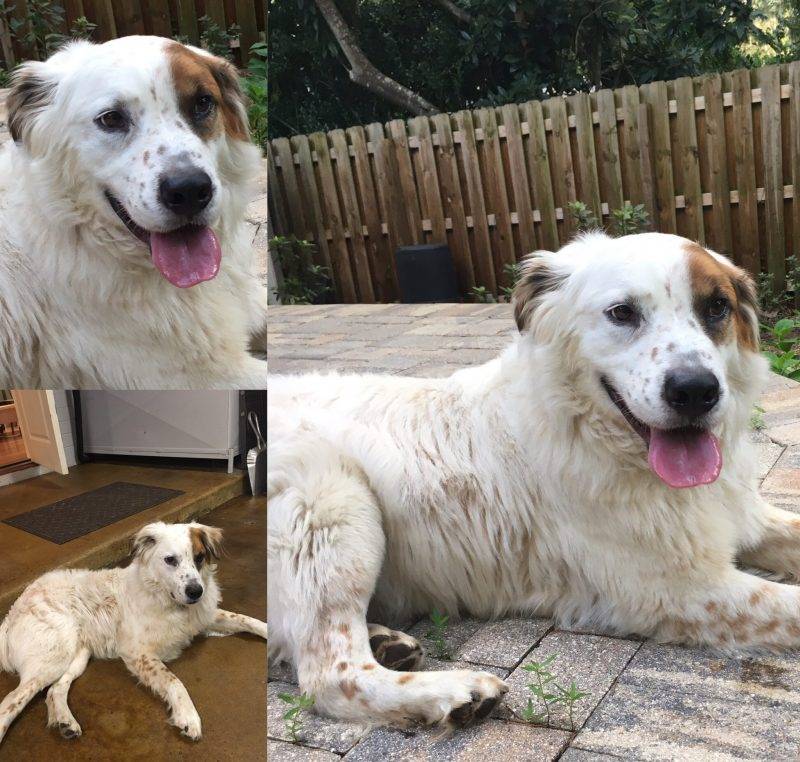 Meet Biscuit – Great Pyrenees Setter Mix For Adoption in Ocala Florida
Location: Ocala, FL, 34471
Type of Pet: Dog
Breed: Great Pyrenees mixed with English Setter (most likely)
Age: 5 yrs
Color/Coat Type: White with a brown spot over his left eye. Hair is long.
Size: 60 lbs
Health Issues: No.
Behavior Issues: Fearful of men and unfamiliar children.
Biscuit is:
Neutered, Microchipped, Crate Trained, House Broken, Leash Trained, Obedience Trained
Biscuit gets along with:
Older Children, Dogs, Cats
Personality
Biscuit is a very sweet dog that likes to have his head or body in your lap. He seems to do better around women and gets nervous around some men and children he doesn't know (although he goes right up to other people). While not aggressive, he will nip at strangers who try to pet him, especially if there are a lot of new people around. It's his way of saying: "Hey, I would like to get to know you a little before you pet me!".
He gets along with other dogs very well.
He loves to go for walks or runs and does great on a leash. He is kennel trained, and will go in on his own.
Food and Diet
Biscuit is currently on Other
Beneful and science diet
Reason For Rehoming
We have a lot of children coming and going and feel Biscuit would be happier in a calmer environment. We do put him in his kennel when we know someone is coming over but don't always know ahead of time.
He also sheds, and is not allowed inside, though we do have an air conditioned family space that he stays in. I want to see him with a family that can be with him more, or where he has another dog to keep him company.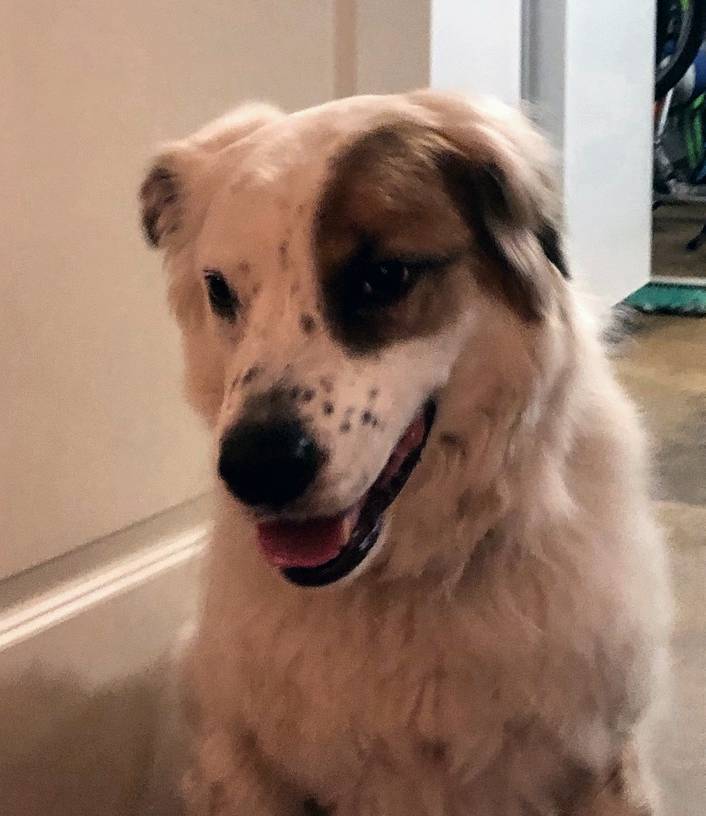 How to Adopt Biscuit
If you would like to consider offering Biscuit a loving, forever home, please fill out our Request To Meet A Pet form here:
https://pet-net.net/adopt-a-pet/
Once received, we will contact you to discuss your request and set up a mutually convenient time to meet Biscuit and his owner in their home.
Biscuit lives in Ocala, Florida, within a reasonable distance of the following towns and cities in Florida:
Lady Lake, FL
Leesburg, FL
Gainesville, FL
Eustis, FL
Tavares, FL
Mount Dora, FL
Palatka, FL
Spring Hill, FL
Clermont, FL
DeLand, FL
Apopka, FL
Winter Garden, FL
Wekiva Springs, FL
Ocoee, FL
Deltona, FL
Camp Roosevelt, FL
Maricamp, FL
Ocala Ridge, FL
Montague, FL
Ocala Highlands Estates, FL
Oak, FL
Huntington, FL
Kendrick, FL
Regal Park, FL
Silver Springs, FL
Saddle Oak Club, FL
Zuber, FL
Santos, FL
Bahia Oaks, FL
Ocala Thoroughbred Acres, FL
Martel, FL
Shady, FL
Questions About Biscuit?? Contact our Great Pyrenees dog rehoming team. Text "Biscuit" to (888) 833-2128 or email [email protected]