Labrador Retriever Coonhound Mix Dog for Adoption in Tulsa OK – Supplies Included – Adopt Radar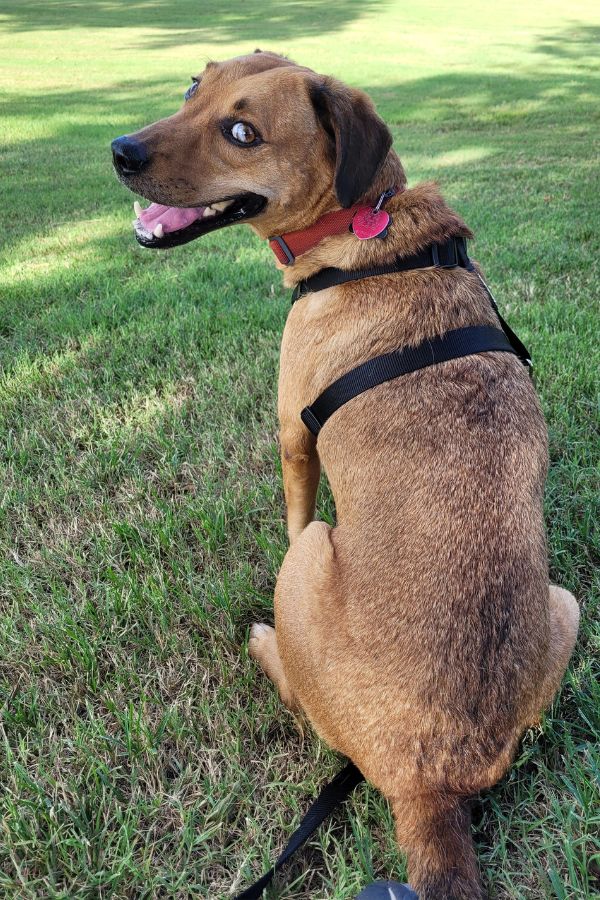 Meet Radar – Pre-Loved Coonhound Labrador Retriever mix dog For Adoption by Owner in Tulsa OK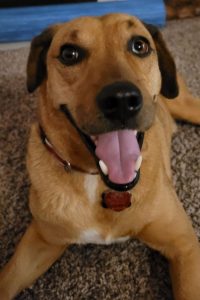 Radar is a Male Coonhound Labrador Retriever mix dog for adoption to a very loving home in or near Tulsa, Oklahoma. This very special young dog is just 2.5 years old and weighs 45 pounds.
Radar is one of those dogs that can easily steal your heart within just moments of meeting him. He is a laid back, friendly, curious, playful and affectionate companion that really knows how to make a house a home.
Whether it's keeping you company while you watch TV or do the laundry, or taking you on a leisurely walk out in nature, Radar is always up for whatever you are up for.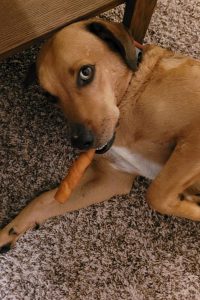 Radar is good with other dogs, in fact other dogs just love him. He is every dog's best buddy – a real hit at doggie daycare. Radar has no dog siblings at the moment, but would be in 7th Heaven to share his home with another dog-friendly dog. Radar loves older kids, and would love to be part of a family who have a big, securely fenced back yard and some great kids aged 10 and up to play with.
Radar's owner loves him so much. She is very sad to have to find him a new home, but living in an apartment doesn't give him much room or a yard to call his own, and working long hours leaves very little time or energy to devote to the needs of her beloved dog.
She wants the best for Radar, and is dearly hoping to find him a forever home where he will be appreciated for the amazing dog that he is and given plenty of love, care, exercise and companionship.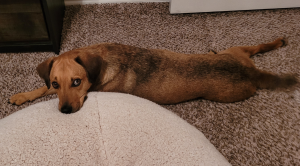 Ideally, Radar needs a home where he won't have to stay home all by himself all day, every day. Having a dog friend would certainly break up the day, but a family who have staggered work schedules – or a home-school family would be perfect for him.
Radar would also do well with active retired dog lovers, or perhaps someone who works from home and has time to take him for walks and snuggle on the sofa.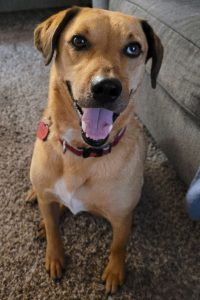 How To Adopt Radar
If you have room in your heart and home for this wonderful Labrador Retriever mix dog, then please offer Radar his forever home. Radar can't wait to show you the true meaning of unconditional love. Adopt this Coonhound Labrador Retriever mix dog today.
Please fill out our online meeting request below. Once received and reviewed, our staff will ask the pets owner to reach out to you and arrange a meeting.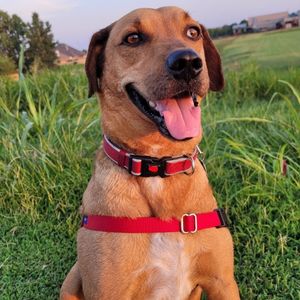 Radar enjoying the great outdoors!
There is a $75 adoption/rehoming fee. Supplies and veterinary records will be included.
Questions about Radar? Contact our Tulsa dog rehoming team today.
Text "RadarTULSA" to (888) 833-2128
We look forward to hearing from you.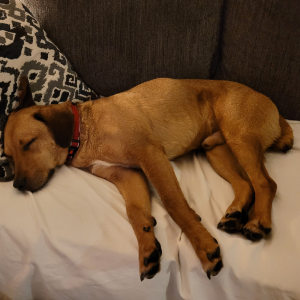 All About Radar – Coonhound Labrador Retriever Mix Dog For Adoption in Tulsa OK
Name of Pet: Radar
Location: Tulsa, OK, 74133
Type of Pet: dog
Breed of Pet: Coonhound Labrador Retriever mix
Sex of Pet: Male
Age of Pet: 2.5 years old
Spayed/Neutered?: Yes
Health Problems: No
Behavior Issues: Mild Separation anxiety. This can be remedied by the presence of another dog in the home.
Up To Date on Vaccinations: Yes
Gets along with cats: Unknown
Gets along with dogs: Yes
Good with Children?: Good With Children aged 8 and up
House Broken?: Yes
Crate Trained?: Yes
Accessories Included: 2 dog beds, water bowl, food dish, harness and leash, and a protective back seat harness cover for a car.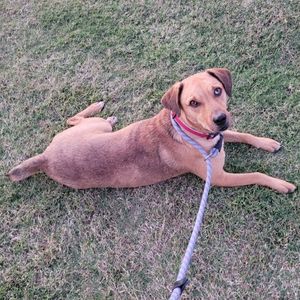 Radar's Personality
Curious, playful, quiet, active, other than some separation anxiety, he is pretty chill.
Radar is an Amazing Companion Because He is:
Sweet, playful, easy to train, quiet, rarely barks, good with other dogs
Radar's Favorite Toys, Foods, Activities?
Loves to be outdoors, likes to go for rides in car, not really into toys
Cute Radar Story:
Radar was going to doggie daycare and anytime he showed up, everyone greeted him like Norm from Cheers.
Why is Radar Being Rehomed?
I live in an apartment and he is way too active for me to provide enough exercise and he would thrive more with a family who have more energy and time to play. I also work and am away from home too much and have some physical issues.
Radar's Perfect Adoptive Home Will Be:
Couple or family with kids over 10. I have friends who watch him sometimes and they have a very large backyard and another another dog. He is very happy on those days, so I think it would be good if there is another dog.
Radar – Coonhound Labrador Retriever mix dog For Rehoming in Tulsa OK
Radar is a Coonhound Labrador Retriever mix dog for private adoption by owner in Tulsa OK. He is located close to the following towns and cities in Oklahoma and Kansas:
Sand Springs OK,
Jenks OK,
Owasso OK,
Broken Arrow OK,
Sapulpa OK,
Bixby OK,
Claremore OK,
Okmulgee OK,
Bartlesville OK,
Muskogee OK,
Tahlequah OK,
Stillwater OK,
Coffeyville KS,
Ponca City OK,
Independence KS.
Adopt this deserving Coonhound Labrador Retriever mix dog in Tulsa OK today.