Gorgeous Long Haired White and Grey Tabby Cat For Adoption In Oceanside CA – Supplies Included – Adopt Piper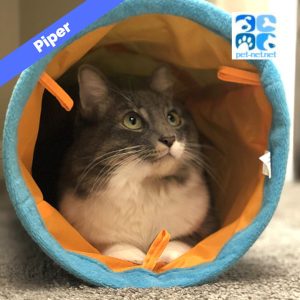 Meet Piper – Pre-Loved Long Haired White and Grey Tabby cat For Adoption by Owner in Oceanside CA
Piper is a Female Long Haired White and Grey Tabby cat for adoption to a very loving home in or near Oceanside, CA.
This very special cat is 4 years old, making her something of a toddler in the feline world.
Piper weighs just 7 pounds and is in good health. She has been fixed, fully vaccinated and litter box trained. Piper has the most amazing personality to match her gorgeous face. Piper is something of a commodity as far as cats go. She's incredibly affectionate and cuddly, but is equally playful. She is sure to make you smile as she chases her favorite feather toys around the house.
Perfect, precious Piper will spend part of the day happily napping, but loves spending time with her people. Piper is friendly and sweet, and would prefer a home with someone who doesn't do a lot of travelling, and who isn't working away from the home full time.
Piper would very much love to be adopted along with her BFF (Best Feline Friend), Macy, but can also be adopted on her own into a very loving and attentive home.
If you have room in your heart and home for this deserving Grey Tabby cat, then please offer Piper her forever home today. This sweet girl can't wait to show you the true meaning of unconditional love. Adopt Piper today!
How To Adopt Piper
Please contact Piper's owner, Kate directly, using the information below:
There is a $35 adoption/rehoming fee. Supplies and veterinary records will be included.
Text "AdoptPiper " to (248) 943-4427 or email [email protected].
The owner looks forward to hearing from you.
---
All About Piper – Long Haired White and Grey Tabby cat For Adoption in Oceanside CA
Name of Pet: Piper
Location: Oceanside, CA, 92054
Type of Pet: cat
Breed of Pet: DLH White and Grey Tabby
Sex of Pet: Female
Age of Pet: 4
Spayed/Neutered?: Yes
Health Problems: No
Behavior Issues: When Piper is stressed out she marks around her food and litter areas.
Up To Date on Vaccinations: Yes
Gets along with cats: Yes
Gets along with dogs: Unknown
Good with Children?: Yes – older, well behaved kiddos are best
House Broken or Litter Trained?: Yes
Crate Trained?:
Accessories Included: Toys, carrier, scratching post, wall perches, treats, medical records.
Piper's Personality
Piper is a playful, sweet, shy girl. She will hang out under the bed most of the day but come out for food and pets. If your working at a desk she like to come and sit on the back of your chair or on your lap. She loves to play! She will leap after string toys and tear around. She also likes playing with Macy (another cat).
Piper is an Amazing Companion Because She is:
Playful, sweet, energetic, cuddly, fun
Piper's Favorite Toys, Foods, Activities?
She loves the toys with a string or feather on a stick she will leap after them. She also loves treats!
Cute Piper Story:
Piper will get so focused on getting her feather toys she will launch herself into the air not paying any attention to where she is going to lbs. it looks like a giant belly flop sometimes!
Why is Piper Being Rehomed?
We had a baby a year ago and are not able to give Piper and Macy the attention they deserve. Especially Piper who loves to play. She has become stressed out and is marking frequently. We have tried multiple solutions but it seems to be environmental stress.
Piper's Perfect Adoptive Home Will Be:
Piper would like a quiet home ideally placed with Macy but if not she wouldn't mind if you worked and came home at night to play with her. She has been around kids, and dogs but doesn't particularly like them. Dogs seem to scare her. She has been around other cats her whole life so would do well with a cat companion to play with.
Piper – Long Haired White and Grey Tabby cat For Rehoming in Oceanside CA
Piper is a Long Haired White and Grey Tabby cat for private adoption by owner in Oceanside CA.  She is located close to the following towns and cities in California:
Carlsbad CA,
Vista CA,
Encinitas CA,
San Marcos CA,
Fallbrook CA,
Solana Beach CA,
Escondido CA,
San Clemente CA,
Temecula CA,
Poway CA,
Dana Point CA,
Murrieta CA,
San Juan Capistrano CA,
Wildomar CA,
Laguna Niguel CA,
Thank you for your interest in this stunning Long Haired White and Grey Tabby cat for adoption in Oceanside.