Sweet Country Longhaired Tabby Cat For Adoption in Sturgess AB – Supplies Included – Adopt Oscar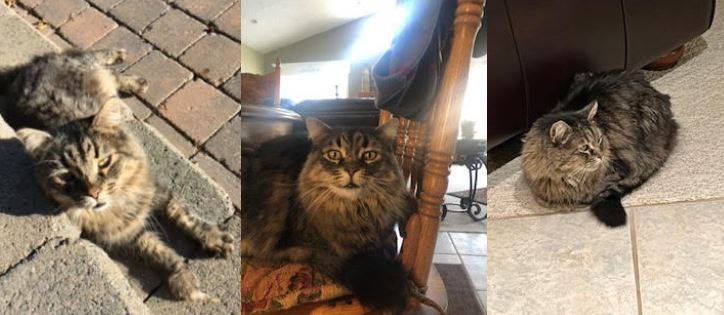 Senior Longhaired Tabby Cat for Adoption in Sturgeon County, Alberta
Do you live in a country setting with a safe outdoor area for a very sweet 15 year old cat that is very set in his ways? Are you looking for a mouser extraordinaire to keep your house and outbuildings rodent-free? If yes, Oscar would like to apply for the position.
Oscar has been the very spoiled companion of an elderly lady who, until recently, lived on an acreage in Sturgeon County. The owner recently had to be transferred into assisted living, and her acreage put up for sale. Oscar can't be included with the house, since the new owners have two large dogs that are not cat-friendly. We are hoping to find him a home similar to what he is used to, where he can hunt at night during warmer months and be allowed indoors to sleep as needed.
He's a really special cat, and you will enjoy having him around (although the mice and squirrels may not!).
If you have room in your heart and home for Oscar, please complete our online meeting request form. Once received, our Alberta Cat Rehoming team will make arrangements for you to meet Oscar and his owners. Adopt Oscar today!
Adoption processing fee will be waived for a very good home. Supplies, accessories, and veterinary records will be included.
How To Adopt Oscar
If you are interested in adopting this special longhaired tabby cat in Sturgeon County Alberta, please fill out our online meeting request below. Once received and reviewed, our staff will ask the pets owner to reach out to you and arrange a meeting.
Questions about adopting Oscar?
Text OscarCATAB to (888) 833-2128. We look forward to hearing from you!
---
All About Oscar – Cat For Adoption in Sturgeon County Alberta
♥ Name of Pet: Oscar
♥ Location: Sturgeon County, Alberta, T8T 0A7 (Just outside of Edmonton)
♥ Type of Pet: Cat
♥ Breed of Pet:
♥ Color / Coat Type: long hair tabby
♥ Age of Pet: 15 years
♥ Size of Pet: 10 lbs
♥ Health Problems: no
♥ Behavior Issues:
I'm not sure if this is a behavior problem but he loves to hunt, especially squirrels. He catches one and will eat the whole thing excluding the tail. We have tried to take the squirrel away when we can but sometimes it is not possible.
♥ Gets along with: Fixed, Housebroken
♥ Pet is: Fixed, Housebroken
♥ Food: Other
In the morning, he eats half a tin of Fancy Feast (gravy type) along with a scoop of dry food( Royal Canin urinary). He doesn't like the Fancy Feast pate type. At noon, I give him a few kernels of dry food. At dinnertime, he eats the other half of the tin of Fancy Feast and a scoop of dry. Sometimes before I go to bed I give him a few kernels of dry food. He occasionally gets some cat treats and cat nip.
Oscar – Indoor Outdoor Cat For Adoption in Sturgeon County Alberta
---
Oscar's Personality
My mom spoiled Oscar for many years so he is used to a lot of attention. He does not like to be told no and is very persistent in getting his own way. He loves being outside, especially in the warmer months, and usually will stay out all night. In the winter, he likes to be inside curled up on the sofa. He loves to be petted, especially on his belly, and will show his thanks with loud purring. He is fairly quiet and doesn't meow much. In the winter, he will use his litter box but at other times will do his business outside. He can be skittish at times, especially with new people and surroundings. But, if he gets love and food, he is content.
Why is Oscar Being Rehomed?
Oscar was my mom's cat for many years. My mom had to move into a care home recently because of dementia. My husband and I are currently living at her acreage. The new owners of the acreage will move in on July 1 and my husband and I will move to the city. Oscar has lived on an acreage all his life, I feel he would not do well in the city. I would like to find an acreage for him to live out the rest of his days. He is used to being alone with no other animals/pets in the house.
The neighbor has tentatively agreed to take Oscar but he would be outside with access to a shed when it is cold out. I feel Oscar will try and come back to the house he has grown up in. The new owners of the house have two big dogs that will not take kindly to a cat on their property. I feel that this situation is not ideal for Oscar.
Nearby Locations
Oscar is located in Sturgeon County, Alberta, close to the following towns and cities:
Saint Albert AB,
Sherwood Park AB,
Fort Saskatchewan AB,
Devon AB,
Spruce Grove AB,
Morinville AB,
Leduc AB,
Bon Accord AB,
Stony Plain AB,
Calmar AB,
Millet AB,
Lamont AB,
Tofield AB,
Wetaskiwin AB,
Westlock AB,
Thank you for your interest in this deserving Cat for adoption in Alberta.