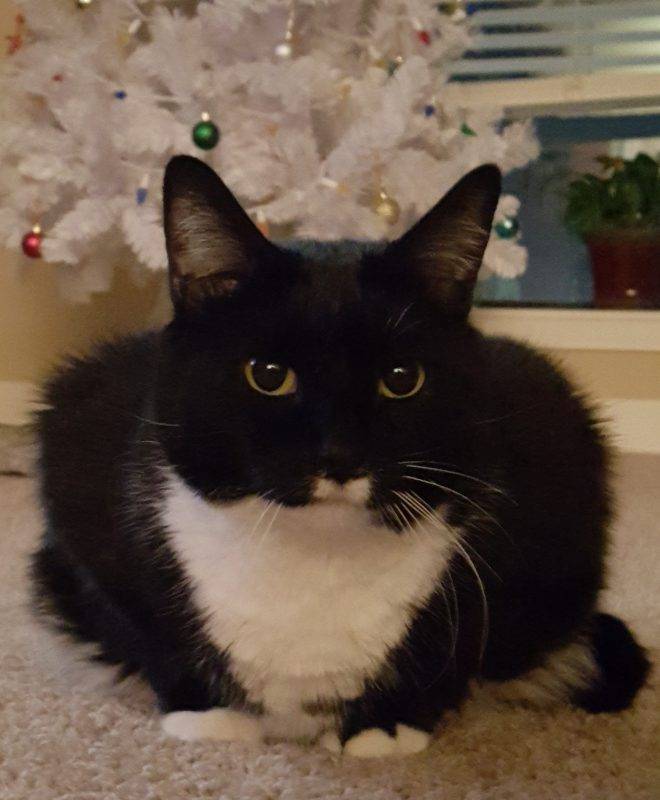 Marvelous Midnight – Female Tuxedo Purring Machine Seeks Loving Owners To Cherish Her – Supplies Included – Minneapolis MN
Hi, My name is Midnight!
[button link="http://petrehoming.net/adopt-a-pet/" size="large" variation="hotpink" align="center"]Request to Meet Midnight Here![/button]
There is a $40 adoption/rehoming fee. All supplies will be included.
Midnight is a purring machine! This amazing female medium haired Tuxedo cat has such a wonderful personality. She loves people of all ages and sizes (except toddlers,, who scare her a bit). She gets along well with other cats and dogs, too – so long as they are friendly and accepting of her.
Midnight is very healthy. She has been spayed, vaccinated and even micro-chipped. She is very clean, uses her litter box always, and is quite well behaved. All in all, she is the cat all the other cats want to copy. She's "all that, and more!" Absolutely feline-tastic!
Tuxedo cats are renowned for having the nicest temperaments of all cats, and Midnight is no exception. Her beautiful coat is so stylish! Just add a bow-tie and she is ready for any special occasion. This cutie-cat loves her belly rubs and likes to follow you around the house. Kind of like a dog, but without the slobber. She is very laid back and gentle. Midnight would never bite or scratch anyone.
Midnight's world has been turned upside down! Her owners have moved from an apartment where Midnight felt very safe and secure to a house which they are renovating. All the noise and people coming and going has Midnight very much on edge. To make matters worse, this very people-loving cat does not get to see her owners much at all, due to increasing work schedules.
This is not the life Midnight wants. She wants to live in a nice, quiet home where she can be cherished by her favorite human. She wants an owner that has lots of time to spend with her, and a quiet spot where she can bird-watch from a window. Midnight loves her treats and toys, but her favorite thing of all is love from people.
If you have been searching for that very special furry someone to add so much l0ve, joy, laughter and companionship to you life and home, Midnight is waiting for you. Please offer this really nice girl the home she needs and very much deserves today!
If you would like to consider offering Midnight a loving, forever home, please fill out our Request To Meet A Pet form here:
http://petrehoming.net/adopt-a-pet/
Once received, we will contact you to discuss your request and set up a mutually convenient time to meet Midnight and their owner in their home.
Location: Loretto, MN, 55357 Minneapolis
Type of Pet: Cat
Breed: domestic short hair
Age: 7
Color/Coat Type: medium black and white hair
Size: 15 lbs
Health Issues: no
Behavior Issues: no
Midnight is:
Spayed, Neutered, Microchipped, Fully vaccinated, Crate Trained, Litter Trained
Midnight gets along with:
Older Children, Adults Only, Dogs, Cats
Personality
Very Easy going and Mellow. Never bites, hisses, or scratches. Loves to get belly rubs. Independent but loves to be around people.
Reason For Rehoming
My husband and I got midnight when we were living in an apartment. but 6 months ago we moved into a house that needed lots of construction/remodeling/ fixing up. We have found that midnight likes a calm environment. Since we moved and started remodeling she hasn't warmed up to our house. plus we both have a had career changes so our schedules are very busy and arent home as much like we wish we could be. Midnight is such a loving and mellow cat. We love her so much. we think she would do well in a quiet home with someone who is home often to give Midnight the attention she deserves.