ADOPTED – Great Pyrenees Mix Dog in Cochrane, AB
Great Pyrenees Shepherd Mix Dog Rehomed in Cochrane AB
Piper has been rehomed. Thank you for your interest!
Piper is a Female Great Pyrenees Shepherd mix dog for adoption to a very loving home in or near Cochrane, AB. This very special Dog is 1 year old and weighs about 80 lbs. Piper is spayed, up to date on shots, healthy, house trained and well-behaved. She will be rehomed with all supplies and veterinary records. Adopt this beautiful Great Pyrenees mix dog today.
Meet Piper, Great Pyrenees/Shepherd Dog For Adoption in Cochrane AB
Piper is quite the dog. Still very much a puppy, Piper loves to spend time outdoors, practicing her Guardian dog skills. She loves to run and play, and could use some consistent positive reinforcement to help her become the perfect family dog.
Piper's owners love her very much. Unfortunately, health problems are making it difficult to give Piper the attention and exercise this large breed dog needs and very much deserves. Making the decision to find Piper a more active home has been difficult, but they are dearly hoping to place her with a rural family with older kids who are looking for a fantastic friend, companion and guardian.
A home on an acreage or small farm/ranch would be ideal, but dog lovers who have a large, securely fenced yard and lots of time an energy to give Piper the exercise she needs would be fine as well. Piper loves to play fetch, which is a great way to give her exercise and stimulation at the same time.
Piper is a friendly dog, but she is still getting used to her size, and could inadvertently knock down a toddler when she in play mode. For this reason, she would not be a good choice for a family with small kids.
Piper is good with other dogs, and has been on a few expeditions to local dog parks.
If you are a dog lover with room in your heart and home for this giant puppy, please get in touch. Piper is a "Diamond in the Ruff", and within another year should mature into the fantastic family companion she is destined to become.
Questions about Rehoming a Dog?
Contact our Cochrane Dog rehoming team today. Text "Rehoming" to (888) 833-2128 .
We look forward to hearing from you.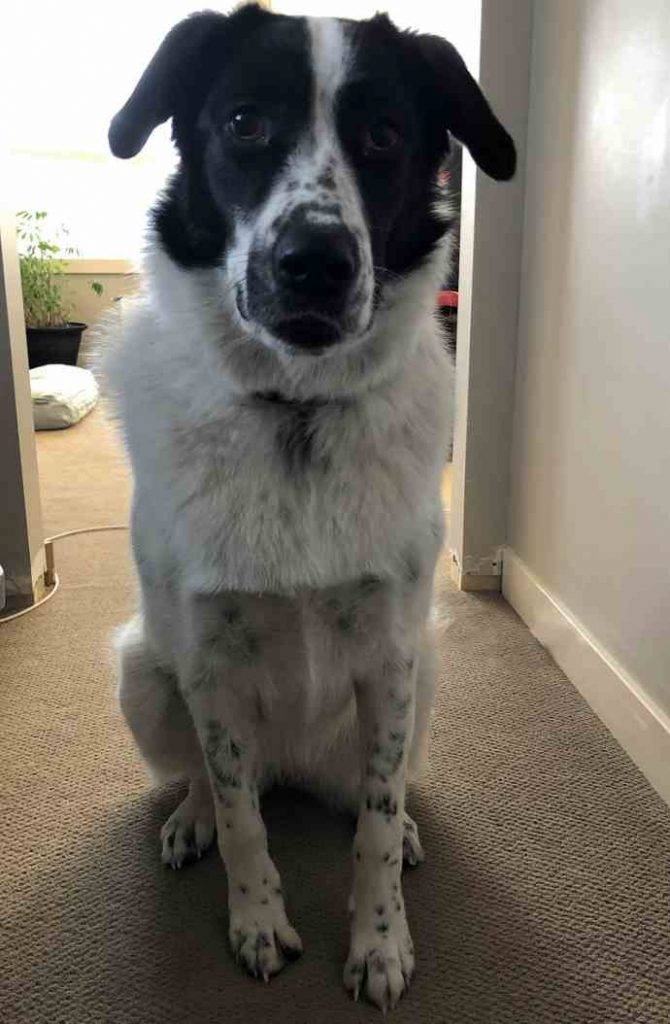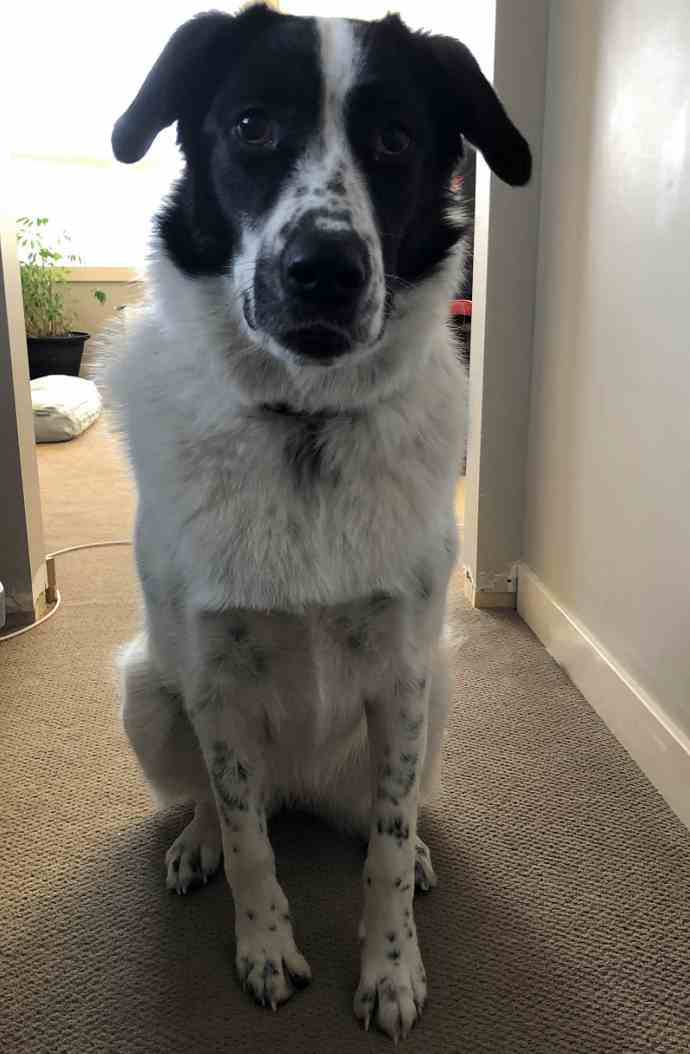 ---
All About Piper – Great Pyrenees/Shepherd Dog Adopted in Cochrane AB
Name of Pet: Piper
Location: Cochrane, AB, T4C 0C4
Type of Pet: Dog
Breed of Pet: Great Pyrenees Shepherd
Sex of Pet: Female
Age of Pet: 1 Yr
Spayed/Neutered?: Yes
Health Problems: No
Behavior Issues:  Not really. As stated above, she is still a playful puppy that sometimes forgets she is very big. This should change as she matures.
Up To Date on Vaccinations: Yes
Gets along with cats: Unknown
Gets along with dogs: Yes
Good with Children?: Yes, older children
House Broken or Litter Trained?: Yes
Crate Trained?: Yes
Accessories Included: Two dog beds (new), bones, toys, leash and collar.
Piper's Personality
She is good with most commands.
She likes to be where we are.
She is very loving.
She is very playful.
Piper's Current Home Environment
We work from home, and are around the house quite a lot. We have a very small yard with a chain link fence on all sides.
Piper's Current Family:
We are in our 50's and work from home.
Piper's Favorite Toys, Foods, Activities?
She loves to dig and chew on bones. She LOVES to run in the snow.
Why is Piper Being Rehomed?
I have a right shoulder (permanent) injury and cannot walk her as she weighs almost as much as I do.
We feel that we do not have the skills (and yard) to adequately provide what she needs.
Piper's Perfect Adoptive Home Will Be:
We believe she would be best suited on a property with lots of space and/or a very active family that can put the time into her exercise routine.
Questions about Great Pyrenees Rehoming?
Contact our Great Pyrenees rehoming team today. Text "Rehoming" to (888) 833-2128. We look forward to hearing from you.
Piper – Great Pyrenees Shepherd Mix Dog Rehomed in Cochrane AB
Piper is a Great Pyrenees/Shepherd Dog rehomed in Cochrane AB. This pet is located close to the following towns and cities in Alberta, Canada:
Calgary AB,
Airdrie AB,
Crossfield AB,
Carstairs AB,
Black Diamond AB,
Didsbury AB,
Irricana AB,
Canmore AB,
Okotoks AB,
Sundre AB,
Olds AB,
High River AB,
Innisfail AB,
Nanton AB,
Penhold AB