Adorable Pomeranian Dog For Adoption in Georgetown Texas – Supplies Included – Adopt Grace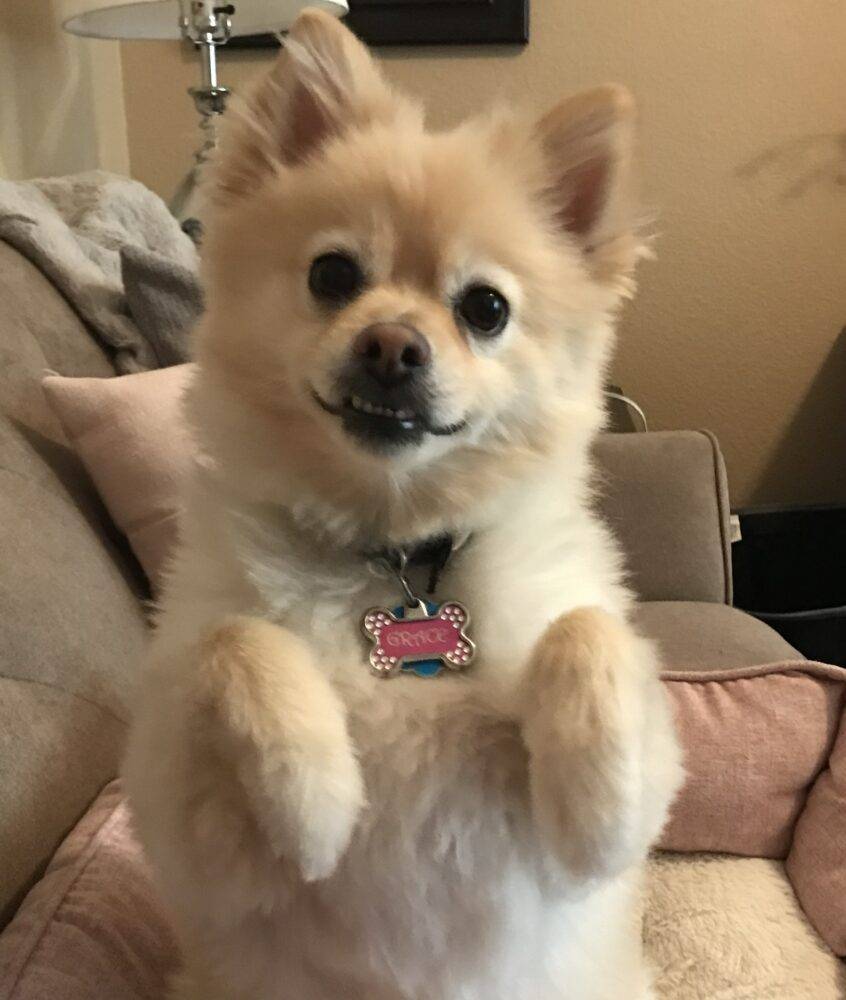 Meet Grace, a super-cute 9-year-old female Pomeranian Dog for adoption by owner in Georgetown TX. Grace has been spayed, fully vaccinated, microchipped, and housebroken. She is good with older, respectful children and adults.
Grace is looking for a very loving home with a senior or retired dog lover or two, no other pets, and no small children – live-in or visiting. She has a lot of love to offer her new owners, and deserves a home where she will be kept safe, happy and healthy. Adopt Grace today.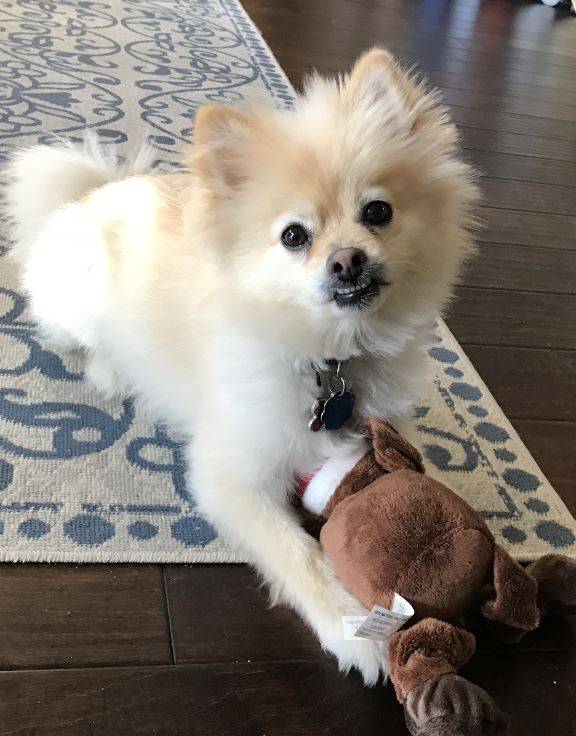 How To Adopt Grace
If you are interested in this special Pomeranian For Adoption in Georgetown TX, please fill out our online meeting request below. Once received and reviewed, our staff will ask the pets owner to reach out to you and arrange a meeting.
There is a $100 adoption/rehoming fee. Some supplies and veterinary records will be included.
Questions about Grace? Contact our Pomeranian Dog rehoming team today.
Text "GraceGeorgetown" to (888) 833-2128. We look forward to hearing from you.
All About Grace – Pomeranian Dog For Adoption in Georgetown TX
♥ Name of Pet: Grace
♥ Location: Georgetown TX, 78626
♥ Type of Pet: Dog
♥ Breed of Pet: Pomeranian
♥ Color / Coat Type: brownish/white mix – medium
♥ Age of Pet: 9 years old (we think – got her from the pound in 2016 and they thought she was 4 at that time but were not sure)
♥ Size of Pet: 15 pounds
♥ Health Problems: Yes but not any serious issues – described below
Grace has alopecia and allergies – we give her Benadryl (over the counter) for this (1 tablet daily); we also give her melatonin (over the counter also 1 tablet daily) to help her relax in the evening and sleep well at night
♥ Behavior Issues: Yes
Grace is very territorial and does not get along well with other dogs (cats either) – always tried to be the alpha. She needs to be in a home where she is the only dog/pet in the household. Grace will also fence fight (bark loudly) in the backyard with our neighbors' dogs. Additionally, she is not crate trained and while she is ok being at home by herself occasionally for hours at a time (we do that with her on the weekends for instance), she needs to be in a home where there are people at home with her a majority of the time (my wife and I are both at home during the day). The other behavioral issue is that Grace being very territorial also means that she does not do well with infants or toddlers. School-age children (around 5 years old/kindergarten age and up) are not an issue in this regard, and Grace genuinely loves people this age and older and is very friendly and welcoming to them. Finally, while Grace is housebroken she would do best with a fenced-in backyard as she gets easily distracted when on a leash and is trying to potty. She is also an escape artist and likes to run out the front door if you leave it open too long.
♥ Gets along with: Older Children, Strangers
♥ Pet is: Spayed, Microchipped, Fully vaccinated, House Broken
♥ Food: Blue Buffalo
---
Grace – Pomeranian Dog For Adoption in Georgetown TX
Grace's Personality
Despite being territorial in the ways described, Grace is a very sweet and friendly dog who loves attention. She is very playful and loves to play fight with her stuffed animals and play keep-away and fetch with mini tennis balls. She is always happy and excited to meet new people (school age and up). She is also very smart and likes to play "sit" and "lay down" tricks in exchange for animal cracker bits.
We love Grace dearly and don't want to let her go, but believe it is the best thing for her and our grandson.
Why is Grace Being Rehomed?
As mentioned, Grace has territorial issues with infants and toddlers and we have a newly arrived grandson (7 weeks old now). Two years ago, our great-nephew was visiting us with his family and Grace bit him on the cheek (he was 2 years old at the time) without providing any warning signs. We have attempted to train her to keep a distance from our grandson (using a water bottle to spray her gently when she got too close), but while that has been somewhat effective we and our grandson's parents are still concerned about Grace trying to bite him without warning. This situation creates stress and tension on Grace (she is not her usual happy self when our grandson is here), and for our grandson's and Grace's sake, we think finding her a new loving home without these issues is best.
Grace is located in Georgetown, Texas, close to the following towns and cities in Texas:
Round Rock TX,
Leander TX,
Cedar Park TX,
Pflugerville TX,
Jollyville TX,
Anderson Mill TX,
Taylor TX,
Austin TX,
Lakeway TX,
Harker Heights TX,
Belton TX,
Killeen TX,
Copperas Cove TX,
Temple TX,
Kyle TX,
Thank you for your interest in this deserving Pomeranian Dog for adoption in TX.