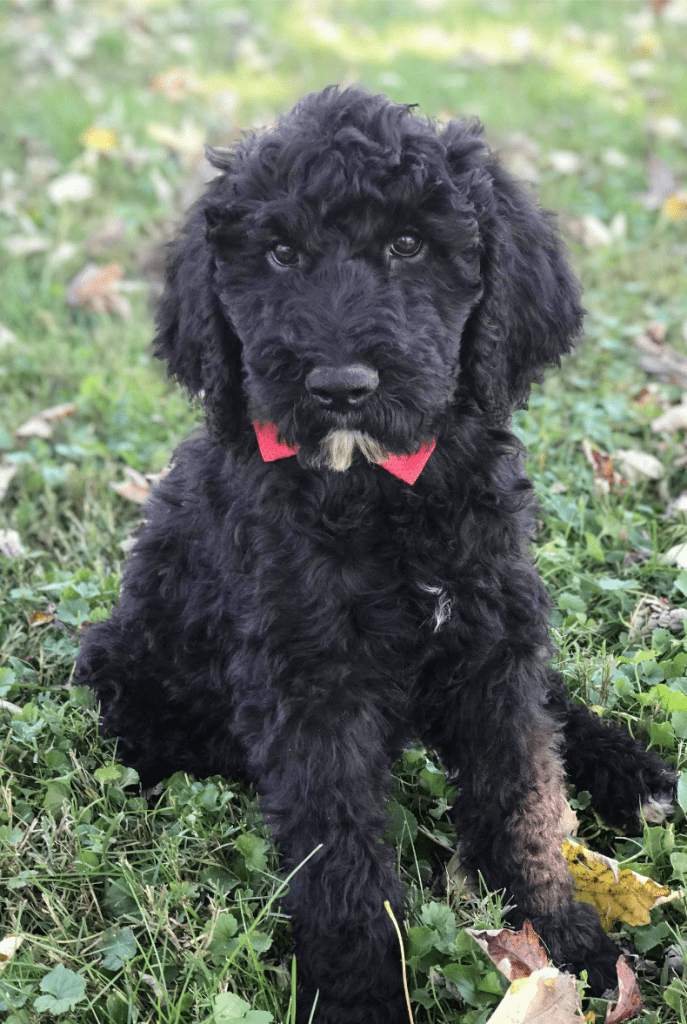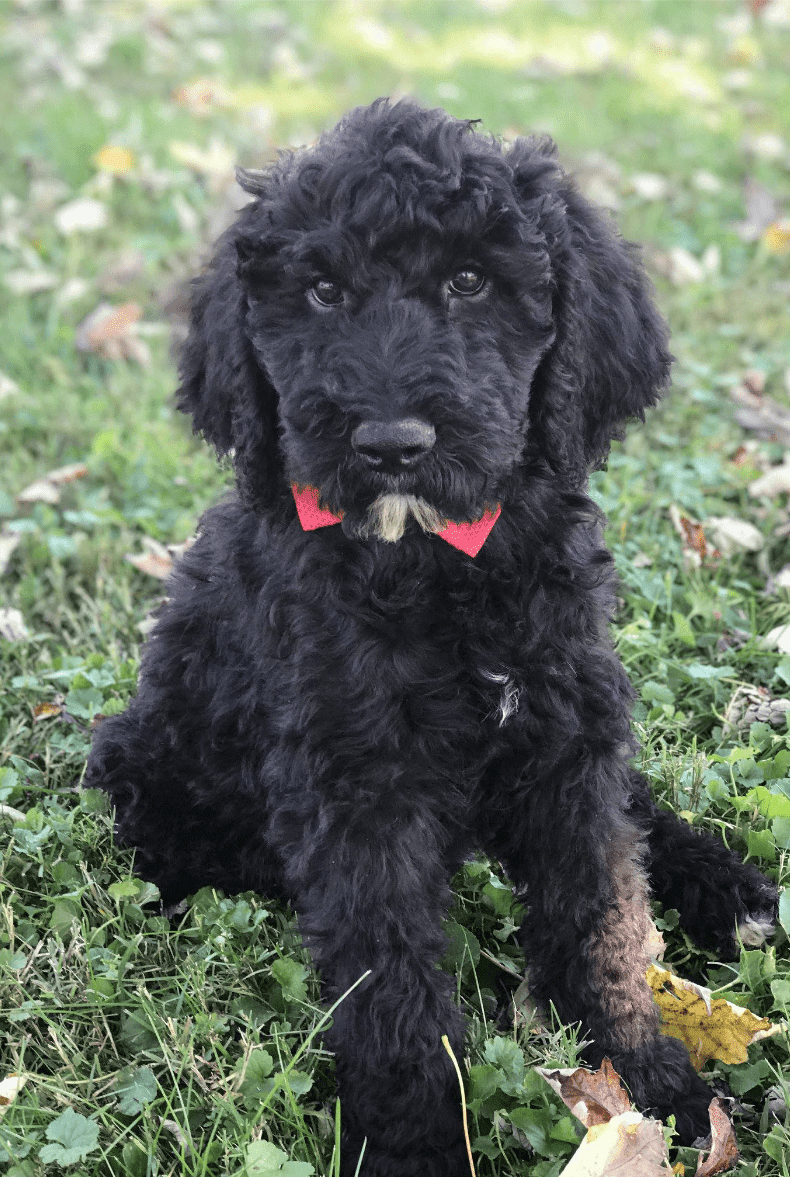 Meet Odin, Giant Schnoodle Puppy For Adoption in North Kingstown RI
Odin is a gorgeous male Giant Schnoodle Puppy for adoption to a very loving home in or near North Kingstown, RI. This very special Puppy is 5 months old and weighs 30 pounds. He will grow up to weigh between 50 and 70 pounds.
Odin is up to date on shots and very healthy. He came from a breeder in the southern US, at great expense, and has CKC registration papers. He is a second generation (F1B) Giant Schnoodle – and has both Giant Schnauzer and Standard Poodle in his mix.
Odin is super smart and very playful. He has so many wonderful traits that can always put a smile on your face. He is house broken, and will ring a bell at the back door to be let out when he has to go. He is very trainable, a diamond in the ruff just waiting to be molded into the perfect family dog.
Why is This Giant Schnoodle Puppy Being Rehomed?
Odin's owners have had him only since before Christmas. They carefully researched different dog breeds to find the right fit for their family. They are a family with one small child, and with one owner having minor dog allergies. The Giant Schnoodle seemed like the perfect fit for them.
However, after having Odin shipped to them from the breeder, they have since found that he has some aggression towards their child, and is so high energy that they simply cannot give him the exercise and playtime he needs. Odin is in need of an experienced owner who can give him strong and consistent training and reinforcement to curb the aggression and settle into his role as awesome companion. They tried in vain to contact his breeder for advice, and feel that the best decision is to carefully and conscientiously rehome Odin, making sure to place him with the right owners in the right situation for him.
At this time, he would not be a good choice for a family with children younger than 10. Ideally, he would best suit an active retired or work-from-home couple – either with no children or with teenagers.
Odin is not a bad or mean puppy by any means, but he does need training and the right environment in which to get lots of exercise and mental stimulation.
Odin will be rehomed with all supplies and his papers and health records.
There is a $500 adoption/rehoming fee. Supplies and veterinary records will be included.
Questions about Odin? Contact our North Kingstown Puppy rehoming team today. Text "Odin" to (888) 833-2128 or email Odin@dog-lover.us. We look forward to hearing from you.
---
All About Odin – Giant Schnoodle Puppy For Adoption in North Kingstown RI
Name of Pet: Odin
Location: North Kingstown, RI, 02852
Type of Pet: Puppy
Breed of Pet: Giant Schnoodle  (Giant Schnauzer x Standard Poodle)
[tabs_button]
[tab title="About Giant Schnauzers"]
Giant Schauzer Dog Breed Information
The Giant Schnauzer is a working breed of dog developed in the 17th century in Germany. It is the largest of the three breeds of Schnauzer—the other two breeds being the Standard Schnauzer and the Miniature Schnauzer. Wikipedia
Hypoallergenic: Yes
Life span: 12 – 15 years
Temperament: Kind, Loyal, Intelligent, Strong Willed, Dominant, Powerful
Weight: Female: 25–34 kg, Male: 27–48 kg
Height: Female: 60–65 cm, Male: 65–70 cm
Colors: Black, Salt & Pepper
[/tab]
[tab title="About Standard Poodles"]
Standard Poodle Dog Breed Information
Height: 45 – 60 cm (Adult, At the withers)
Lifespan: 12 years
Scientific name: Canis lupus familiaris
Higher classification: Dog
Rank: Breed
[/tab]
[tab title="About Giant Schoodles"]
Schnoodle Dog Breed Information

A schnoodle is a domestic dog. It is a cross between a schnauzer and a poodle. Schnoodle is a portmanteau combining the two breed names. Wikipedia
Mass: 3.2 – 7.3 kg (Adult)
Scientific name: Canis lupus familiaris
Higher classification: Dog
Rank: Breed
Temperament: Clever, Obedient, Devoted, Intelligent, Strong Willed, Protective, Loving, Active
[/tab]
[/tabs_button]
Sex of Pet: Male
Age of Pet: 5 months
Spayed/Neutered?: No
Health Problems: No
Behavior Issues: Aggression towards child and secondary adult. (lunging, snarling, nipping) Seems to be resource guarding his chosen human leader.
Up To Date on Vaccinations: Yes
Gets along with cats: Unknown
Gets along with dogs: Yes
Good with Children?: Needs training. Currently not recommended for kids under 10.
House Broken or Litter Trained?: Yes
Crate Trained?: Yes
Accessories Included: He will come with toys, food, papers, vet papers, crate and bed.
Odin's Personality
We have not had him that long. But he appears to be sweet.
Odin's Current Home Environment
We have a big house, a big yard, a 4 yr old.
Odin's Current Family:
Dad: works and travels a lot
Mom: work from home company
Child: four and goes to preschool
We wanted a family dog to grow with us and our child. Unfortunately the puppy is not a good fit. We are sorry this happened and took 6 months to research and find a great breeder. We are very upset but we hope we can find the puppy the right home.
Odin's Favorite Toys, Foods, Activities?
He likes soft cuddly toys, toys that squeak, and lots and lots of things to chew.
Why is Odin Being Rehomed?
Not the right personality for our family and too much travel with work that came up suddenly.
Odin's Perfect Adoptive Home Will Be:
We think Odin would work with:
a family with a child over 10.
a couple with no kids that has the time
How To Adopt Odin
If you are interested in adopting this special Giant Schnoodle Puppy For private rehoming in North Kingstown RI, please fill out our online meeting request below. Once received and reviewed, our staff will ask the pets owner to reach out to you and arrange a meeting.
Questions about Odin? Contact our Giant Schnoodle Puppy rehoming team today. Text "Odin" to (888) 833-2128 or email Odin@dog-lover.us. We look forward to hearing from you.
---
Odin – Giant Schnoodle Puppy For Rehoming in North Kingstown RI
Odin is a Giant Schnoodle Puppy for private adoption by owner in North Kingstown RI. This pet is located close to the following towns and cities in RI:
[one_third]Exeter
Kingston
Jamestown
Narragansett
East Greenwich
Newport
Middletown
Warwick
West Warwick
Portsmouth
Bristol[/one_third]
[one_third]
Tiverton
Charlestown
Coventry
Barrington
Belleville
Allenton
Annaquatucket
Hamilton
Lafayette[/one_third]
[one_third_last]
Cold Spring Beach
Wickford
Congdon Hill
Wickford Junction
Plum Point
Shore Acres
Cranstons Corner
Slocum
Plum Beach
Kiefer Park
Gardners Corner
Saunderstown[/one_third_last]
Adopt this sweet Giant Schnoodle Puppy in North Kingstown RI today.