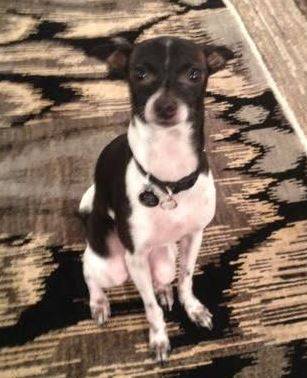 Sweet Sammy – Tiny Lap Dog Seeks Loving Home with Stay At Home Single or Couple – Supplies Included
If you are looking for a very devoted companion,  I am your new best friend. A delightful mix of Chihuahua and Italian Greyhound, I attach myself like a barnacle to my favorite human and hang on their every word and action. I am just 6 years old and have been living with my current owners since I was adopted from a shelter .
I live in Kirkland, Washington. I am tiny at just 7 pounds, but I have a huge heart and give so much love to my favorite person.
My owners love me a lot, but their home just is not suitable for my personality. I am one-person dog, and need a quiet, predictable environment in order to feel calm, safe and happy. My current home includes small children and a lot of commotion. It makes me feel like I need to be on guard all the time.
I was adopted from a local shelter. Likely the reason that I ended up in the shelter is because I was in the wrong time of home in the first place. Small lap dogs like me are not children's playthings. We are better with adults in an adults-only home. I get along just fine with other pets, as long as they are good with me.
In the right home with just one person, or a couple, I will be SUCH a happy little guy.  I love to spend most of my time snuggled up in a cute little ball on your lap. I am great in the car, too, and would be happy to accompany you to appointments or on shopping trips.
My personality is very typical of both the Chihuahua and Italian Greyhound breeds. I'm not good with children – at all. They scare me, and it makes me feel like I need to growl at them to protect myself. With my favorite human, I am so sweet, gentle and loving. All I need is the right home and I will thrive.
I am very healthy, have been neutered and am up to date on my shots. Please offer me a place in your home and heart, and a nice, warm spot on your lap. I am one of those dogs that will surely leave tiny paw prints on your heart.
Please offer me the loving home that I need and deserve. I can't wait to wiggle my way into your heart.
Love, Sammy
To offer Sammy a home, please fill out our online meeting request form using the link below. Once receivved, Sammy's owner will contact you to arrange a convenient time to meet.
[button link="http://petrehoming.net/adopt-a-pet/" size="large" variation="hotpink" align="center"]Request to Meet Sammy Here![/button]
All supplies will be included. There is a $50 rehoming/adoption fee.
---
Location: Kirkland, Washington, 98033
Type of Pet: Dog
Breed: chuaua/italian greyhound mix
Age: 6
Color/Coat Type: black and white
Size: 6-7 lbs
Health Issues: no
Behavior Issues: no
Sammy is:
Neutered, Microchipped, Fully vaccinated, House Broken, Leash Trained
Sammy gets along with:
Adults Only, Dogs, Cats, Small Animals, Pet Birds, Horses
Personality
He is very anxious and timid, and really only bonds with one person. He's super affectionate and sweet, loves to be held and on a warm lap. He loves to ride in the car, is happiest when he's on a long walk, and sleep under covers curled up next you a warm body. He can be very playful once he trust you. We got him at approx age 3 as a rescue. We have no idea what his past was like.
Reason For Rehoming
We LOVE Sammy but we always have a houseful of kids (besides my 3) so he's always a wreck. He either has to be behind a closed door or on a leash. He has seperation anxiety too and I'm going back to work. He really needs a quite home with 1-2 adults who are home pretty much all the time. He loves other dogs of all kinds and would have less anxiety if there was another dog around. We also have a cat that he gets along beautifully with. We also have a yard that isn't fenced and he will wander if he doesn't have boundries.