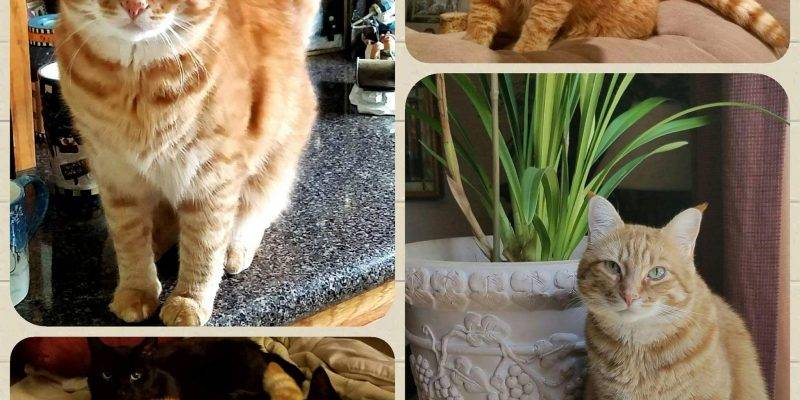 REHOMED – HONEY – ORANGE TABBY MAINE COON MIX CALIFORNIA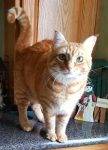 Honey, a very sweet Orange Tabby Maine Coon mix cat has found a wonderful new home in Spokane, Washington   through the efforts of our California pet rehoming team! Honey is now the cherished companion of a senior lady who had been looking for some feline companionship. Honey is doing very well in her new home, and we have received some great pictures from her new owner.
Need to Rehome a Cat in Orange County?
Our California Pet Rehoming team can find your cat or kitten a very loving home – safely and effectively. Contact our pet rehoming team today! Call us toll-free at (888) 720-3322, TEXT "Rehoming" to (888) 833-2128 or email [email protected].
We will be happy to speak with you about your situation and answer any questions you may have.
Ready to Rehome Your Pet?
---
Here is how our California cat rehoming team presented sweet Honey to attract the perfect new home for her:
Hi, My name is Honey!
 Honey is so handsome! This 16 pound ginger tabby cat has the most stunning coat. He is clearly part Maine Coon, with the tufted ears and paws, thick, soft coat, and laid back, dog-like personality the breed is known-for.
Honey is just 5 years old and very healthy. He is neutered, up to date on shots, micro-chipped and well behaved.
Honey was fine with other animals right up until his best friend, the family dog, passed away. Since his buddy's passing, one of the other cats in the home has taken a dislike to Honey, and there has been cat conflict-a-plenty, including occasional spraying.
As much as it breaks her heart to have to do so, Honey's owner knows that it is necessary to find this beautiful cat new owners who will cherish him as their one and only pet.
Honey is front declawed and amazing. His gregarious nature and constant sunny smile make him such a loving companion. He is very well behaved and has always used his litter box.
If you have been waiting for the most precious cat to come along, Honey is the fur baby for you.
His owner is moving from the Spokane area to Orange, CA, so he can be adopted within a reasonable distance of either location.
Please open your heart and home to Honey. He will definitely leave big, furry paw prints on your heart.
---
Location: Orange, CA, 92869 (can also be adopted in Spokane, WA)
Type of Pet: Cat
Breed: Orange tabby
Age: Almost 5 years
Color/Coat Type: Orange tabby
Size:
Health Issues: No
Behavior Issues: No Needs to be an only pet.
Honey is:
Neutered, Fully vaccinated, Litter Trained, House Broken
Honey gets along with:
Babies, Toddlers, Small Children, Older Children, Adults, Dogs, Cats
Personality
Smiley is how he's often described by people always ready to meet people at the door. He's active but obviously enjoys lounging- on your lap, beside you on the couch curled up with other cats or just perched on veiw point napping or watching outside. He's been around babies, toddlers and elderly and is curious and gentle. He loves attention. While one of my other cats is always interested in what people are eating Honey never begs for food but will tell me everyday an hour or two before dinner, that it's almost time to eat by following me around and meowing (as if in conversation). He is good with litter box and not as picky about even sharing boxes as are my other cats. In fact he always shows his gratitude in litter box cleaning by using it the moment it gets changed lol. Honey has never really come by calling his name but with hand jesters he does particularly because he likes being pet. He purrs alot.
Very healthy looking orange tabby. Front paw declawed. Neutered.
Food and Diet
Honey is currently on Other
I always leave dry food out, and give wet food in the early evening. I wish it were better brands then the friskies I've used. Honey would probably do well by not having food left out because I understand orange tabby's tend to eat more. But my other cats have always had food out and are quite lean. Honey is a little bigger but not over weight.
Reason For Rehoming
Honey, my orange cat is the youngest member of our family. He was rescued as a kitten in the woods. I have 2 older cats 15 years which are close and had a lab of 15 years which died this year. Honey and this dog were best friends. All of the cats are male. Since the dog died Honey challenges for alpha position. This is causing tension and stress between cats. Marking territory etc which has never happened before. Each of my cats are fantastic but this situation is going to produce ongoing problems. I moved them from Washington a year and a half ago. They were inside/outside cat's but I've only had them inside since. I am traveling back to Spokane Washington in a few weeks to prepare our second home to be listed for sale and expect I may be there on and off much of the summer so placing honey in a new home is all the more of a priority now. He is the youngest and most likely able to be happily adjusted. He is very affectionate, gentle, comfortable around people, babies, dog's and other cats, he just wants to be alpha cat now.