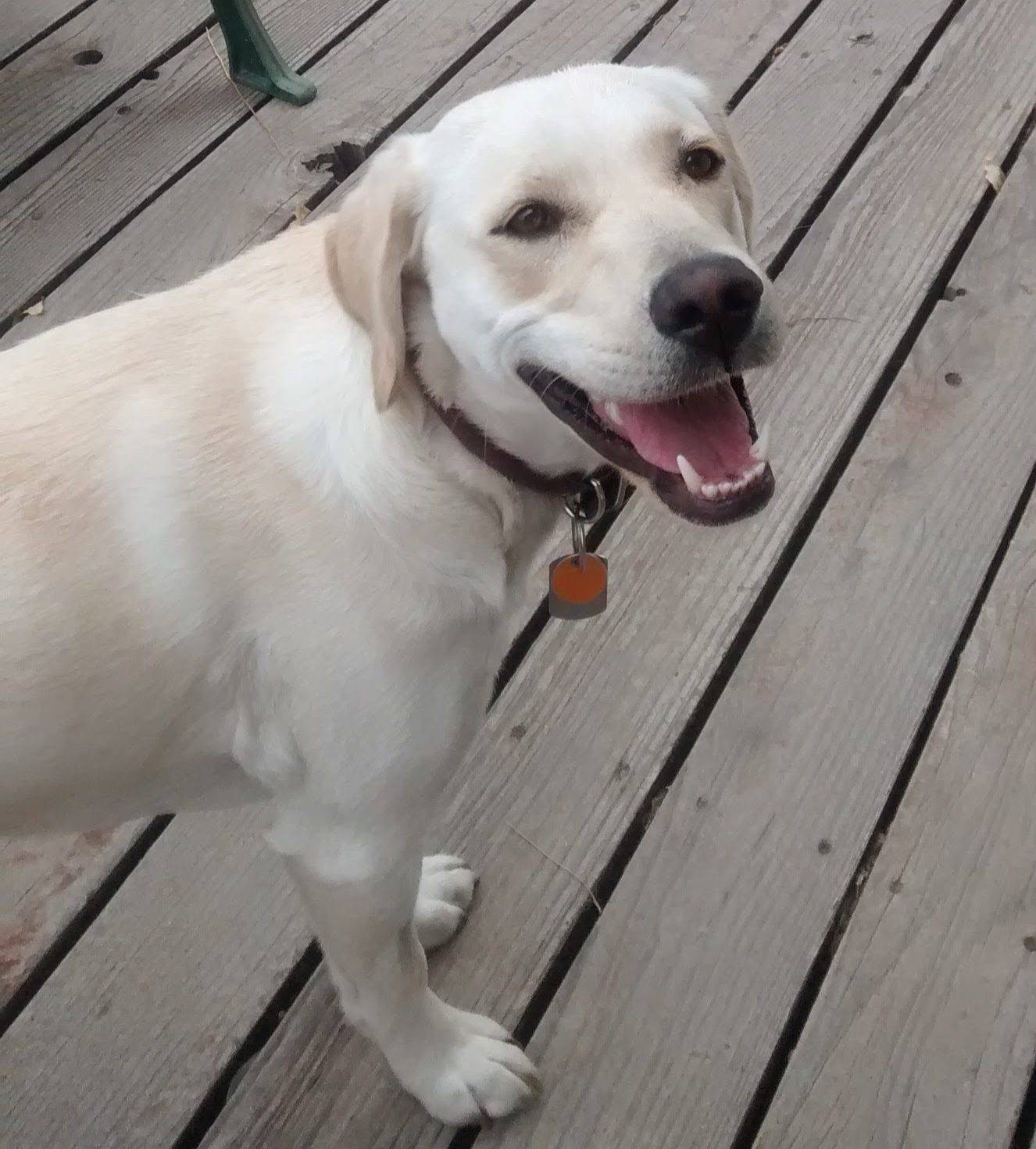 Meet Sara, Labrador Retriever Dog For Adoption in TX Texas
Sara is a Female Labrador Retriever Dog for adoption to a very loving home in or near Dallas TX, Texas. This very special Dog is 6 years years old and weighs 60 lbs pounds.
Like most Yellow Labrador Retrievers, Sara is a perennial ray of canine sunshine!  She is spayed, up to date on shots, very healthy, micro-chipped, house trained and ready-to-love.
Sara has a wonderful personality and a lot of joy for life. She loves her humans with a passion, and sometimes "forgets herself" in her desire to greet people and can be a bit jumpy. Aside from that, she is the perfect family companion.
Sara is good with other dogs, cats and children (although her enthusiasm may be a bit too much for toddlers whom she could inadvertently knock over).
Sara is being rehomed by her owner, who has had to make this very difficult decision due to health issues preventing her giving Sara the exercise, grooming and playtime she needs and deserves.
Sara is looking for a forever home with a nice family who will cherish her and keep her safe, happy and healthy. She would very much appreciate a large, securely fenced yard and some great kids to play with.
Sara will be rehomed with all the supplies her owner has on hand for her, along with veterinary records. Please offer this amazing Yellow Lab the loving home she needs and deserves today.
There is a $150 adoption/rehoming fee. Supplies and veterinary records will be included.
Questions about Sara? Contact our Dallas Dog rehoming team today. Text "Sara" to (888) 833-2128 or email [email protected] We look forward to hearing from you.
---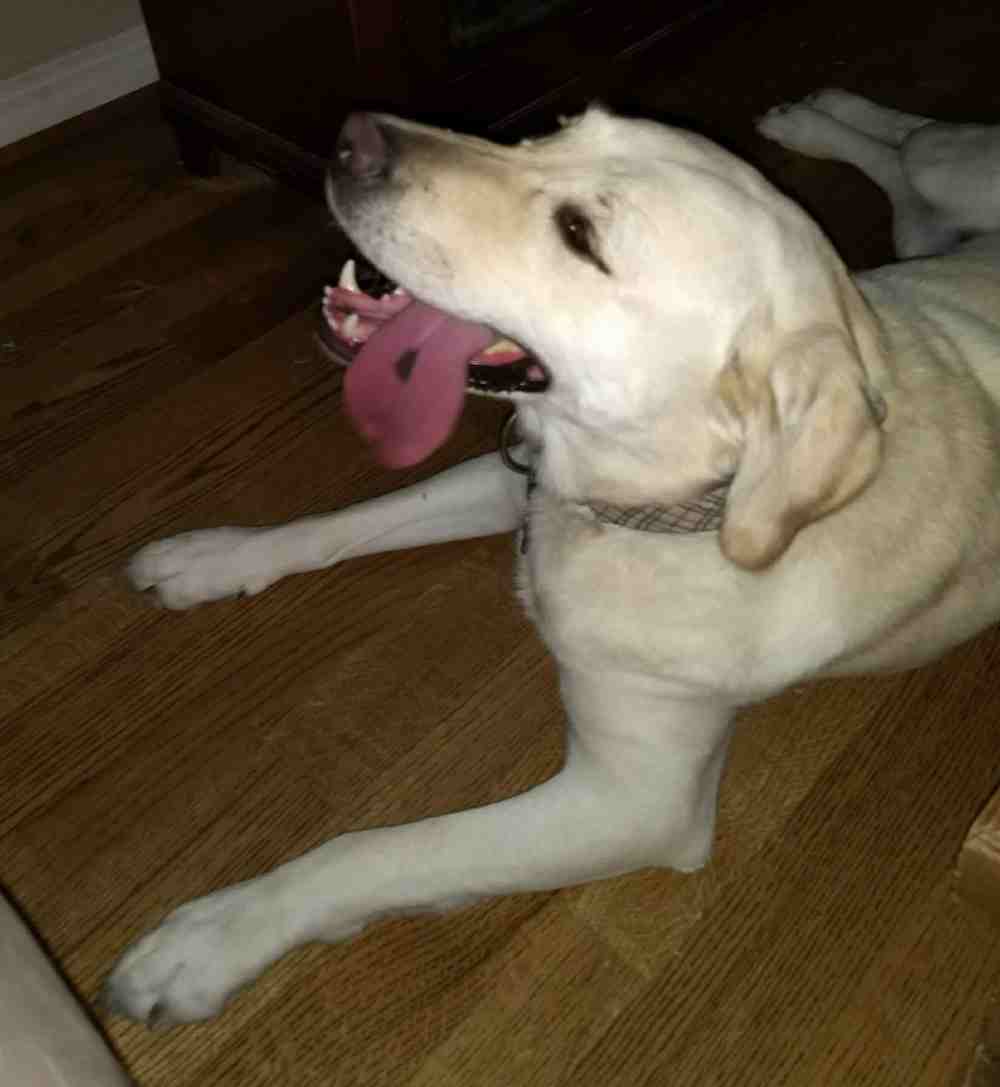 All About Sara – Labrador Retriever Dog For Adoption in Dallas TX Texas
Name of Pet: Sara
Location: Dallas, Texas, 75218-4119
Type of Pet: Dog
Breed of Pet: Labrador Retriever
Sex of Pet: Female
Age of Pet: 6 years
Spayed/Neutered?: Yes
Health Problems: No
Behavior Issues: Yes Well, she still gets very excited when she first meets new people, and when you come home. This includes wanting to jump up on you. I don't consider that a behavior problem, but others might.
Up To Date on Vaccinations: Yes
Gets along with cats: Yes
Gets along with dogs: Yes
Good with Children?: Yes
House Broken or Litter Trained?: Yes
Crate Trained?: No
Accessories Included: I have leashes, dog and water bowls, dog beds, toys, food, sofa covers, treats.
Sara's Personality
Only 5?!
1. She is so loving. She comforts me when I am not feeling well.
2. Extremely playful.
3. So smart – learns commands & tricks easily.
4. Easygoing and yet high energy.
5. So eager to please.
Sara's Current Home Environment
She has access to the whole house, although she is blocked from the 2nd bedroom where the cat food/litter box is. There is a big back yard for playing and sunbathing.
Sara's Current Family:
There is only one human, me, 2 dogs, and 3 cats. The dogs and cats have grown up together and are mostly the same age.
Sara's Favorite Toys, Foods, Activities?
Any food except green leafy stuff is her favorite! Very food motivated. Her favorite toys are tennis balls and frisbees. Playing fetch with both of those is her favorite activity; a close second is playing with her dog sister.
Cute Sara Story:
Shortly after I adopted Sara (when she was about 18 months old), we moved in with my mother to care for her. My mother was not an animal lover so she didn't invite attention from Sara. But Sara immediately won her over with her sweetness and her intelligence. We were constantly amazed and tickled by Sara's quick mind and how fast she learned.
Why is Sara Being Rehomed?
My health is preventing me from giving her the exercise, activity, adventures, and grooming she needs.
Sara's Perfect Adoptive Home Will Be:
She needs an active owner, hopefully with lots of people to love and at least one other dog (my other dog, Cassie, is also up for adoption and they are very bonded).
Additional Comments:
I would love to hear about Sara's transition and new life at least for a few months.
How To Adopt Sara
If you are interested in adopting this special Labrador Retriever Dog For private rehoming in Dallas Texas, please fill out our online meeting request below. Once received and reviewed, our staff will ask the pets owner to reach out to you and arrange a meeting.
Questions about Sara? Contact our Labrador Retriever Dog rehoming team today. Text "Sara" to (888) 833-2128 or email [email protected] We look forward to hearing from you.
Sara – Labrador Retriever Dog For Rehoming in Dallas TX Texas
Sara is a Labrador Retriever Dog for private adoption by owner in TX Texas. This pet is located close to the following towns and cities in Texas:
Highland Park TX,
University Park TX,
Irving TX,
Balch Springs TX,
Duncanville TX,
Farmers Branch TX,
Mesquite TX,
Grand Prairie TX,
Richardson TX,
Addison TX,
Carrollton TX,
Garland TX,
Lancaster TX,
DeSoto TX,
Rowlett TX,
Adopt this sweet Labrador Retriever Dog in Dallas Texas today.