Yellow Labrador Retriever Whippet Mix Dog For Adoption in Ventura California – Meet Maizy
Are you searching for a lovable Labrador Retriever Whippet mix dog for adoption in Ventura, California? Meet Maizy, an 8-year-old female with a friendly personality and minimal grooming needs. While Maizy experiences mild separation anxiety and may not get along with small children, she loves people and enjoys outdoor activities. Her current owners are sadly rehoming her due to circumstances beyond their control, and are hoping to find a loving home where Maizy will be cherished and well-cared-for.
If you're interested in adopting Maizy, please read on.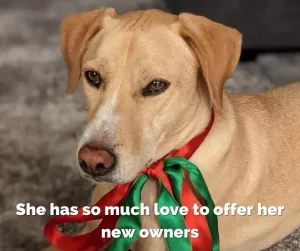 ---
Meet Maizy | About Maizy | Personality | Why Rehoming? | Location | Adopter Requirements | How to Adopt
---
Meet Maizy – Pre-Loved Lab mix dog For Adoption by Owner in Ventura CA
Maizy is an 8-year-old female Lab Whippet mix dog who is looking for a new, loving home in or near Ventura, CA. Her owners are heartbroken to have to rehome her, but circumstances have made it necessary.
Like many dogs, Maizy is fearful, and possibly a little jealous, of her owner's baby son. Dogs don't always know what to think about babies and toddlers. They make strange, loud noises, have a lot of funny smells, move in ways that dogs don't recognize as like their owner, and they take up almost all of their owner's time.
Maizy was her owner's baby for so many years, and was very attached to her. When the baby came along, in Maisy's view, she was replaced, which could also contribute to some jealousy on her part. Maizy has lived so long as the center of attention that she really needs a home where she can be the center of attention again.
Her owner has been doing her utmost to make sure that Maisy feels loved and gets plenty of attention and affection, but this doesn't seem to change her behavior towards the little one.
As a result of this situation, Maizy needs a home where there are no small children. The little fellow is now quite mobile and toddling around the house, making Maizy's anxiety increase. Maisy's owner is devastated about the situation, but realizes that there is no choice in the matter. She is dearly hoping that a very good home can be found for Maisy with somebody who can spend lots of time with her and let her spoil you with her loving nature.
Maizy is such a special dog who is adorable, very friendly to adults and older kids, relaxed in most situations, a good walking/hiking partner, and requires minimal grooming. Her owners are hoping to find a home where Maizy will be loved unconditionally and taken care of for the remaining years of her life.
She would make a fantastic companion for active, retired dog lovers who don't have small grandchildren visiting, but equally suitable for a work-from-home dog lover who enjoys getting outdoors and exploring this beautiful area.
If you are interested in adopting Maizy, please fill out the online meeting request form below. There is a modest adoption/rehoming fee, and  it includes supplies and veterinary records.
5 Amazing Things About Maizy:
Cute, friendly (to adults), quite relaxed in the right situations, good walking/hiking partner, minimal grooming required
Maizy's owners are very sad to have to rehome their cherished dog, but circumstances beyond their control have made rehoming a must-do.
Maizy's owners are hoping to find the right home for their cherished dog, where this deserving dog will be loved unconditionally and kept safe, happy, healthy and well-cared-for.
If you have room in your heart and home for this amazing companion, then please offer Maizy a loving, forever home today. Maizy can't wait to show you the true meaning of unconditional love.
---
How To Adopt Maizy
Please fill out our online meeting request form via the button below. Once your application is received and reviewed, our staff will ask the pets owner to reach out to you and arrange a meeting.
There is a $100 adoption/rehoming fee. Supplies and veterinary records will be included.
Questions about Maizy? Contact our Ventura dog rehoming team today.
 You can email us at [email protected] and one of our rehoming team members will reply to you as soon as possible. We look forward to hearing from you!

---
All About Maizy – Lab mix dog For Adoption in Ventura CA
Name of Pet: Maizy
Location: Ventura, CA, 93003
Type of Pet: dog
Breed of Pet: Labrador Retriever Whippet mix
Sex of Pet: Female
Age of Pet: 8
Spayed/Neutered?: Yes
Health Problems: No
Behavior Issues: Anxiety. Has significant anxiety with babies and small children. Mild separation anxiety mediated with the use of a crate. Not great with some other dogs.
Up To Date on Vaccinations: Yes
Gets along with cats: No
Gets along with dogs: No
Good with Children?: No small children. Good With Children aged 13 and up
House Broken?: Yes
Crate Trained?: Yes
Accessories Included: Pretty much anything the new owner would want: beds, food, crate, bowls, toys, etc. We are happy to provide everything that we currently have for her if the new owner wants it.
Maizy's Personality
A HUGE people pet. Absolutely loves just about every person she meets and is very excited to meet new people. She also loves being outdoors for walks, hikes, and general lounging around in the backyard. Her energy levels, which ones were very high, have become less as she has gotten older, so this would make her a great fit for an active senior dog lover.
As long as she is in a comfortable location with at least one person around, she is usually a pretty relaxed dog.
Maizy's Favorite Toys, Foods, Activities?
Loves basking in the sun and getting belly rubs. Really enjoys peanut butter, cheese, and greenies. Maizy is relatively ambivalent towards toys. She used to play with them more but doesn't as much anymore.
Cute Maizy Story:
One time we had some whipped cream and we were spraying little bits of it on her nose for her to lick off and she got so excited and was leaning back so far to try and get the whipped cream that she topped over backwards and it was hysterical. We have a video of it somewhere that I am not able to find at the moment but I might be able to later.
Why is Maizy Being Rehomed?
Tragically, with the arrival of their first born child, Maisy became increasingly anxious around the baby. As he has become more mobile and is now toddling around, exploring his environment, Maizy has become aggressive towards him. This is her way of saying "Stay away from  me, I don't feel comfortable near you", but 1 year olds do not understand or notice the signals that dogs give. As a result, has become necessary to rehome Maizy into a situation where there are no small children.
Maizy's Perfect Adoptive Home Will Be:
Maizy would do very well in a quiet home with a strong routine, where she will be given adequate activity and lots of affection and attention from her owner. She is a very friendly, sweet and affectionate dog that has a lot of love left to give. Her owner is devastated with having to rehome Maisy, and would really appreciate someone who would be willing to keep in touch, and maybe even meet up for a hike once in a while.
---
Maizy – Lab mix dog For Rehoming in Ventura CA
Maizy is a Yellow Labrador Retriever Whippet mix dog for private adoption by owner in Ventura CA. Maizy is located close to the following towns and cities in California, and can be adopted from anywhere within a reasonable distance.
Ventura CA,
Oxnard CA,
Port Hueneme CA,
Santa Paula CA,
Carpinteria CA,
Camarillo CA,
Fillmore CA,
Moorpark CA,
Santa Barbara CA,
Thousand Oaks CA,
Westlake Village CA,
Simi Valley CA,
Agoura Hills CA,
Goleta CA,
Isla Vista CA,
Malibu CA,
Adopt this deserving Labrador Retriever Whippet mix dog in Ventura CA today.