Shipperke Chihuahua Mix Dog For Adoption Baltimore MD – Adopt Coco Today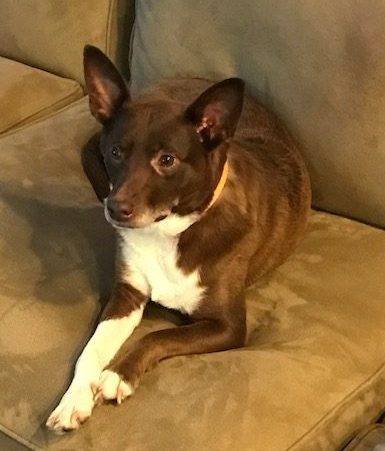 Meet Coco – Medium Sized Chihuahua Shipperke Mix Dog For Adoption in Baltimore Maryland
There is a $40 adoption/rehoming fee. Supplies and vet records will be included.
Questions About Coco?? Text "Interested In Coco" to (888) 833-2128 or email adoptCoco@pet-lover.us
If there were ever a contest for Baltimore's cuddliest canine, Coco would win it, paws down! She is very pretty, too! Her thick, short coat is chocolate in color, with cute white socks and chest.  She has perky little ears, and deep brown eyes that gaze up at you with love.
Just 7 years young and around 35 pounds, nobody is completely certain of her lineage. She looks to have Chihuahua in her mix, along with some undetermined breeds of terrier – or possibly Schipperke.
See Shipperke Chihuahua mix photos here
Coco is spayed, up to date on shots and microchipped. She has good manners in the home, and is house broken and leash trained.
Coco has Epilepsy, but as long as she receives a twice-daily pill, she should stay happy and healthy throughout her life. The medication is very inexpensive – just $20 per month.
This medium sized bundle of devotion was adopted from a rescue organization by her owners, a young couple who love her dearly. They are faced with the unfortunate situation of having to find a new home for Coco. She is very anxious around small children, and they are expecting their first child in the next month.
Coco is such a good companion. Her ideal home will be with a couple or single who have lots of love to offer her. She is used to being home alone while her owners are at work, so she would fit in well with many dog lovers.
Coco is a calm, affectionate and quiet dog. She rarely barks, and is incredibly devoted. She needs to be properly introduced to new people, and would not be a good fit for someone who does a lot of entertaining in the home. She will nip if someone she doesn't know tries to pet her without allowing her to feel comfortable with them.
Small children make her very anxious – they are very unpredictable and make all kinds of strange noises (according to Coco, that is!).
For a senior or someone who lives a quiet life on their own, Coco is the perfect companion.
If you have room in your heart and home for this sweet little lady, please get in touch with us. We will be happy to arrange for you to meet Coco and her owners, so that you can learn all about her and discover whether Coco is the right match for you.
There is a $40 adoption/rehoming fee. Supplies and vet records will be included.
Questions About Coco?? Text "Interested In Coco" to (888) 833-2128 or email adoptCoco@pet-lover.us
---
All About Coco – Terrier Mix Dog For Adoption in Baltimore
Location: Baltimore, Maryland, 21201-4447
Type of Pet: Dog
Breed: Chihuahua Terrier Mix
Age: Approximately 7
Color/Coat Type: Brown hair with white "socks" and a white tipped tail
Size: 36 lbs.
Health Issues: Yes He has Epliepsy, for which he takes a pill twice a day. His medication is inexpensive and easy to give to him. He has no other health problems, and should live a long, happy life as long as he is given his meds.
Behavior Issues: Yes. Coco is very anxious around small children. He tends to be anxious with strangers as well. In his home with his owners, he is the perfect little dog – very devoted and affectionate. He loves to be on your lap.
Coco is:
Spayed, Microchipped, Fully vaccinated, Crate Trained, House Broken, Leash Trained
Coco gets along with:
Adults Only
Personality
Coco is incredibly easy going. Coco is a fairly lazy dog, and prefers to spend her time cuddling with someone on the couch whenever possible. She will always choose to sit with someone if that is an option, rather than sitting on her own or sleeping in her dog bed. She tolerates walks up to about 30 minutes/day, but doesn't seem to have a ton of energy that she needs to expel, and will get tired after 20-30 minutes and will look to be heading home.
Coco lives with us in our one-bedroom apartment, and doesn't seem to mind at all that we live in a small space, or that she doesn't have a backyard to run aroiund in.
In the 15 months that we've had Coco, we've probably heard her bark less than 10 times. She is a very quiet dog.
Coco is totally house trained and crate trained (although we don't crate her anymore because she never has accidents and never chews on anything she shouldn't, and very happily lazes on the couch all day while we are at work)
Coco much prefers the love of people to other animals, and would be happiest in a home where she could be the center of attention and affection.
Food and Diet
Coco is currently on Other
Coco eats: Purina Pro Plan Savor Adult Shredded Blend Chicken & Rice Formula Dog Food
She eats 3/4 cup in the morning and at night
Reason For Rehoming
Because of Coco's problems with children, we do not think it is a safe situation to have her in our home any more because I am due with our first child at the end of February. Our initial thought was that Coco would live with my in-laws, who also love Coco very much, but we have become increasingly worried about this option as my in-laws are in their 70s and live on a street with many small children.
It would be easy for Coco to run out of the house when they open the door, and we do not think that is safe if there are children playing outside.
How to Adopt Coco
If you would like to consider offering Coco a loving, forever home, please fill out our Request To Meet A Pet form here:
https://pet-net.net/adopt-a-pet/
Once received, we will contact you to discuss your request and set up a mutually convenient time to meet Coco and his owner in their home.
There is a $40 adoption/rehoming fee. Supplies and vet records will be included.
Questions About Coco?? Text "Interested In Coco" to (888) 833-2128 or email adoptCoco@pet-lover.us