Honey has found her forever family in Vermont. We had so many dog lovers interested in offering this sweet girl a home, but had to choose just one. She is now enjoying full-time love and companionship and doing great.
Do you need to find a good home for your dog or puppy in Vermont?
Here is how our Rehoming Team presented Honey to attract her new family:
Hi, My name is Honey!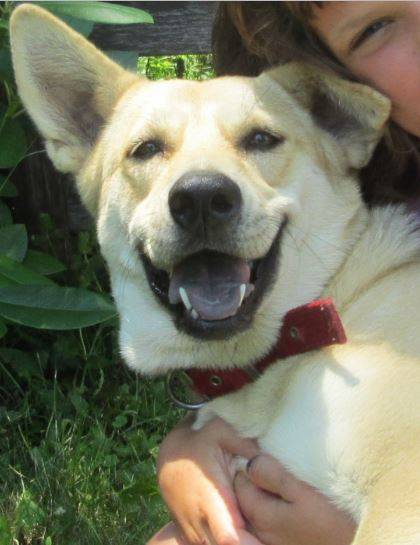 Looking for love and loyalty in the form of an adorable 40 pound "yellow German Shepherd"? They don't come much sweeter than me! I am a beautiful mix of Yellow Labrador Retriever and German Shepherd. Just 4 years old, I am spayed, fully vaccinated, and perfectly house broken.
I am really good natured dog who loves everyone. I get along just great with other dogs, cats and children, whom I adore. I am very loyal to my humans, and always stay close, even when I am off leash.
I have been the companion of a little girl for the past 3 years. We have had a lot of fun together, playing outdoors, snuggling indoors and being each other's best friend. I helped her cope with being away from her Dad, with whom she has recently gone to live full-time. Now I am mostly spending time by myself and Grandma and Grampa's house. They work full time, and just aren't able to offer me the attention and companionship I need and deserve.
I am looking for a family in the country – or in the city (with a securely fenced back yard) who will appreciate and cherish me. I am such a great girl and will make you smile every day. I do need owners who have lots of time to spend with me. I love to play, and can sometimes get carried away, so you do need to make sure that playtime is controlled and we don't rough house too much.
Please offer me a loving, forever home today. I can't wait to meet you and dazzle you with my bright smile and amazing personality.
Love and Licks,
Honey
---
All About Honey
[one_half]
Name of Pet: Honey
Location: Lyndonville, vt, 05851
Type of Pet: Dog
Breed of Pet: mix /possible shepherd/lab
Sex of Pet: Male[/one_half]
[one_half_last]
Age of Pet: 4
Spayed/Neutered?: Yes
Health Problems:
Up To Date on Vaccinations: Yes
Gets along with cats: Yes
Gets along with dogs: Yes
Good with Children?: Yes
House Broken or Litter Trained?: Yes
Crate Trained?: Unknown
Accessories Included: dog bed, remainder of her food, dog ball
[/one_half_last]
Honey's Personality
Her loyalty, she adores people and kids, her playfulness, doesn't run off and comes when you call her, always happy to see you
Honey's Current Home Environment
two full time working adults, she lives in the country so she is not kenneled or hitched – comes and goes freely – we do have to have boundries in the house, however so she doesn't counter surf or get on couch when we are not home. Doesn't do when we are present
Honey's Current Family:
Husband and wife, cat –
Granddaughter lived with us for 3 years and recently went to live with her dad full time and was unable to take her dog with her
Honey's Favorite Toys, Foods, Activities?
loves to chase balls or sticks, eats anythig,
favorite activity is being played with – cuddling
Cute Honey Story:
Why is Honey Being Rehomed?
Granddaughter lived with us for 3 years and recently went to live with her dad full time and was unable to take her dog with her
Honey's Perfect Adoptive Home Will Be:
Would like to see Honey in a family with either older children – that would be able to handle her – Not let her get rough in her play – and would be active with her – walking, playing or a person that is looking for that special companion