MooShu – Lab Staffy Mix Seeks Loving Home – Chicago IL – All Supplies Included
Hi, My name is MooShu!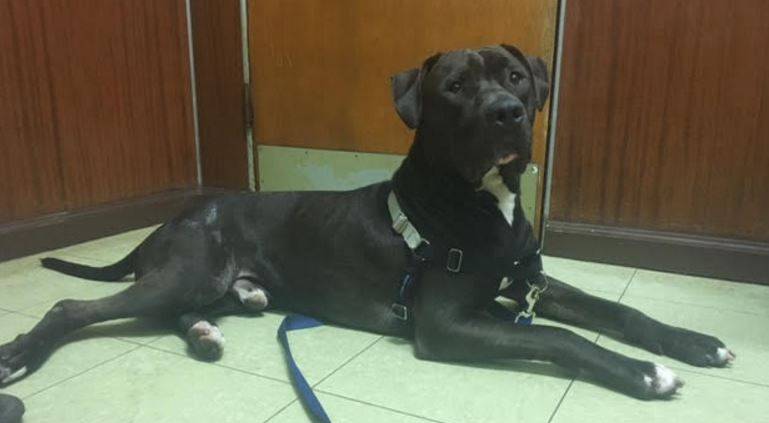 There is a $75 adoption/rehoming fee. All supplies will be included.
Location: Chicago, IL, 60651
Type of Pet: Dog
Breed: Chocolate Lab/American Staffordshire Terrior
Age: 1-2 yrs
Color/Coat Type: Brown with white bib
Size: 66 lbs
Health Issues: No
Behavior Issues: No
MooShu is:
Neutered, Microchipped, House Broken, Leash Trained
MooShu gets along with:
Adults , Older Children
Personality
MooShu is such a sweetie. Aside from looks, this is how we know he has some chocolate lab in him. He is a social pup that like to be included. We recently moved out of our physical location and he was there with us the whole time. Walking back and forth with us, laying down, playing, learning new trainings from ourselves and other dog owner friends.
Best way to describe this dog is happy. Always happy. He lets you know when he needs to go out. He loves kisses so much that we named him MooShu which means "kiss, kiss". He thinks he's a lapdog and particularly likes female humans, although he likes everyone. Also, rides well in the car.
Reason For Rehoming
We found MooShu as a stray in the city. He was running around and was very skinny, had fleas, and no microchip. Three sets of neighbors (including ourselves) got him on a leash to have a place to sleep. Since then the three parties have been paying for him to be checked up at the vet, have paid for his shots, flea treatment, food, crate, bones and leash. He has been neutered, received all shots, heart and flea treatments/medications, and a good bath. We put him on Lost Dogs of Illinois and have had no response. He didnt look very well taken care of, but was such a sweet pup at the time that we all decided to help in rehoming him.
We are the household that offered to home him for now because we have a large enough house. The other neighbors either have 3 dogs, or cats. MooShu is now ready to move out of his foster home and into his FURRever home.
We would keep him, but we have a little furry kitty named Kyanite, and they don't get along. Like most terrier type dogs, he runs after her when she is around. We are currently keeping them in separate rooms as we foster him back to health and rehome him.
MooShu comes with dog crate and behaves very well once he is in it. He is house trained and will not poop or pee inside. He is a very chill dog when given the attention. We often talk about how he would be a great porch dog on some property. We walk him 2-4 times a day and then other than that he kinda just hangs out with us.
Again, we love this pup, but are not able to be good dog owners. We work from home, then travel a lot for extended periods of time. Kitty life is much more manageable for us and we want to be able to hang out with our kitty more in all parts of our house.
All Current shots with Anti-Cruelty Society Paperwork
Comes with crate, food, harness, leash, and free animal communication session
(if you're into that).
If you would like to consider offering MooShu a loving, forever home, please fill out our Request To Meet A Pet form here:
http://petrehoming.net/adopt-a-pet/
Once received, we will contact you to discuss your request and set up a mutually convenient time to meet MooShu and their owner in their home.
There is a $75 adoption/rehoming fee. All supplies will be included.