Shih Tzu Rat Terrier Mix Dog For Adoption Queen Creek AZ Near Phoenix – Adopt Zeke Today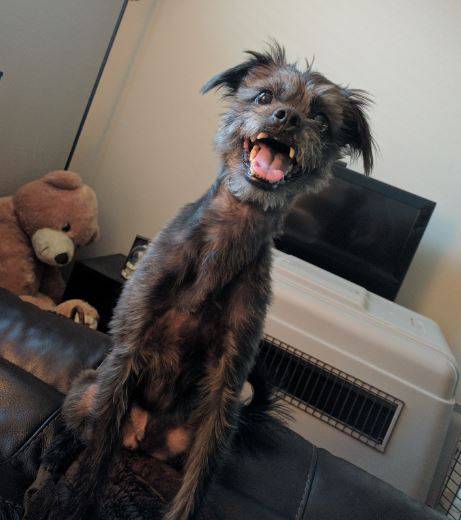 Zeke is a 5 year old healthy male Shih Tzu Rat Terrier mix dog for adoption near Phoenix AZ in Queen Creek. He is fixed, up to date on shots, micro-chipped, house trained and crate trained. This adorable Shih Tzu terrier mix dog is good with other dogs and cats, and loves children.  Adopt Zeke today!
---
All About Zeke – Adorable Shih-Tzu Mix Dog For Adoption Near Phoenix
Can you love humans too much? Not according to Zeke, a delightful little Shih Tzu mix. This 5 year old male mixed breed dog is so full of love and devotion for his humans that it tends to get him into hot water every time they go away.
Some people call it separation anxiety, but Zeke just thinks it's his duty to make you feel needed.
Zeke's family love him to pieces – he's a great little guy – but they want him to be happy, and leaving him home while they go to work and other activities is heart-wrenching for them. They know that while they are away, Zeke is very unhappy. He tries his darndest to excape the confines of his crate indoors, or if outdoors, tries to dig his way out of his pet, and then the yard, to go and find his family. He hurts himself, and is putting himself in grave danger, should he be hit by a car.
Zeke needs owners who are home most of the time. He would be the perfect choice for retired dog lovers looking for a very cute and comical companion.
Zeke is fine with other dogs, cats and children. He's just not fine with his own company. Poor little Zeke.
If you have the right type of home to give this adorable little Shih Tzu mix, please get in touch. Zeke can't wait to meet you and show you what unconditional, constant love and devotion is all about!
Adopt Zeke today!
Location: Queen Creek, AZ 85142
Name: Zeke
Breed: Shih-Tzu Rat Terrier
Sex: Male
Age: 5
Size: Medium. 18 pounds
Color: Black and White
Spayed/Neutered: Yes
Vaccinated: Yes
Microchipped or Tattooed: Yes
Good With Cats: Yes
Good With Dogs: Yes
Good With Children: Yes
House Broken/Litter Trained: Yes
Crate Trained: Yes
Health Issues: No
Behavior Issues: Yes
Separation anxiety. Would do well with a family with kids and someone who is home during the day.
Supplies Offered With Pet: A crate, toys, food.
How To Adopt Zeke
If you are interested in adopting Zeke, the first step is to fill out our online meeting request form. Once received and reviewed, our staff will send your information to the owner, who will contact you to arrange a meet up.
If you have questions about this pet or the adoption process, please feel free to contact our pet rehoming coordinator. If email is difficult for you, please call toll free (888) 720-3322.
We look forward to hearing from you!
Queen Creek AZ  is located near Phoenix and close to .
Gilbert, AZ
Apache Junction, AZ
Chandler, AZ
Mesa, AZ
Tempe, AZ
Coolidge, AZ
Florence, AZ
Scottsdale, AZ
Fountain Hills, AZ
Paradise Valley, AZ
Casa Grande, AZ
Phoenix, AZ
Eloy, AZ
Glendale, AZ
Peoria, AZ
Chandler, AZ
Mesa, AZ
Scottsdale, AZ
Phoenix, AZ
Glendale, AZ
Tucson, AZ
Sanokai Village, AZ
Germann, AZ
Chandler Heights, AZ
Higley, AZ
San Tan Valley, AZ
San Tan Mobile Village, AZ
Nortons Corner, AZ
Hacienda Solano Park, AZ
Colonial Coronita, AZ
Superstition Country Subdivision, AZ
Fountain of the Sun, AZ
Casa Serena Mobile Home Park, AZ
Santan, AZ
Sonora Town, AZ
Ciela Grande Mobile Home Park, AZ
Leisure World, AZ
Holiday Palms Mobile Home Park, AZ
ALL ABOUT Zeke – Shih Tzu Rat Terrier Mix Dog For Adoption Queen Creek AZ
5 Good Reasons To Adopt This Shih Tzu Rat Terrier mix dog in Queen Creek AZ
How sweet and loving he is. How smart he is. How well he listens to commands. Great cuddler. How excited he is to see me when I get home.
Personality
Very lovable. Loves to play tug a war and fetch. Extremely athletic. Major cuddler. Gets nervous when left alone though. Needs companionship.
He loves his stuffed dinosaur. He is crazy for rawhide. Loves chew toys and bones. And chasing balls. He loves to run and he can jump very high. Favorite foods are hot dogs , bananas , chicken, pizza and strawberries .
Current Home Environment
No kids. One other dog. Myself and my husband work during the day and have long commutes. We are tired when we get home. We are more homebodies than anything.
Reasons For Placing Zeke For Adoption
His seperation anxiety has gotten extreme. He is not crated when we leave for work because he will dig in the dirt and try to escape if left outside. When he was uncrated he chewed some blinds. He is in panic mode before we leave and will cry and whine. Lately he has been biting the crate and hurting his mouth. He needs a family with someone who is home. He needs companionship .
Ideal New Home Situation For Zeke
A big loving family. One who will take him out on activities with them. He has a lot of energy.
Zeke is a 5 year old healthy male Shih Tzu Rat Terrier mix dog for adoption near Phoenix AZ in Queen Creek. Adopt Zeke today!