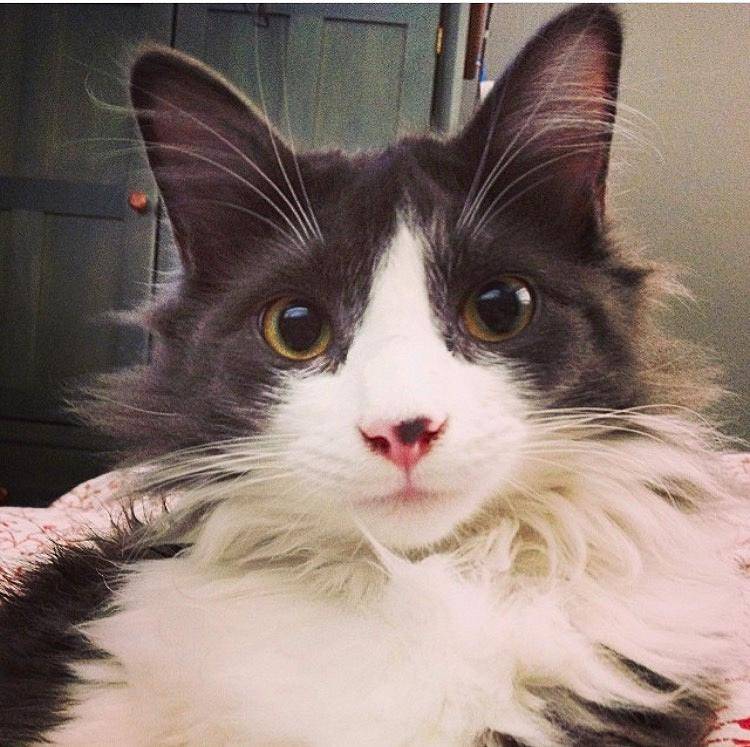 Rascal Has Been Adopted.
Rascal is absolutely stunning. This handsome grey and white Ragdoll Maine Coon mix cat is a real sweetheart. Like most Ragdolls, he is big and floppy, and loves to be carried around like a big, fluffy baby. He is very talkative – just like the Maine Coon side of the family.
Rascal is the ultimate feline companion. His favorite pastime is snuggling in his owner's lap, basking in the rays of the feline-human connection.
Rascal's owner loves him very much, but has had to make the very difficult decision of finding a new home for Rascal. He is very insecure when it comes to other cats. He was attacked by her roommate's cat months ago, and this incident triggered elimination issues in Rascal. He has been having "accidents" outside the litter box ever since. The veterinarian has suggested that this behavior is due to anxiety and fear of the other cats in the home, and has suggested the best solution will be to find the right situation for him.
Rascal needs a home where he is the only pet (or with a very cat friendly dog). He will need a very patient owner who will be willing to try different measures to help him relearn his once-impeccable litter box habits. Rascal's rehoming coordinator, Debbie, has rehomed cats with these exact issues before, and has found that a quiet, predictable only cat environment works wonders. A patient owner who is willing to work with him and forgive the occasional mis-step (or should we say "mis-pee") 🙂 is equally important.
Rascal has so much love to offer. He is a gorgeous, healthy young cat who just needs a different environment with an owner who will cherish him and keep him safe, happy and healthy.
If you have room in your heart and home for this fabulous bundle of fur, please request to meet Rascal today. He can't wait to snuggle with you.
---
All About Rascal the Maine Coon Ragdoll Mix Cat
Location: Long Beach, CA, 90803
Type of Pet: Cat
Breed: Maine Coon Ragdoll mix
Age: 3-4 years
Color/Coat Type: Grey and white/long fur
Size: 13 lbs
Health Issues: No
Behavior Issues: Anxiety around other cats is causing him to pee outside the box and on clothing and furniture. Needs to be an only cat in a quiet, predictable adults-only home. Would be the ideal companion for a senior or retired cat lover.
Rascal is:
Neutered, Microchipped, Fully vaccinated, Crate Trained, Litter Trained
Rascal gets along with:
Babies, Toddlers, Small Children, Older Children, Adults Only
Personality
He is loving and extremely sweet. He absolutely loves to cuddle and purrs very loud. He's adorable when he's happy in your arms. He doesn't bite or scratch or hurt me, even when I give him his oral medication. He is a talkative cat, like Ragdolls are, and some times it even sounds like he's saying "Hello."
Food and Diet
Rascal is currently on Other
I just feed him dry food.
Reason For Rehoming
Litter box issues. He is the sweetest cat and all he wants is love, and I love him with all of my heart. But he needs to be a lone cat. I have another cat and a dog, and he needs to be with someone that can just be with him.
Rascal is a Ragdoll mix cat For Adoption in Long Beach CA
within a reasonable drive to Anaheim,
Santa Ana,
Los Angeles,
Glendale,
Riverside,
San Bernardino,
San Diego,
and Chula Vista, and very close to
Signal Hill,
Seal Beach,
Rossmoor,
Lakewood,
Carson,
West Carson,
Los Alamitos,
Lomita,
Hawaiian Gardens,
Paramount,
Bellflower,
Compton,
Artesia,
Cypress,
Cerritos,
Gaspur,
Willowville,
Signal Hill,
Belmont Shore,
Thenard,
Vista del Mar,
Naples,
Watson,
California Heights,
Wilmington,
Watson Junction,
Bangle,
Seal Beach Trailer Park,
Bixby Knolls,
Dominguez,
Dana Strand Village and
Dolores, California.
Adopt this amazing young Ragdoll Maine Coon mix cat in Long Beach CA today.