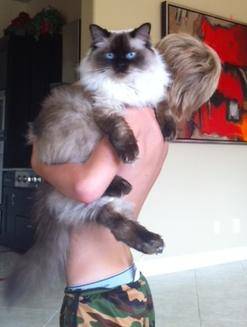 Meet Finn – Gorgeous 8 YO Male Ragdoll Cat Rehomed in Phoenix AZ
Finn is a large and handsome purebred Ragdoll cat in need of a loving new home in or near Phoenix. Finn is very affectionate and outgoing. He is a big cat at 12 pounds, and he has amazing blue eyes set like sapphires against his seal point long coat.
Finn is fixed, up to date on shots and healthy. He is on a special urinary diet cat food, and as long as he sticks to this, he has no problems with urinary crystals.
Finn's owner loves him so much. Recent life changes have made it necessary to find Finn a loving new home. She would love to see him in a quiet home where he can be the only pet, and with owners who will cherish him as much as she does. He is not fond of dogs or small children, but would be fine in a home with older, respectful children and very cat friendly dogs. His biggest requirement is lots of love and companionship – and a safe, happy and healthy forever home.
Please adopt Finn the Ragdoll today. He can't wait to mesmerize you with his amazing blue eyes and purr his way into your heart.
Facts About Finn the Ragdoll Cat
Location: Phoenix, AZ  85050
Type of Pet: Cat
Breed: Ragdoll
Age: 8 yrs
Color/Coat Type: Long haired Siamese color
Size: 10-11 pounds
Health Issues: Minor – Needs urinary special pet food. Ok if he stays on that.
Behavior Issues: No
Finn is:
Neutered, Microchipped, Fully vaccinated, Litter Trained, House Broken
Finn gets along with:
Adults, well behaved older children, cat friendly dogs.
Personality
Does not like to be picked up but is very loving and sweet. He loves to cuddle and he loves all people.
Food and Diet
Finn is currently on Hills Science Diet
Reason For Rehoming
My husband suddenly became ill and left, I️ am forced to sell my house and relocate. In addition there is a dog in the home that stresses him out. He needs a home where he can be happy and stress free.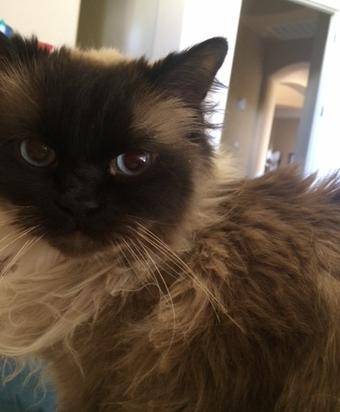 Finn is a Ragdoll Cat Rehomed in Phoenix AZ near Glendale,
Scottsdale,
Mesa,
Chandler,
Tucson,
Glendale,
Paradise Valley,
Tempe,
Scottsdale,
Peoria,
Mesa,
Sun City,
Avondale,
Goodyear,
Chandler,
Gilbert,
El Mirage,
Surprise,
Sun City West,
Fountain Hills,
Wigwam Villa Mobile Home Park,
Estrella Estates Family Park,
DeLuxe Trailer Court,
Sun Trailer Park,
Palms Trailer Park,
Cactus Cove Trailer Park,
Green Acres Mobile and Recreational Vehicle Park,
Camelback Trailer Ranch,
El Sereno-La Rosa Trailer Inn,
Blue Palm Mobile Home Park,
South Phoenix,
Trail Inn Lodge,
Thomas Trailer Court,
Rose Lane Trailer Park,
Bronze Boot,
Blue Bell Mobile Home Park and
Out West Trailer Park, Arizona.