Tala has been adopted!
---
Hi, My name is Tala!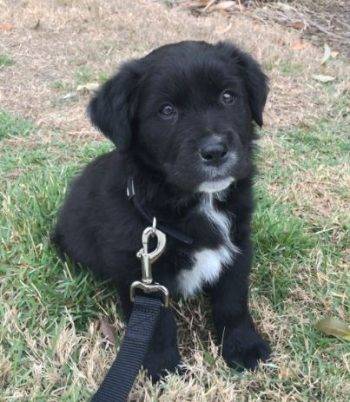 She looks like an adorable stuffed animal, but Tala is a real puppy! Just 9 weeks old, this cutie is a Labrador Retriever / Border Collie mix. She has a long coat and weighs between 8 and 10 pounds.
This little girl is already showing that she is going to be super smart – she learns really quickly. Tala loves to play and enjoys activity and fun. She is very social and loves people – a real licking machine.
Tala's owners adopted her only to realize that they really were not prepared for the time and attention that little puppies need. They now realize that she needs to be with a family who have lots of time for her, a securely fenced back yard for her to play in, and the ability to give her the care, attention, exercise and playtime she needs and very much deserves.
Tala has had her puppy shots, but will need to be spayed when she is old enough. She will be rehomed with any supplies the owners have purchased for her.
Please offer this adorable little puppy the loving home she deserves.
---
All About Tala
[one_half]
Name of Pet: Tala
Location: San Antonio, TX, 78229
Type of Pet: Dog
Breed of Pet: Labrador Mix (unknown)
Sex of Pet: Female[/one_half]
[one_half_last]
Age of Pet: 9 weeks
Spayed/Neutered?: No
Health Problems: No
Up To Date on Vaccinations: Yes
Gets along with cats: Yes
Gets along with dogs: Yes
Good with Children?: Yes
House Broken or Litter Trained?: Yes
Crate Trained?: Yes
Accessories Included: Crate
Chewie Toys
Dog Food
Collar
Leash
Food Trays
[/one_half_last]
Tala's Personality
Intelligent (can learn quickly)
Playful (ready to play with owners)
Active (likes to run and play outside)
Sweet and Affectionate (likes to lick and be carried)
Likes people and being social
Tala's Current Home Environment
My apartment is small but cozy. I have a crate in the living room, and like to explore that room and the kitchen.
I go out to the backyard grass area in the apartment complex, but wish I had more room to play especially when I'm bigger!
Tala's Current Family:
My owners are a newlywed – one is a student, and the other works a lot, so they don't have enough time to play with me or keep me active in that way I need and deserve as a Lab. They do give me lots of love though, and make sure to feed me, walk me, and housetrain and crate train me as best they can to help me get used to a new home somewhere else when someone wants to take me home.
Tala's Favorite Toys, Foods, Activities?
Chewie Toys (bones, tennis ball)
Going for walks
Sleeping
licking and cuddling with her owners
ranch chicken and brown rice Heritage Brand food from HEB
Cute Tala Story:
When we picked her up from the farm, her litter mates came up to us first. They were sweet but then got scared easily. We saw a dog
10 yards away, watching us carefully with her head cocked to the side. We went to her, and she started licking our hands, and immediately felt comfortable in our arms. We picked Tala because of this – she's independent, yet playful, active, and ready to play with her owners.
Why is Tala Being Rehomed?
Our home is too small for when she gets bigger. We also aren't finding enough time to play with her, because our schedules are hectic. She needs a home with more space, and owners who can get her in a great routine and teach her all she can learn while giving her the best love and attention she deserves!
Tala's Perfect Adoptive Home Will Be:
We want her new owners to be loving as we are, and to give her the time and attention she needs and deserves. The owners should appreciate affectionate dogs, and active dogs – she will like to run when she's older!
She needs good stability and an active loving family – if she gets this, she will continue to develop very nicely, and be an amazing and dedicated pet for her years.
Labrador Retriever Rehoming
San Antonio Pet Rehoming Service