Rehomed in Raleigh! Zoey – Sweet American Bobtail Cat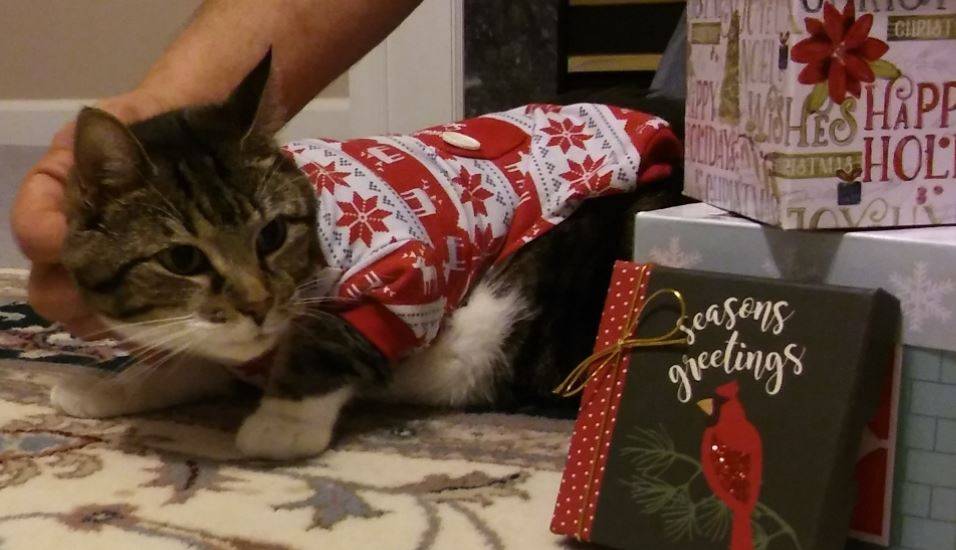 Meet Zoey – Tabby American Bobtail Cat Rehomed in Willow Spring NC
Sweet Miss Zoey has found her perfect match. Her new owner is a real cat lover, and cat and owner are already in love with each other. We are so happy to have had the privilege of helping make this wonderful match.
From Zoey's New Owner:
I want to thank you for your help in helping me to find Zoey and adopt her. She is the love of my life and she is so intelligent and sweet– just like my "Sam "who had died this spring.

I am now convinced that perhaps it is all in the breed of the American Short tailed bobcat. She is adapting to her new home nicely, plays with toys and even brings a couple of them to me. She even sleeps on the bottom of my bed at night. So thank you for helping us to bring Zoey and me together.

Your service is wonderful and I thank you again for your rehoming service and making sure that pets go to a wonderful home. I am sure that the pets that you help get adopted are the lucky ones.
Need to Rehome a Cat in Raleigh and Area?
Our team of expert pet rehoming specialists are at your service. We help find good homes for preloved cats and kittens safely and effectively.
Call us today at (888) 720-3322 to discuss your situation, or contact us by email. We look forward to being of service.
---
All About Zoey – Tabby American Bobtail Cat Rehomed in Willow Spring NC
Location: Willow Spring, NC, 27592

Type of Pet: Cat
Breed: American Bobtail Mix
Age: 6 years, 3 months
Color/Coat Type: black, gray, white; short hair
Size: 10 pounds
Health Issues: No
Behavior Issues: No
Zoey is:
Spayed
Zoey gets along with:
Cats, Cat Friendly Dogs, Respectful Children, Adults
Personality
Zoey has a gentle demeanor and looks after our other two cats. She will console me when I am sad or in pain. I can pick her up easily, even though she is not a lap cat. She will sleep with me on occasion.
She is adventurous, which is noted as she slips into open dresser drawers and closets. Since she does not typically meow, she may be in hiding for hours before we conduct a search only to find her content with her new hiding place.
She does enjoy going outdoors. However, since we have feral cats in the neighborhood, we have kept her indoors since I adopted her from a shelter.
Food and Diet
Zoey is currently on Other
Zoey can eat a variety of cat food. We used Blue Buffalo for a while. However, one of our cats preferred Purina brand for indoor cats, so we switched. We make the food available 24/7. On special occasions, we give her soft food.
Reason For Rehoming
Moved for new job; was unemployed for 9+ months; unable to locate affordable rental home that accepted pets and will be traveling often for new position.
Also, grandson is severely allergic to cat dander; he will be unable to stay with us unless we rehome cats. Had to sell/give away most of our possessions due to the cat dander.
Zoey – Grey Tabby American Bobtail Mix Cat Rehomed in Willow Spring NC
Zoey is a grey tabby American Bobtail mix cat rehomed in Willow Spring NC, near Raleigh, and close to the following towns and cities in NC.
Fuquay-Varina
Holly Springs
Garner
Apex
Raleigh
Cary
Clayton
Dunn
Smithfield
Sanford
Chapel Hill
Durham
Carrboro
Wake Forest
Fayetteville
Macks Village
Cardenas
Holland
Banks
Fuquay-Varina
Kennebec
McCullers
McCullers Crossroads
Williams Crossroads
Juniper
Ogburn Crossroads
Wilbon
Angier
Stagecrest
Rawls
Green Springs Mobile Park
Rolling Hills