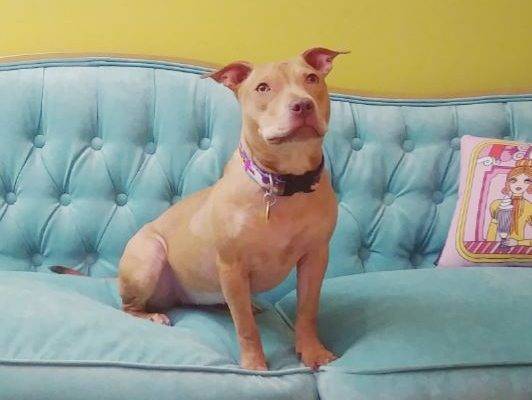 Atlanta GA – HONEY – Gorgeous Red F American Staffordshire Terrier (Amstaff) Puppy For Adoption – Supplies Included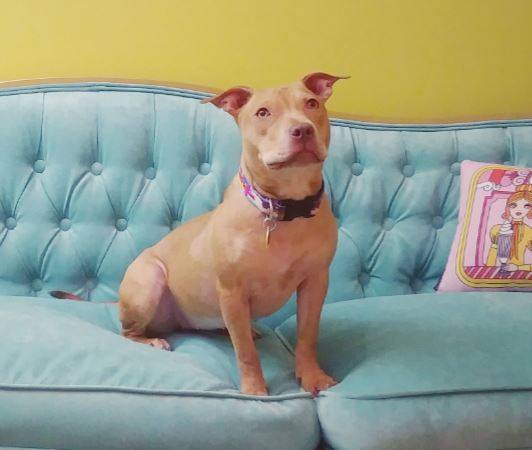 Honey is a gold, very short coat female American Staffordshire Terrier Puppy for adoption to a very loving home in or near Atlanta GA. This very special Amstaff puppy is approx. 7 months and weighs 27 lbs.
Meet Honey, Staffordshire Terrier Dog For Adoption in Atlanta GA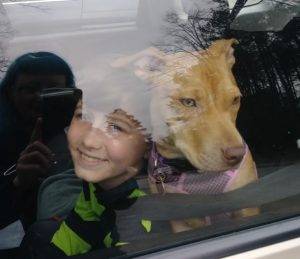 Looking for a ravishing redhead to add love, joy, laughter and companionship to life? Honey is so sweet! She is a medium sized red dumpling of dog – an adorable purebred American Staffordshire (Amstaff) puppy looking for the best home ever in the Atlanta area.
Honey is very healthy. She is fixed, up to date on shots and well on her way to being house trained. Honey adores children and loves to play. Her wiggly ways delight everyone she meets, and she is one of those dogs that easily leave paw prints on your heart.
Because of her age of just 7 months, Honey is still very much a puppy. She is exploding with joy for life, and can be a handful when you are trying to relax on the couch. For the most part, she will out grow this behavior as she matures into a more sensible version of herself. She would definitely benefit from obedience training and consistent positive behavior reinforcement from a confident owner. She is a part puppy, part land shark, part clown and part WWF wrestler all rolled up into an adorable bundle of love and licks.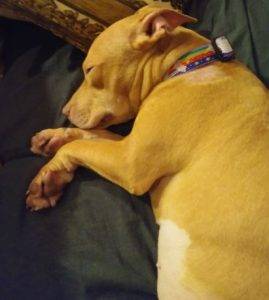 Honey is being rehomed by her owners, who are very distressed to have to make this very difficult choice in life. Unfortunately they have been hit with financial problems that make it very difficult to give Honey their time, due to long hours working. She needs a home with owner who can give her lots of playtime and exercise, and they are just not able to offer that to her at this time in their lives.
Honey's owners are hoping to find her the home she needs and very much deserves. Having had all her vet care done for now, she is a ready-to-love puppy. Honey will be best suited for a family with older children – only because her wiggling and general "joie de vivre" would likely bowl down smaller kiddos and todders.
If you would like to meet Honey and her owners to find out if she is a good match for you, please get in touch with us! We look forward to introducing you to Atlanta's cutest puppy!
There is a $150 adoption/rehoming fee. Supplies and veterinary records will be included.
Questions About Honey? Please contact our Amstaff dog rehoming team. Text "Honey" to (888) 833-2128 or email [email protected]. We look forward to hearing from you!
---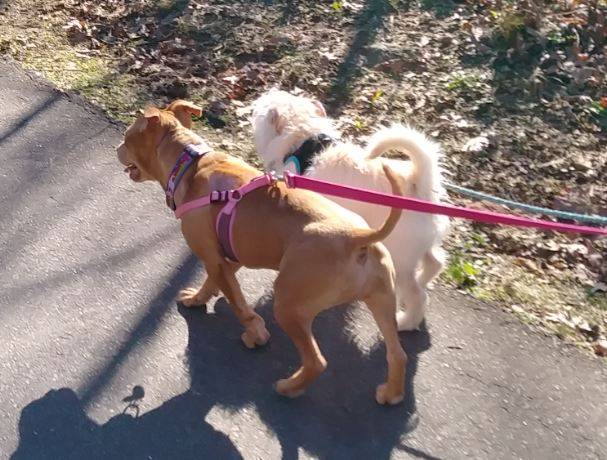 All About Honey – Staffordshire Terrier Puppy For Adoption in Atlanta GA
[one_half]
Name of Pet:
Honey
Location:
Atlanta
, GA, 30340
Type of Pet:
Dog
Breed of Pet:
American Staffordshire Terrier
(Amstaff)
Sex of Pet:
Female
Age of Pet:
approx. 7 months
Spayed/Neutered?:
Yes[/one_half] [one_half_last]
Health Problems:
No The only thing she's been treated for since I adopted her was for mange. But I've been giving her meds for that and it's clearing up.
Behavior Issues:
No
Up To Date on Vaccinations:
Yes
Gets along with cats:
Unknown
Gets along with dogs:
Yes
Good with Children?:
Yes
House Broken?:
A work in progress 🙂
Crate Trained?:
Yes
Accessories Included:
I have a bag of cow hooves that can go home with her, as well as grain-free food.[/one_half_last]
Honey's Personality
– I love her gorgeous coloring: the color of honey! Her unbelievably gorgeous eyes.
– She is always the friendliest dog at the dog park. With humans and animals. She just wants you to like her.
– I love that she sits on command with little effort!
– I love that she makes me exercise more, because she needs the exercise! It's mutually beneficial.
– I love that she is never defensive or unfriendly. She literally doesn't meet a stranger.
I would say on the whole she doesn't have behavior problems, but she could benefit from some training. The only real problem I have with her is that when I try to sit on the couch to relax, she won't just sit and chill with me.
She gets really hyper and wants to wrestle with me and mouths on me (which can hurt because she has sharp teeth and she doesn't understand how strong she is. She has headbutted us on more than one occasion just from being overly excited.) It's something about being down on her level (like kneeling on the ground, or on the couch) that makes her too much to handle.
It's pretty much impossible to sit on the couch with her. I've tried some training on my own. She does sit very, very well when told to. She's a puppy, so this is something that I'm sure will get better. On the whole, I have no problems with her! She does need to be entertained with chew toys since she's in the chew phase, but that's normal with all puppies.
Honey's Current Home Environment
I live in the basement apartment of my friend's home. It is a fully finished basement with lots of room. My kids live their dad down the street, so my kids come over a lot.
Honey's Current Family:
I divorced from my husband earlier last year. Our boys continued to live with him and I moved out into a basement apartment about a minute away. We have a very amicable situation. My kids and their dad have our family dog living with them. His name is Tucker and is a terrier mix. He's around 4 yrs. old. He gets along with Honey fine. My boys are 14 and 10.
Honey's Favorite Toys, Foods, Activities?
Honey LOVES cow ears, cow hooves and peanut butter (i'll often put that in her Kong toy). She loves any kind of real bone. She's not super into the nylabones, plastic stuff, etc. She loves her grain-free food. She LOVES to go on walks and to the dog park.
Cute Honey Story: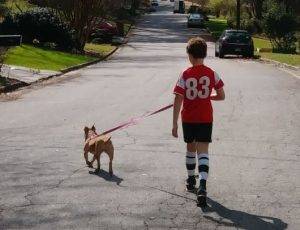 When my boys and I were looking for a dog at various shelters and rescues, I went into it wanting an adult dog, maybe 3 years old. I wasn't interested in a puppy. But Honey was too adorable and happy to pass by, so we looked at her about 3 times. She was also a breed I was unfamiliar with (I have always had the long-haired, chill, terriers dogs… think Benji). I wasn't used to such a strong breed. And of course I was leery because she looked pit (fear is instilled in people that aren't familiar with the breed, including me.) But every time we looked at a dog that was more what we were used to, the 3 of us kept going back to Honey, and how her personality fit our family so well. She was a GORGEOUS dog, friendly and sweet. And just HAPPY. We adopted her based on her personality, not based on her breed or age. Unfortunately, due to job loss, I just can't keep her. 🙁 But I want to find a home she deserves.
Why is Honey Being Rehomed?
Job loss, financial reasons.
Honey's Perfect Adoptive Home Will Be:
I just want someone that will give her lots of love and exercise. I do think she'll work better with older kids, but if a family is familiar with Honey's breed and know tricks to calm her down, they might do just fine! I also think she'd be great for a single person. Especially a woman. Honey looks are misleading. She looks tough, but might be a good safety/deterrent for a woman when she's out walking alone. But at the same time, it's pretty obvious how friendly Honey is, so the "tough" thing only lasts so long. : )
Additional Comments:
I would love to stay in touch with the new owners if possible. My kids have already grown attached to Honey and would love to see her. But it's not a deal-breaker if we can't see her.
How To Adopt Honey
If you are interested in adopting this special Staffordshire Terrier Dog For Adoption in Atlanta GA, please fill out our online meeting request here. Once received and reviewed, our staff will ask the pets owner to reach out to you and arrange a meeting.
[toggle_framed title="Fill Out Request To Meet Honey Here:"]
Request to Meet A Pet
To request an opportunity to meet a pet showcased on our website, please fill out the form below. Once we receive your request, our rehoming coordinator will contact you.

Please provide as much information as possible. This form is not intended to be intrusive, but ensures the safety and peace of mind of our families, who are inviting potential adopters into their homes. Thank you for your understanding. Should you and the pet's owner mutually agree to proceed with an adoption, there will be a rehoming fee required as listed on the pet's profile. This fee will be due and payable to Find My Pet A Home before this pet is transferred to your care.
[/toggle_framed]
Honey – Staffordshire Terrier Dog For Adoption in Atlanta GA
Honey is a gold, very short coat Staffordshire Terrier Dog for adoption in Atlanta GA, near the following towns and cities in Georgia: [one_third] Druid Hills, GA
Gresham Park, GA
North Decatur, GA
Decatur, GA
East Point, GA
North Druid Hills, GA
Belvedere Park, GA
Panthersville, GA
College Park, GA
[/one_third] [one_third] Capitol Homes, GA
Slabtown, GA
Five Points, GA
Shermantown, GA
Snake Nation, GA
Summerhill, GA
Mechanicsville, GA
Cabbage Town, GA
Peoplestown, GA
Vine City, GA
Inman Park, GA
Joel Chandler Harris Homes, GA [/one_third] [one_third_last] Copen Hill, GA
Ormewood, GA
Bellwood, GA
West End, GA
Roseland, GA
North Atlanta, GA
Forest Park, GA
Chamblee, GA
Smyrna, GA
Doraville, GA
Sandy Springs, GA [/one_third_last]
Adopt
this sweet gold, very short coat
American Staffordshire Terrier Puppy
today.
Questions About Honey? Please contact our Atlanta dog rehoming team. Text "Honey" to (888) 833-2128 or email [email protected]. We look forward to hearing from you!