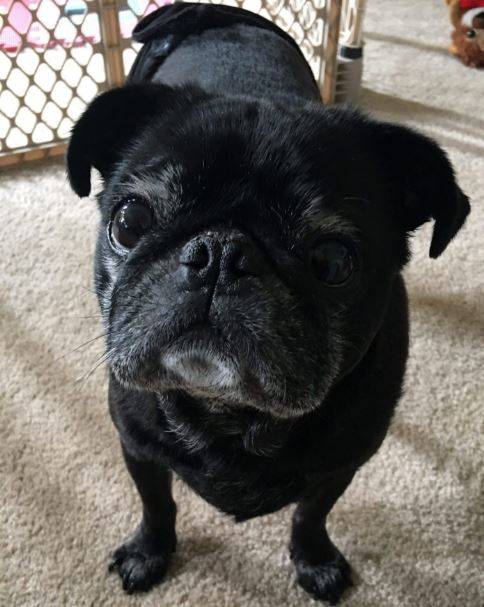 DOOLEY HAS BEEN REHOMED
Thank you for your interest in Dooley. We are pleased to report that he has found his forever home.
If you are interested in adopting a dog in Knoxville and area, please get on our adoptable pet waiting list, and we will notify you when a suitable dog comes available.
---
We find good homes for pre-loved dogs and puppies throughout Tennessee. Call or text our dog rehoming team toll free at (888) 720-3322 to discuss your situation and learn how we can help.
You can also contact us by email here. We look forward to offering you our empathy, expert guidance and support while finding the perfect new home for your dog or puppy.
---
Meet Dooley – Pug Dog REHOMED in Knoxville Tennessee TN
Looking for a Pug REHOMED in Knoxville Tennessee? Dooley is a typical Pug. He is awfully cute, quite full of himself, very comical, and definitely pug-tastic! Like most Pugs, he is an aquired taste, but if you love Pugs, he doesn't disappoint.
This 7 year old black male pug is fixed, up to date on shots and well behaved, for the most part. Unfortunately, Dooley's world has been turned upside-down by the arrival of small humans in his home. He was the baby for so many years, and now he must share the attention with a human baby. This doesn't sit well with Dooley, and he has been quite anxious and unhappy lately. He is clearly having a hard time living in harmony in a home with small children.
Dooley's owners love him so much. It breaks their hearts to see Dooley unhappy, and they worry that his anxiety may cause him to nip their child as he becomes more mobile. They are dearly hoping to find Dooley a loving home with a Pug lover who will love him unconditionally, and keep him safe, happy and comfortable for the rest of his life.
Dooley has recently developed some behaviors that are part and parcel of his anxiety with at having to share the home with a small child. He has been doing some territorial marking, and he is obviously on edge. His separation anxiety has increased as well, and he has been doing a lot of barking.
In a loving home where he can be the "only baby" the owners are hopeful that these behaviors will improve. (He was not"perfect" before the arrival of the baby – but he was and is perfectly adorable!).
If you have room in your heart and home for Dooley, please offer him a loving home today. He needs a home with owners who stay home most of the time, and who will be patient and loving with him as he regains confidence that he is once again the golden child and has your undivided attention. He is a sweet senior Pug that wants to be cherished.
---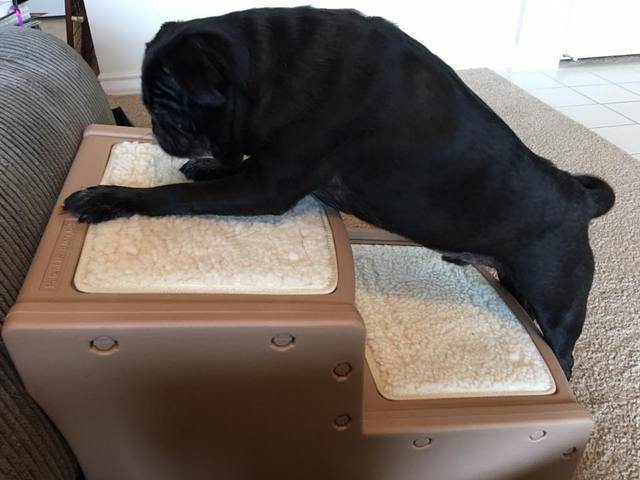 All About Dooley – A Black Pug REHOMED in Knoxville Tennessee TN
Location: Knoxville, TN, 37923
Type of Pet: Dog
Breed: Pug
Age: 7
Color/Coat Type: Short/black/some gray
Size: about 28 pounds roughly
Health Issues: Yes
Some discoloration on eyes, but bet isn't concerned with it and said his knee sockets are shallow which can cause some pain for him
Behavior Issues: Yes
He has become territorial and wants to mark on everything since the arrival of our baby. We have an 8 month old and it has gotten worse. He doesn't seem to fit into a home with small children. He hasn't been aggressive towards my little one, but it's obvious he is jealous.
Dooley is:
Neutered, Litter Trained, House Broken
Dooley gets along with:
Older Children, Adults Only
Personality
He barks at everything and is kind of edgy. I went to pet him the other night and he snapped at me because I scared him, which was a first for that. He's very head strong.
Food and Diet
Dooley is currently on Other
Nitro ultra senior
Reason For Rehoming
Dooley deserves to be with someone that can work with him on the marking and separation anxiety. He was the baby before our 8 month old and he hasn't adapted well. My husband and I both work a lot and of course our 8 month old is our main priority now. Dooley doesn't get the attention he needs or deserves. He's a smart dog and I feel confident with the right person his behaviors can be corrected.
Dooley is a Black Pug Dog REHOMED in Knoxville TN Tennessee near Alcoa Alcoa Farragut  Maryville  Clinton  Oak Ridge   Sevierville  Lenoir City  Morristown  Athens  Waynesville NC Crossville  Greeneville  Cleveland  Asheville NC Kingsport  South Knoxville  West Knoxville  Island Home  Coster Yards  Vestal  Park City  Marble City  Lincoln Park  Lonsdale  North Knoxville  Kingsley Station  Burlington  Meades Quarry  North Hills  Plantation Hills  Whites Village  Johnson Road TN Tennessee.