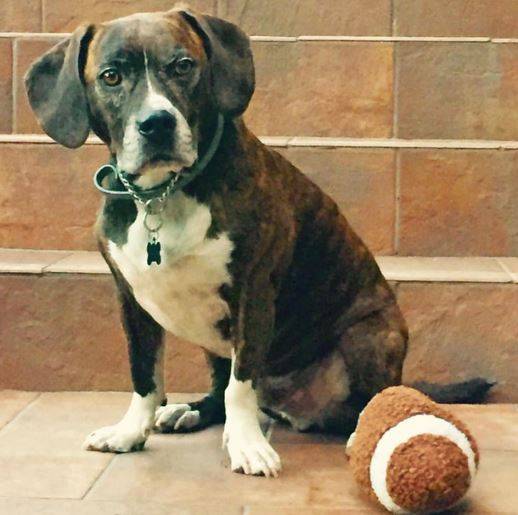 Meet Broux – Beagle Boxer Dog Adopted in Nashville Tennessee
Broux is a sweet ole thing! He is a healthy 7 year old mix breed – a nice combination of Beagle and Boxer. He has been fixed and is up to date on his shots.
Broux is a no-fuss kind of dog. He is happy doing whatever you are doing. He is very devoted, and loves to cuddle up on the couch or in bed with his favorite human. Broux doesn't mind going for a walk, but he is not a high energy dog by any measure.
Broux does get excited to see his favorite person – and when you get his leash. He loves to chase Squirrels, but has yet to catch one. When he's on a walk, he knows how to heal and sit, but if he sees another dog, he wants to play and sometimes forgets his manners.
His favorite thing in the world is to cuddle under the covers.
Broux's owners have recently had a baby. As much as it breaks their hearts, they need to find Broux a new home. Broux is a real foodie, and when it is dinner time he gets very focused on getting every morsel into his mouth as quickly as possible. Sometimes he forgets himself, and growls if someone (pet or person) gets near his beloved food before he is finished. They call it "food agression", but really, as long as he is left alone to eat his dinner, it's no big deal.
Because of this issue, Broux needs to be in a home without small children, particularly toddlers. He would be ideally suited for an adults only home with people who can give him unconditional love, plenty of snuggles, and who would enjoy basking in the rays of his constant devotion. He is good with other dogs – he just has to be fed separately from them.
Broux is a really great dog. He needs and deserves a very loving home. Please adopt him today.
---
All About Broux – A Beagle / Boxer Mix Adopted in Nashville TN
Location: Nashville, TN, 37212
Type of Pet: Dog
Breed: Beagle, boxer
Age: 7
Color/Coat Type: Brindle short hair
Size: 35 pounds
Health Issues: No
Behavior Issues: He can be food aggressive.
Broux is:
Fixed, Vaccinated, House Broken
Broux gets along with:
Adults, Older Children
Personality
He's very sweet, wants to be next to his person, likes to burrow under covers. Loves walks, he's very fast and I take him to a ranch where he runs and wears himself out. He likes to play with other dogs. He sleeps a lot.
Food and Diet
Broux is currently on Other
He's an easy keeper. I feed him dry food and table food.
Reason For Rehoming
He is my sons, who just had a baby and it's just not working out
Broux is a Beagle Boxer mix Dog Adopted in Nashville Tennesse, close to Brentwood,  Goodlettsville, Hendersonville, Mount Juliet, La Vergne, Franklin, Smyrna, Gallatin, Springfield, Lebanon, Spring Hill, Murfreesboro, Portland, Dickson, Columbia, East Nashville, Cumberland Heights, Brooklyn Heights, Avondale, Jimtown, Bordeaux, Bordeaux Hills, Cherokee Park, West Nashville, Berry Hill, Woodbine, Rosebank, Richland, Inglewood, Green Hills, Dalewood, Glendale Park, TN.