Brown Tabby Tuxedo Cat For Adoption in Winnipeg Manitoba Canada – Supplies Included – Adopt Abby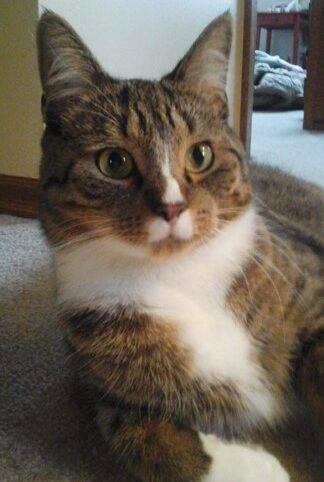 Brown Tabby Tuxedo Cat for Adoption in Winnipeg, MB
Looking for a delightful  Brown Tabby Tuxedo Cat to adopt in Winnipeg, Manitoba ? Just 6 years years old and weighing 9 pounds, Abby has been spayed, fully vaccinated and litter box trained. Abby is a well-behaved cat looking for a home where she will receive the love, care, attention and playtime she thrives on.
Abby is a mellow and affectionate cat that is accepting of visitors, respectful children, and cat-friendly cats and dogs. She is a real charmer who loves to be near you, purring up a storm.
Abby's owners are very sad to have to rehome her. Unfortunately, severe cat dander allergies have cropped up, and it is really uncomfortable to be around Abby. They are suffering from itchiness, stuffiness and generally feeling ill, which is no life. They love Abby, and want her to go to a very good home with cat lovers who will appreciate what a wonderful companion Abby is.
How To Adopt Abby the Brown Tuxedo Tabby Cat
If you have room in your heart and home for Abby, please complete our online meeting request form. Once received, our Winnipeg Cat Rehoming team will make arrangements for you to meet Abby and his/her owners. Adopt Abby today!
There is a $25.00 adoption processing fee. Supplies, accessories, and veterinary records will be included.
Questions about adopting Abby?
Text AbbyWINNIPEG to (888) 833-2128. We look forward to hearing from you!
---
All About Abby – Brown Tabby Tuxedo Cat For Adoption in Winnipeg MB
♥ Name of Pet: Abby
♥ Location: Winnipeg, MB, R2N 3G4
♥ Type of Pet: Cat
♥ Breed of Pet: Brown tabby
♥ Color / Coat Type: Short hair domestic – brown/grey/white
♥ Age of Pet: 6 years
♥ Size of Pet: 9 pounds
♥ Health Problems: No
♥ Behavior Issues: No
♥ Gets along with: Children, adults  cat-friendly cats and dogs
♥ Pet is: Fixed, Housebroken, Microchipped
♥ Food: Other
Has 1 Whiskas perfect portions in the morning and dry kibble during the day
Abby – Brown Tabby Tuxedo Cat For Adoption in Winnipeg MB
---
Abby's Personality
Pretty chill
Why is Abby Being Rehomed?
My daughter and I both have allergies to cat hair. My doctor has recommended not having a cat in the home any longer.
Nearby Locations
Abby is located in Winnipeg, MB, close to the following towns and cities:
Stony Mountain MB,
Stonewall MB,
Selkirk MB,
Beausejour MB,
Steinbach MB,
Morris MB,
Carman MB,
Gimli MB,
Portage la Prairie MB,
Lac du Bonnet MB,
Altona MB,
Pinawa MB,
Winkler MB,
Morden MB,
Carberry MB,
Thank you for your interest in this deserving Brown Tabby Tuxedo Cat for adoption in Winnipeg MB.