Bull Terrier Dog For Adoption in Austin TX – Supplies Included – Adopt Shadow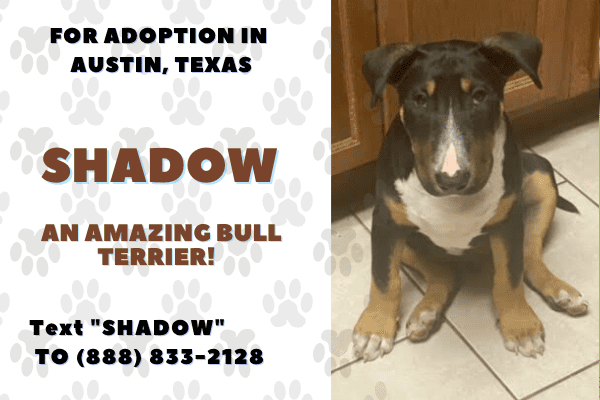 Meet Shadow, a Bull Terrier Dog for adoption by owner in Austin Texas. This stunning tri-color male dog is just 10 months old and weighs 50 pounds. Shadow has been Neutered, Microchipped, Fully vaccinated, and Crate Trained. Shadow has an amazing personality and gets along well with Older Children, Adults, and other dogs.
At 10 months of age, Shadow is still very much a puppy. He needs a bit more training to become the perfect family dog, but he is well on his way.  Shadow needs a home with active dog lovers who can give him the attention, exercise, and mental stimulation he needs as he matures.
How To Adopt Shadow
If you are interested in this special Bull Terrier For Adoption in Austin Texas, please fill out our online meeting request below. Once received and reviewed, our staff will ask the pets owner to reach out to you and arrange a meeting.
There is a $300 adoption/rehoming fee. Some supplies and veterinary records will be included.
Questions about Shadow? Contact our Bull Terrier Dog reh oming team today.
Text "Shadow78744" to (888) 833-2128. We look forward to hearing from you.
All About Shadow – Bull Terrier Dog For Adoption in Austin Texas
♥ Name of Pet: Shadow
♥ Location: Austin, Texas, 78744
♥ Type of Pet: Dog
♥ Breed of Pet: Bull Terrier
♥ Color / Coat Type: Black Coat
♥ Age of Pet: 10 months
♥ Size of Pet: 50 lbs
♥ Health Problems: no
♥ Behavior Issues: Yes
Not a ton of serious behavioral issues exactly but has a lot of energy and requires a lot of attention + training from an owner and/or dog trainer. I have not done a fantastic job house training him so he likes to get into the garbage when left alone or tear into furniture. He barks for attention, which is why he requires an owner who has more time and space to attend to his needs.
♥ Gets along with: Older Children, Adults Only, Dogs
♥ Pet is: Neutered, Microchipped, Fully vaccinated, Crate Trained
♥ Food: Other
I usually feed him twice a day – first thing in the morning and again late afternoon – it's not a specific brand but always organic, chemical-free, non-GMO whole food-based. A mixture of dry kibble with wet food mixed in.
Shadow – Bull Terrier Dog For Adoption in Austin Texas
---
Shadow's Personality

He is extremely energetic and usually smiling, especially when playing or running at the dog park or in the backyard. He is very happy most of the time. Sometimes he is very mellow and sometimes he is very energetic and wants to jump around – wants to play a lot. He is great to take to the dog park for this.
Why is Shadow Being Rehomed?
I am no longer able to provide the best situation for him due to time restrictions with work and personal priorities. He is a great dog and has a ton of potential but requires more than I can provide for him at this point.
Shadow is located in Austin Texas, near the following towns and cities in Texas:
Jollyville TX,
Anderson Mill TX,
Pflugerville TX,
Lakeway TX,
Cedar Park TX,
Round Rock TX,
Kyle TX,
Leander TX,
Georgetown TX,
Lockhart TX,
Taylor TX,
San Marcos TX,
Canyon Lake TX,
New Braunfels TX,
Seguin TX,
Thank you for your interest in this deserving Bull Terrier Dog for adoption in Texas.