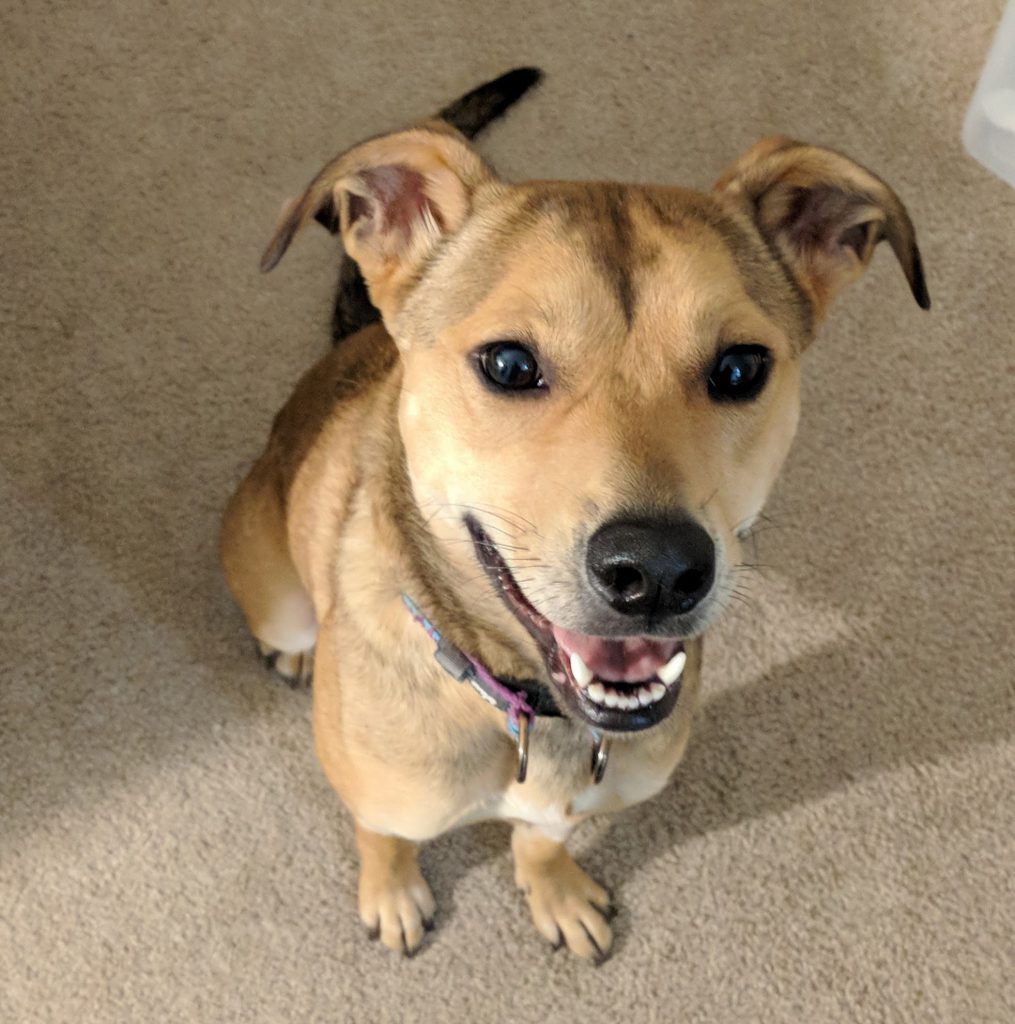 From her adorable smiling face to her intensely devoted personality, Millie is a dog that easily leaves paw prints on your heart. She is just 2 years old, very healthy, spayed and up to date on her shots. She will be microchipped as well.
Millie is a very pretty mix of German Shepherd and hound. She is a medium sized dog at 35 pounds. Having been house trained, crate trained, obedience and leash trained, Millie is the perfect companion… almost!
Millie's foster mom works at a veterinary clinic, and adopted Millie with the intention of finding her forever home after making sure she was healthy, spayed and fully vaccinated.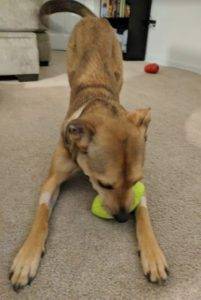 As much as her owner loves Millie, this sweet dog needs a home with owners who can spend most of their time with her. Millie has separation anxiety – she does not do well being left alone. This is something that can improve over time with a patient owner who can teach her that "when I go away – I come back" by using gradual exposure training.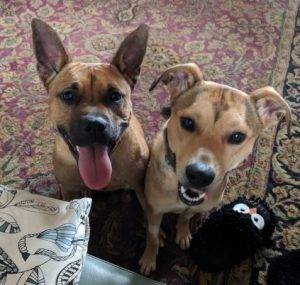 Millie is not good with cats, but is very accepting of dogs. She is a good match for respectful, older children, and is great with adults.
Millie is looking for her forever home with a person, couple or family that will cherish her and keep her safe, happy and healthy. She needs a home with a securely fenced yard, and owners who do not have to leave her home alone, due to her separation anxiety. Millie will be rehomed with vet records and any supplies her owner has on hand for her.
Millie needs to be in a home with people who stay at home for work, home-school or are retired. She is good when she has her owners with her, but if left alone can be destructive. This is due to separation anxiety. She can be trained out of this with gradual exposure training with owners who are willing and able to put in the work. She is a wonderful dog, and in the right home she will shine.
Millie can't wait to meet you, and looks forward to adding love, joy, laughter and companionship to your home. Adopt Millie today!
Request to Adopt Millie Here
There is a $150 adoption/rehoming fee. Supplies and veterinary records will be included.
Questions about Millie?? Contact our North Carolina dog rehoming team today. Text "MillieNC" to (888) 833-2128 or email AdoptMillieNC@dog-lover.us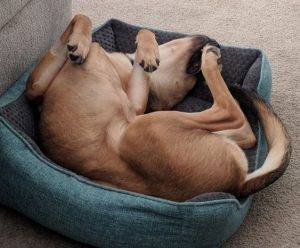 ♥
Name of Pet:
Millie
♥
Location:
Charlotte, NC
, 28269
♥
Type of Pet:
Dog
♥
Breed of Pet:
German Shepherd Hound Mix
♥
Color / Coat Type:
Medium length double coat.
♥
Age of Pet:
2 years
♥
Size of Pet:35 lbs now, should be 40-45 lbs full grown
♥
Health Problems:
No
♥
Behavior Issues
: Separation anxiety If left alone in home or crate, she gets rather destructive. I have avoided this problem thus far by keeping her in daycare or taking her to work with me. She does well in the crate at night and if I am home. Just not so much if she is left alone.
♥
Gets along with:
Older Children, Adults, Dogs, Strangers
♥
Pet is:
Spayed, Fully vaccinated, Crate Trained, House Broken, Leash Trained, Obedience Trained
♥
Food:
Other Purina One Sensitive skin/stomach; Fish based. History of skin allergy with poultry based food. Fed twice a day ~1 and 1/2 cups of food.
---
All About Millie – German Shepherd Hound Mix Dog For Adoption in Charlotte NC
[tabs_button]
Millie's Personality
The most loving dog I have ever had the pleasure of homing. People pleaser. When she isn't napping, she is wondering what she can do to make you happy, or if it's time for food. Can be iffy with other dogs, but responds so well to correction, and has already improved so much in the 2 weeks I've had her. Sharing toy's isn't perfect, but she's making progress. Cats are a no go.
I'm happy to have her microchipped at the animal hospital I work at.
Why is Millie Being Rehomed?
I work 12 hours a day on average. Daycare is expensive, and I feel she has a fantastic chance at happiness with a family that either has a better financial situation than I, or more free time, or even a significant other to help out with her care.
Millie's Perfect Adoptive Home Will Be:
How To Adopt Millie
If you are interested in adopting this special German Shepherd Hound Mix For Adoption in Charlotte NC, please fill out our online meeting request below. Once received and reviewed, our staff will ask the pets owner to reach out to you and arrange a meeting.
There is a $150 adoption/rehoming fee. Supplies and veterinary records will be included.
Millie – Hound mix Dog For Adoption in Charlotte NC
Millie is a German Shepherd Hound mix Dog for rehoming in Charlotte, NC. She is located near the following towns and cities in NC:
Matthews, NC Mount Holly, NC Mint Hill, NC Huntersville, NC Indian Trail, NC Cornelius, NC Concord, NC Gastonia, NC Kannapolis, NC Rock Hill, SC Monroe, NC Mooresville, NC Kings Mountain, NC Lincolnton, NC Lancaster, SC Fourth Ward, NC Third Ward, NC Biddleville, NC Wesley Heights, NC Severville, NC Dilworth, NC Wilmore, NC Lockewood, NC Colonial Heights, NC Tryon Hills, NC Villa Heights, NC Chantilly, NC Myers Park, NC Midwood, NC Elizabeth, NC North Charlotte, NC Enderly Park, NC
Adopt this beautiful and very deserving female Hound shepherd mix Dog in NC today.
[/tabs_button]
There is a $150 adoption/rehoming fee. Supplies and veterinary records will be included.
Questions about Millie?? Contact our North Carolina dog rehoming team today. Text "MillieNC" to (888) 833-2128 or email AdoptMillieNC@dog-lover.us