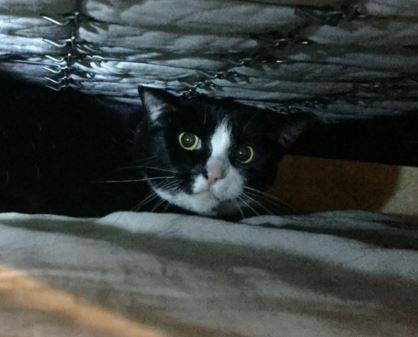 Rehomed! – Clemente – Very Sweet Male Black and White Tuxedo Cat – Santa Ana CA
Hi, My name is Clemente!
I've found my forever home, together with my two sibling cats.
---
---
Clemente is located in Santa Ana, CA, but can be relocated within a reasonable distance. Her owner's family will arrange transportation for interested cat lovers.
With a name like mine, how can you go wrong in offering me a home? I am a very sweet, but shy male black and white tuxedo cat. I am just 6 years old, very healthy and I have been neutered.
When I first meet people I am a real scaredy-cat, as you can see from the photo above of me hiding under the bed, avoiding having my picture taken. But that's not who I really am! I am actually a very loving lap cat who adores attention and cuddling. I just have to get to know you first!
I was the cherished companion of a wonderful woman who recently passed away, leaving me and my two sibling cats on our own. As much as her family wish they could provide us with a home, they simply cannot do so.
They are hoping to find each of us a very loving home where we will be kept safe, happy and healthy.
I am a really good natured boy and I get along very well with other cats, although dogs frighten me (go figure!). I am used to living with an elderly lady in a quiet environment, and I am not used to small children. I am very clean and have no bad habits. I am perfectly litter trained and use my cat tower for scratching.
I love to climb, sun bathe, bird watch and enjoy the companionship of my special person. I will bring my cat carrier, cat tree, and supplies with me to my new home.
I need a very patient family to make me feel safe and loved. Please open your heart and home to me. I can't wait to purr my way into your heart!
Please note: I am currently located in Santa Ana, CA, but my owner's family will arrange transportation for me if an adoption offer comes from other areas within a reasonable distance, including, but not limited to:
Los Angeles – Palm Desert – Palm Springs – Bakersfield – Orange County – Anaheim – San Diego – Chula Vista – Glendale – Las Vegas
---
All About Clemente
[one_half]
Name of Pet:
Clemente
Location:
 Santa Ana, CA
Type of Pet:
Cat
Breed of Pet: Tuxedo
Sex of Pet:
Male[/one_half] [one_half_last]
Age of Pet: 6
Spayed/Neutered?: Yes
Health Problems: No
Up To Date on Vaccinations: Unknown
Gets along with cats: Yes
Gets along with dogs: No
Accessories Included: Possible cat carrier and tower.
[/one_half_last]
Clemente's Personality
Clemente is a very shy and scared little kitty if he doesn't know you. Once he becomes accustomed to you he loves attention and loves to sit on your lap at the computer desk. He needs a very patient family to make him feel safe and loved.
Clemente's Current Home Environment
Quiet, peaceful, adults only,
Clemente's Current Family:
Clemente's Favorite Toys, Foods, Activities?
Cute Clemente Story:
Why is Clemente Being Rehomed?
Due to my grandmother passing away, we are unable to care for him. We want a loving family to look after him and shelters are not an option we want to pursue.
Clemente's Perfect Adoptive Home Will Be:
Patient, loving, safe environment.