Cookie has found her forever home with Don and his wife, along with their other fur babies in Sacramento CA. We are so happy to have been able to help Cookie find such a wonderful new home, and look forward to receiving updates on how she is adjusting to her new digs!
Need to Rehome a Dog in Sacramento?
We are experts at finding good homes for pre-loved dogs and puppies – safely and effectively.
Need our help? Contact our pet rehoming coordinator, call us toll free at (888) 720-3322, or request pet rehoming services here!
---
Here is how our Sacramento pet rehoming team presented Cookie to attract her new family:
Hi, My name is Cookie!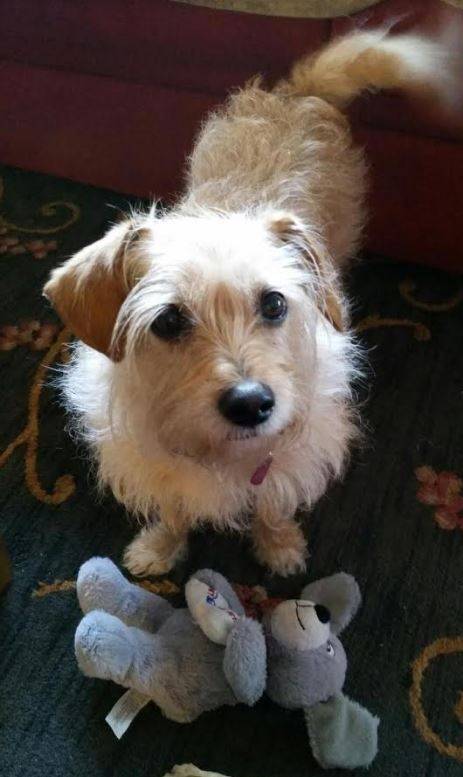 Cookie is one of the cutest little dogs you will ever meet. She looks a lot like "Benji", the scruffy dog from the Disney movies, only smaller. She is just 4 years old, very healthy, spayed microchipped, and up to date on shots. She will be rehomed with all of her belongings.
Cookie is a mixed breed – one of Mother Nature's designer dogs. She is clearly Long Hair Dachshund, mixed with terrier, probably Cairn or Norfolk. She is very sweet, playful, funny, smart, loving and very adorable. She knows all kinds of tricks, and is really playful and athletic. She loves to be with her humans, and also gets along well with dogs, cats and birds. She loves riding in the car and going places with you. She is best suited to be with adults, as small children tend to make her anxious.
Cookie's owner loves her very much. She is heartbroken to have had to make the decision to find Cookie a better home, but with a very busy work schedule, she cannot provide Cookie with the level of companionship and attention this little girl needs and deserves. She has been spending a fortune on doggie daycare and pet sitters, and simply is not able to manage this financially.
She is dearly hoping to find loving owners that will have lots of time to spend with Cookie. Ideally, a work-from-home or retired couple would be perfect. A nice, securely fenced yard for Cookie to play in would be the icing on the cake. Cookie would do best with retired dog lovers who are active, and enjoy taking walks.
Cookie's owner would very much love to keep in touch with her, but only if her new owners are comfortable with it.
Please offer Cookie a loving, forever home today. This is one little dog that will definitely leave paw prints on your heart.
Location: Sacramento CA
Type of Pet: Dog
Breed: Long Hair Dachshund and Cairn/Norfolk Terrier Mix
Age: 4 1/2 years
Color/Coat Type: Blonde
Size: 17 lbs
Health Issues: No
Behavior Issues: No (Anxious around children – needs an adults only home).
Cookie is:
Spayed, Microchipped, Fully vaccinated, Crate Trained, House Broken, Leash Trained, Obedience Trained
Cookie gets along with:
Adults, Dogs, Cats, Small Animals, Pet Birds, Horses, Strangers
Personality
Cookie is an energetic, sweet and friendly girl. She LOVES to play with people and dogs, and she seems to have an endless supply of energy! She can do several tricks like sit, paw, down and she can also jump up into your arms like an acrobat. She gets along great with other dogs but seems to be more calm around bigger dogs. She can easily be trained with treats and she has no issues walking off leash. She is excellent with recall as well. She also loves cars and going on trips!
Reason For Rehoming
The main reason is due to financial reasons, as it is very expensive to own a dog in the city. I have done my best to provide a good life for Cookie, despite not being able to spend time at home very often due to my work schedule. I have spent a significant amount of my limited income on pet sitting (as I cannot be home often), dog walking and medical needs.
Unfortunately, I can no longer keep doing this and I also feel tremendous guilt for not being able to be home for many hours out of the day. Cookie is a lover and she needs/wants a lot of love and attention. I love her very much and want her to be with attentive and caring owners.