Molly has found her forever home. Need to rehome a dog in the Seattle area? Contact our pet rehoming coordinator today.
Hi, My name is Molly!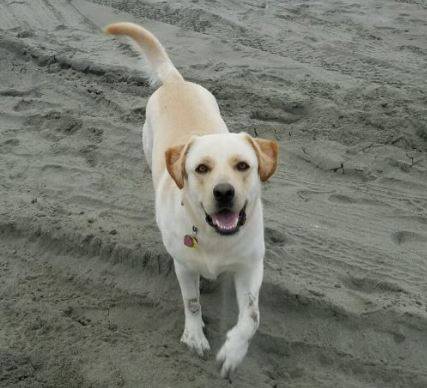 Molly is drop-dead gorgeous! This large and lovely dog is a Goldador – a mix of Yellow Labrador Retriever and Golden Retriever. She is just 5 years old and in great health. She is spayed, up to date on shots and micro-chipped. She is a smart, loving, loyal and very devoted family dog who lives with her owners in Mountlake Terrace, Washington.
Her family is faced with the very devastating decision to have to find Molly a new home. She has aggression towards other dogs, and recently bit a neighbor's dog. She tends to be very protective of her family, and can be wary of strangers – something which her owners have to be very careful of.
They are dearly hoping to find the right home for Molly where she will be safe, happy, healthy and cherished. She would be best suited for a home in the country. She needs to be in an area that is not densely populated with people and other dogs. She needs to be in a securely fenced area. Ideally, her owners would be people who live a quiet life, without a lot of visitors and entertaining.
---
All About Molly
[one_half]
Name of Pet: Molly
Location: Mountlake Terrace, Wa, 98043 (Seattle)
Type of Pet: Dog
Breed of Pet: Yellow lab/golden retriever
Sex of Pet: Female[/one_half]
[one_half_last]
Age of Pet: 5
Spayed/Neutered?: Yes
Health Problems: No
Up To Date on Vaccinations: Yes
Gets along with cats: No
Gets along with dogs: No
Good with Children?: Yes, No
House Broken or Litter Trained?: Yes
Crate Trained?: Yes
Accessories Included: Crate/food bin/leashes/collars/frontline flea medication.
[/one_half_last]
Molly's Personality
She is playful, snuggly, intelligent and a fantastic companion
Molly's Current Home Environment
We have a small-ish house with a big fenced in yard.
Molly's Current Family:
My husband, Matthew, and I have two children. Bennett is 6 and Nolan is 4.
Molly's Favorite Toys, Foods, Activities?
Any food treat! Loves to fetch sticks. Loves water!
Cute Molly Story:
She is so polite around food and even when my kids leave food on the ground she will look at you as if she's asking permission before diving in. However, ice cream is her vice. Girlfriend will go to whatever lengths necessary to get herself some of that. 😉
Why is Molly Being Rehomed?
She bit our neighbor's dog and also shows a lot of signs of aggression towards other people and dogs.
Molly's Perfect Adoptive Home Will Be:
Loving, affectionate. Give her lots of attention. She would be great with a family with kids. She is fiercely loyal and protective. (Just know that you always have to be aware if ANYONE new is around because she will take it as her duty to protect you)