NO LONGER AVAILABLE – Goldendoodle Puppy in Dallas Texas – Professor
Sorry - Professor the Goldendoodle is No Longer Available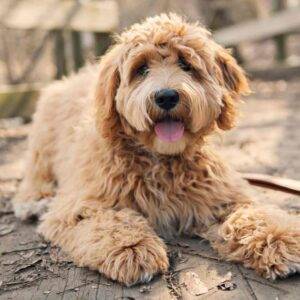 Professor has found a home, but we are constantly being asked to rehome Goldendoodles throughout the USA and Canada.
Just fill out our waiting list form, and we will be happy to reach out to you when a Goldendoodle or similar breed of dog comes available for adoption near you.
Professor is no longer available. Thank you for your interest.
Meet Professor, a Miniature Goldendoodle puppy for adoption by owner in Dallas Texas. This 10 month old puppy is looking for a family who can keep up with him. He is a very bouncy, playful and fun boy. Professor weighs 34 pounds, a medium sized dog. He has been fixed, fully vaccinated, micro-chipped, housebroken, and leash trained.
Professor gets along with other dogs and is good with respectful children. He is high energy and is looking for an active family with a big, securely fenced yard and lots of time to spend with him. If you have room in your heart and home for this amazing Goldendoodle, please offer Professor his forever home today.
All About Professor – Goldendoodle Dog For Adoption in Dallas Texas
♥ Name of Pet: Professor
♥ Location: Dallas, Texas
♥ Type of Pet: Dog
♥ Breed of Pet: Goldendoodle
♥ Color / Coat Type: black and white
♥ Age of Pet: 10 months
♥ Size of Pet: 34 pounds
♥ Health Problems: none
♥ Behavior Issues: no
♥ Gets along with: Dogs, Children, Adults,
♥ Pet is: Fixed, fully vaccinated, microchipped, housebroken, leash trained
♥ Food: Other
He's on Iams.
How To Adopt Professor
If you are interested in this special Goldendoodle For Adoption in Dallas, Texas, please fill out our online meeting request below. Once received and reviewed, our staff will ask the pets owner to reach out to you and arrange a meeting.
There is a $500 adoption/rehoming fee. Some supplies and veterinary records will be included.
Questions about Professor? Contact our Dallas dog rehoming team today.
Text "Professor" to (888) 833-2128. We look forward to hearing from you.
---
Professor – Goldendoodle Dog For Adoption in Dallas Texas
---
Professor's Personality
Professor is a very quirky and anxious puppy. He can jump, and play, and needs constant activities to hold his interests. He's an extremely cute boy.
Why is Professor Being Rehomed?
Professor requires lots of outdoor activity. He needs lots of exercise and a backyard.
Professor is located in Dallas Texas, close to the following towns and cities in Texas:
Highland Park TX,
University Park TX,
Irving TX,
Balch Springs TX,
Duncanville TX,
Mesquite TX,
Farmers Branch TX,
Grand Prairie TX,
Richardson TX,
Addison TX,
Lancaster TX,
Garland TX,
DeSoto TX,
Carrollton TX,
Glenn Heights TX,
Thank you for your interest in this deserving Goldendoodle Dog for adoption in Dallas Texas.