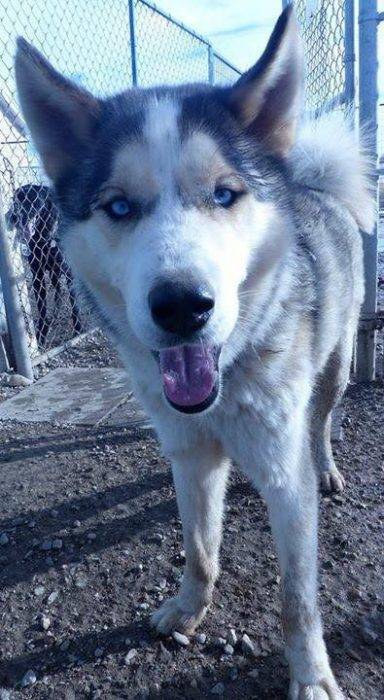 Meet Koda – Siberian Husky Alaskan Malamute Dog For Adoption in Gravelbourg Sask
Koda is a big ole bundle of love and licks. This stunning Alaskan Husky dog is only 2.5 years old and is very healthy. He weighs in at a majestic 65 Kg.  Koda has been neutered, and is up to date on shots. He is microchipped, crate trained, house trained and walks well on a leash. If Koda has any fault it is only that he needs work on recall when he is off-leash.
This furry ray of sunshine is being rehomed due to severe dog allergies. His owner loves Koda so much, but despite trying everything possible, the prolific shedding that goes hand in paw with owning a Husky/Malamute mix is causing her to have severe health issues.
She and her daughters are dearly hoping to find Koda the home he deserves. They want him to have a home where he will have lots of companionship, plenty of exercise, and unlimited unconditional love. Koda is great with kids and usually good with other dogs.
He will need owners with a securely fenced yard or acreage, who own their own home and can commit to being a devoted dog owner for at least the next 10 years.
Offers will be considered from outside of Saskatchewan, but Koda will not be shipped. Prospective adopters would need to be willing to make the drive to Gravelbourg. Adopt this fabulous Alaskan Husky dog today.
[button link="#adopt" size="large" variation="hotpink" align="center"]Request to Meet Koda Here![/button]
There is a $300 adoption/rehoming fee. Supplies and vet records will be included.
Questions About Koda?? Get in touch with our Saskatchewan dog rehoming team. Text "Koda" to (365) 800-0410 or email [email protected]
All About Koda – Personality – Food/Diet – Why Rehoming – Location – Adopt Koda
---
All About Koda
Location: Gravelbourg, Sask S0h1x0
Type of Pet: Dog
Breed: Siberian Husky Alaskan Malamute Mix (Alaskan Husky)
Age: 2.5
Color/Coat Type: Long hair, white and grey
Size: 65kg
Health Issues: No
Behavior Issues: Not consistent to come back when off leash
Koda is:
Neutered, Microchipped, Fully vaccinated, Crate Trained, House Broken, Leash Trained
Koda gets along with:
Babies, Toddlers, Small Children, Older Children, Dogs, Strangers
All About Koda – Personality – Food/Diet – Why Rehoming – Location – Adopt Koda
---
Personality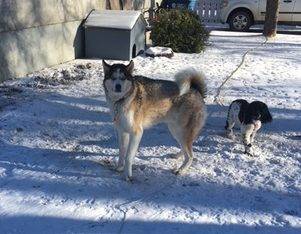 Very sweet and loves people. Typically docile around people unless he gets excited from boredom. Gets really excited around other animals. Plays well with dogs, chases cats, does good around cows and horses although he acts playful toward them.
He is dominant around most other dogs his size playing rough with them, but has also played appropriately with a small terrier less aggressively too. He's truly a big playful loving guy.
Food and Diet
Koda is currently on Other
He changes food frequently so there hasn't been a specific food. Although I recall he did like Hills. Luckily he does not overeat. I usually give home between 2-4 cups in a day but it usually lasts 2 days about. He's very easy that way.
Reason For Rehoming
He loves to be in the house around us but my allergies make it difficult to have him around. Also I'm a single mom of 3 girls involved in sports, various jobs and I find it increasingly difficult to give him adequate time and energy. He's alone too much.
All About Koda – Personality – Food/Diet – Why Rehoming – Location – Adopt Koda
---
How to Adopt Koda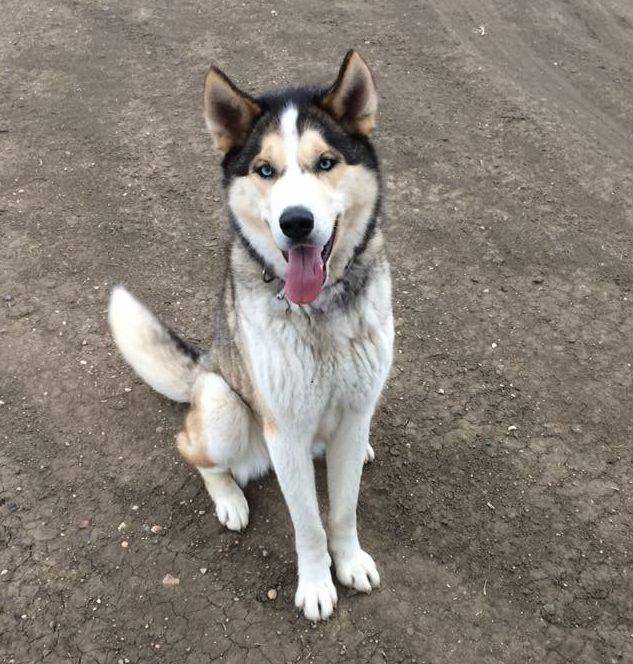 If you would like to consider offering Koda a loving, forever home, please fill out our Request To Meet A Pet form below. Once received and reviewed by our staff, we will ask Koda's owner to call you to ask/answer any questions, and arrange for a meet up to decide if you and Koda are a good match.

All About Koda – Personality – Food/Diet – Why Rehoming – Location – Adopt Koda
---
Location
Koda is a male Alaskan Husky Dog For Adoption in Gravelbourg, SK, close to the following towns and cities in Saskatchewan:
Assiniboia, SK
Caronport, SK
Moose Jaw, SK
Swift Current, SK
Shaunavon, SK
Gull Lake, SK
Lumsden, SK
Regina, SK
Davidson, SK
Pilot Butte, SK
Outlook, SK
Weyburn, SK
Maple Creek, SK
Eston, SK
Rosetown, SK
Adopt this very special Alaskan Husky dog in Gravelbourg, Saskatchewan today.
Questions About Koda?? Text "Koda" to (365) 800-0410 or email [email protected]
All About Koda – Personality – Food/Diet – Why Rehoming – Location – Adopt Koda