Meet Vladimir, Orange Tabby Cat For Adoption in Kailua HI
Vladimir is a Male Orange Tabby Cat for adoption to a very loving home in or near Kailua, HI. This very special Cat is 5 years old and weighs 10 pounds.
Vladimir is in excellent health and has been neutered and is up to date on shots. He is a sweet little guy that loves to play and is a real snuggle bug. He loves to follow you around like a dog, and is a wonderful companion that is good with respectful children. He has not been around other cats or dogs, but would probably be fine with either, so long as they are good with him.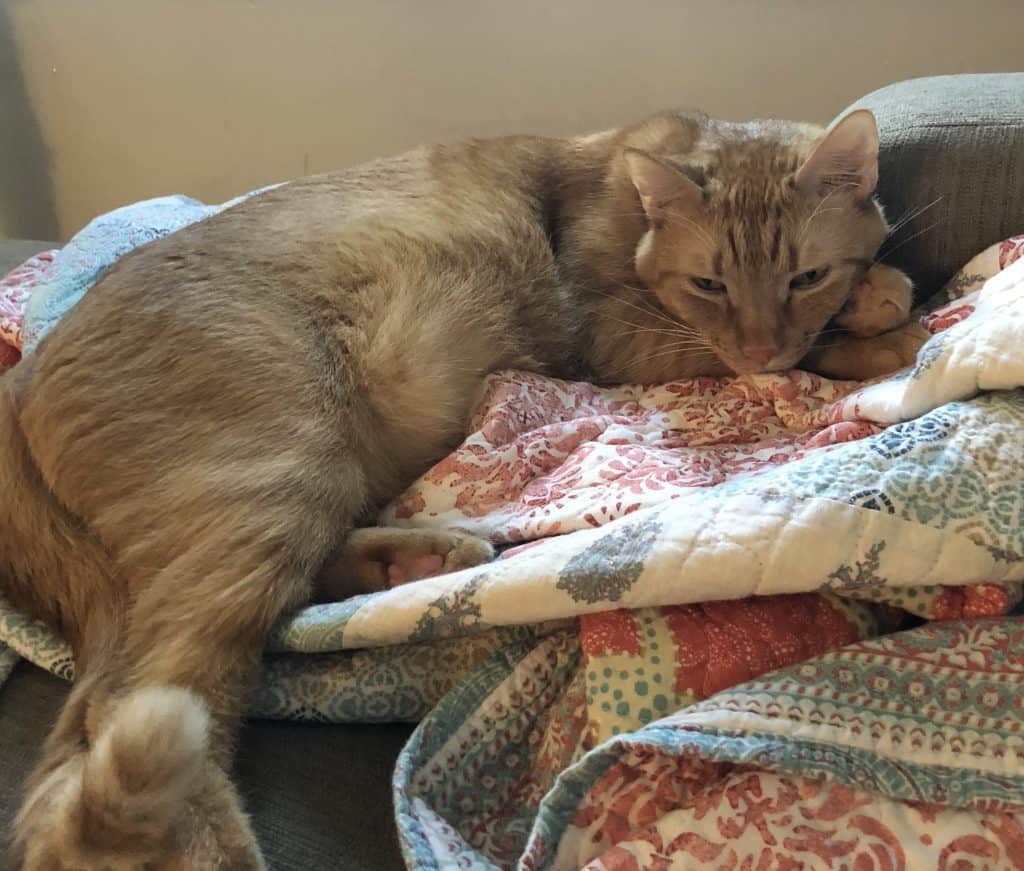 Vladimir is a clean and well behaved cat. He does not scratch furniture, and is good at always using his litter box.
Vladimir's owner is very sad to have to find him a new home. He is having to move to California, and is unable to take Vladimir along with him. He is dearly hoping to find a single, couple or family who would appreciate a sweet little orange tabby cat like Vladimir, and would provide him with a healthy, happy forever home.
Vladimir will be rehomed with any supplies the owner has for him, as well as veterinary records. Please offer Vladimir the home he needs and deserves today.
There is a $40 adoption/rehoming fee. Supplies and veterinary records will be included.
Questions about Vladimir? Contact our Kailua Cat rehoming team today. Text "Vladimir" to (888) 833-2128 or email [email protected]. We look forward to hearing from you.
---
All About Vladimir – Cat For Adoption in Kailua HI
Name of Pet: Vladimir
Location: Kailua, HI, 96734

Type of Pet: Cat
Breed of Pet: Domestic Short Hair  Orange Tabby Cat
[toggle title="About DSH Cats"]
About Domestic Shorthair Cats
A domestic short-haired cat is a cat of mixed ancestry—thus not belonging to any particular recognized cat breed—possessing a coat of short fur. In British English, they are often referred to as moggies. Wikipedia
Common nicknames: moggie, mutt
Other names: Domestic Shorthair (DSH); House Cat, Shorthair (HCS); Shorthair Household Pet
Variety status: Not recognised as a standardised breed by any major breed registry
[/toggle]
[toggle title="About Orange Tabby Cats"]
About Orange Tabby Cats
A tabby is any domestic cat that has a coat featuring distinctive stripes, dots, lines or swirling patterns, usually together with a mark resembling an 'M' on its forehead. Tabbies are sometimes erroneously assumed to be a cat breed. Wikipedia
[/toggle]
Sex of Pet: Male
Age of Pet: 5
Spayed/Neutered?: Yes
Health Problems: No
Behavior Issues: No
Up To Date on Vaccinations: Yes
Gets along with cats: Unknown
Gets along with dogs: Unknown
Good with Children?: Yes
House Broken or Litter Trained?: Yes
Accessories Included: Carrier, an all his favorite toys
Vladimir's Personality
Doesn't scratch things
Follows me around
Snuggles
Kills bugs
Vladimir's Current Home Environment
I work construction, so I'm up early an home late. He doesn't whine or cry when I'm gone. An he loves to be around me after I get home from work
Vladimir's Current Family:
Single male, home as much as possible
Vladimir's Favorite Toys, Foods, Activities?
Loves playing with boxes an bags. Chasing after ping pong balls. Staring out at birds an chasing flys
Why is Vladimir Being Rehomed?
I'm moving to California, and cannot take Vladimir with me.
Vladimir's Perfect Adoptive Home Will Be:
Someone who will love him, give him the best life. Let him grow old.
How To Adopt Vladimir
If you are interested in adopting this special Orange Tabby Cat For private rehoming in Kailua HI, please fill out our online meeting request below. Once received and reviewed, our staff will ask the pets owner to reach out to you and arrange a meeting.
Questions about Vladimir? Contact our Orange Tabby Cat rehoming team today. Text "Vladimir" to (888) 833-2128 or email [email protected]. We look forward to hearing from you.
[toggle title="REQUEST TO MEET VLADIMIR HERE!"]
[/toggle]
Vladimir – Cat For Rehoming in Kailua HI
Vladimir is a Cat for private adoption by owner in Kailua HI. This pet is located close to the following towns and cities in HI:
[one_half]10 miles to Honolulu
Kaneohe
Ahuimanu
Honolulu
Aiea
Waimalu
Pearl City
Mililani Town
Waipahu
Ewa Beach
Wahiawa
Makakilo City
Nanakuli
Waianae
Makaha
Pohakupu [/one_half]
[one_half_last]
Keolu Hills
Lanikai
Kea'alu
Mahinui
Mala'e
Kokokahi
Maunawili
Waimanalo
Pu'ohala Village
Kane'ohe
Waimanalo Beach
He'eia
'Ahuimanu
Woodlawn
Kahalu'u
Palolo Homes
Lanai City[/one_half_last]
Adopt this sweet Orange Tabby Cat in Kailua HI today.