Kansas, a very sweet senior Yellow Lab mix dog has found a wonderful new home in San Diego through the efforts of our California pet rehoming team! Kansas is now the cherished companion of a family who had been looking for some canine companionship. Kansas is doing very well in his new home, and we have received some great pictures from his new owner.
Our California Pet Rehoming team can find your dog or puppy a very loving home – safely and effectively. Contact our pet rehoming team today!
Ready to Rehome Your Pet?
Request Pet Rehoming Services Now!
---
Here is how our California cat rehoming team presented sweet Ziggy to attract the perfect new home for her: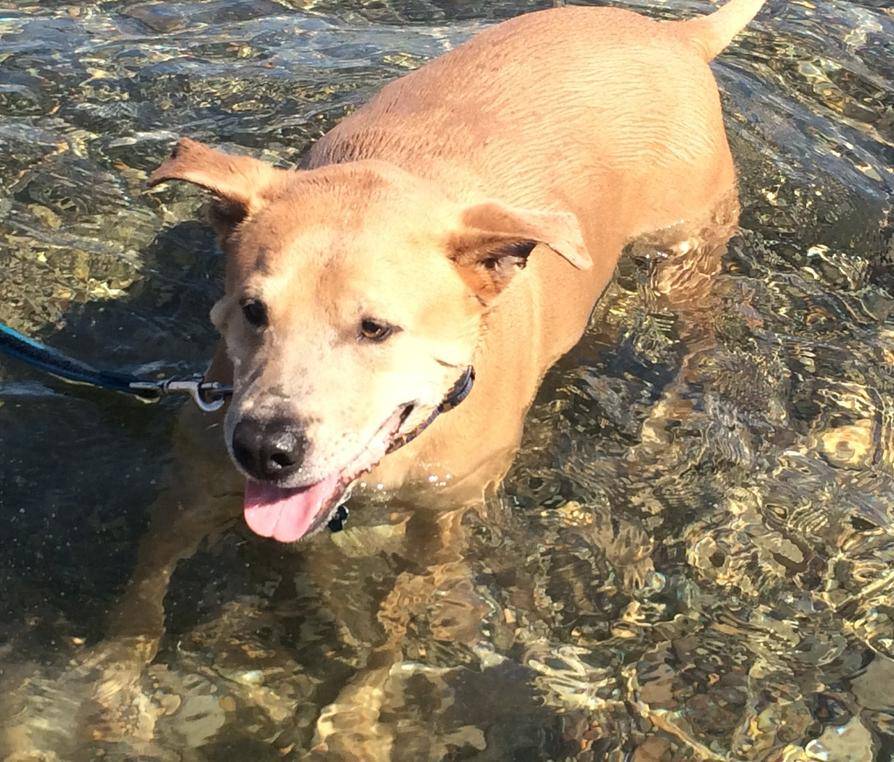 Meet Kansas – Yellow Labrador Retriever Mix Dog Rehomed in Seal Beach CA
Kansas is the ultimate companion. This handsome Yellow Labrador Retriever mix is a smart, healthy, well trained and devoted dog. He is just 6 years old. Kansas has been neutered, is up to date on shots and micro-chipped. He is perfectly house broken, and is able to stay by himself in the home without any issues.
This awesome dog is looking for his forever home. He has been fostered by his previous owneers' sister for the past 2 years, after she faced some difficulty in life. His foster owner loves Kansas very much, but with a very busy work schedule and living in a condo, she is not able to provide Kansas with the life he deserves. He needs much more companionship, attention and exercise than her schedule will allow.
Kansas and his foster owner are looking for the best home ever. Ideally, a home with retired or work from home dog lovers who have a great big fenced yard would be ideal. He likes to have a predictable environment, so Kansas is best suited to the quiet and routine of living with adults – or a family with kids older than 12.
If you have been looking for a gorgeous dog that has undergone extensive training and has a wonderful temperament and manners, please offer Kansas his forever home today. He can't wait to charm his way into your heart and home.
---
Handsome 6 year Old Yellow Labrador Retriever Mix Rehomed in Orange County CA

Location: Seal Beach, CA, 90740
Type of Pet: Dog
Breed: Yellow Labrador Retriever Mix
Age: 6
Color/Coat Type: Yellow Short
Size: 55 lbs
Health Issues: Occasional Allergies
Behavior Issues: No
Kansas is:
Neutered, Fully vaccinated, Crate Trained, House Broken, Obedience Trained
Kansas gets along with:
Adults, Kids older than 12, Dogs
Personality
Kansas is a very smart dog that likes to be active. While he is 6 years old, you wouldn't know it from how much energy he seems to have. He is also very well house trained and can stay home for hours without chewing on anything or going to the bathroom in the house.
He pulls on the leash when we walk, especially at first, and it does take me a while to get him to stop. This I believe is because I am not great at being the alpha and I haven't been the most strict with his training. He was well trained in most areas when I adopted him and I haven't really been successful at training him to be good on walks. That is obviously my flaw, not his. ||
He is a loving dog that I believe with the right amount of attention and activity would be able to avoid his anxiety that I have seen shown up in a few instances. He will bark if someone gets close to the house, but will stop barking once he knows it's safe.
Food and Diet
Kansas is currently on Other
He is currently eating the grain free brand from Rachel Ray. I have tried a number of different brands to try to help with his allergies and none of them really seem to make the allergies worse or better. He has also had Iams for his first four years.
Reason For Rehoming
I have recently taken on a new job and work very long days and travel a lot. Being a single woman, this makes for my pup being alone a lot. I bought a small condo in the area and thought that a morning and evening walk would be enough exercise for my dog, although I've learned, I really don't think it's enough.
He's always had a yard to run free in and I think it's very important to find someone that either has a yard or can take him on more frequent outings. The situation is stressful for me and for him and I feel that it is not sustainable. I want to find him a place where he can be happy too.
---
Kansas is a Yellow Labrador Retriever Mix Rehomed in Seal Beach CA near Rossmoor,
Los Alamitos,
Long Beach,
Signal Hill,
Westminster,
Hawaiian Gardens,
Cypress,
Stanton,
Lakewood,
La Palma,
Huntington Beach,
Cerritos,
Artesia,
Fountain Valley,
Garden Grove,
Long Beach,
Anaheim,
Santa Ana,
Los Angeles,
Glendale,
Riverside,
San Diego and
Chula Vista.