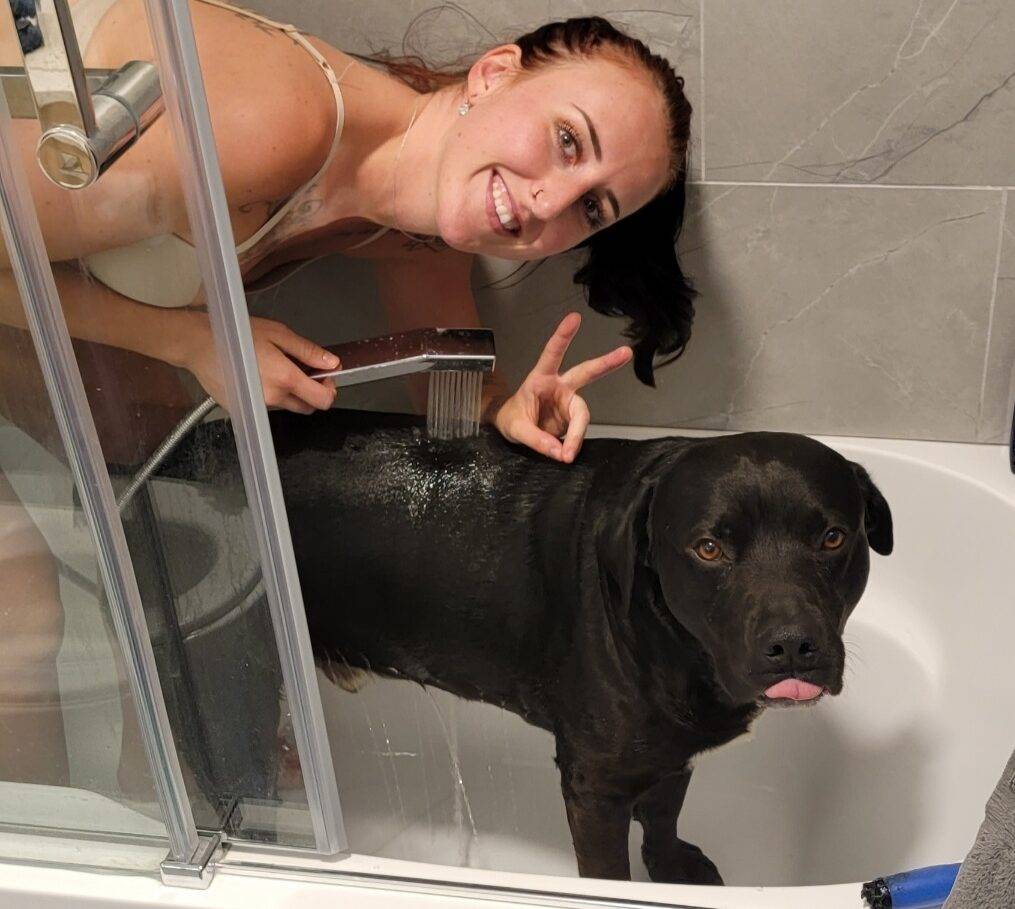 Labrador Retriever Rottweiler Mix Dog For Adoption in Edmonton AB – Supplies Included – Adopt Oso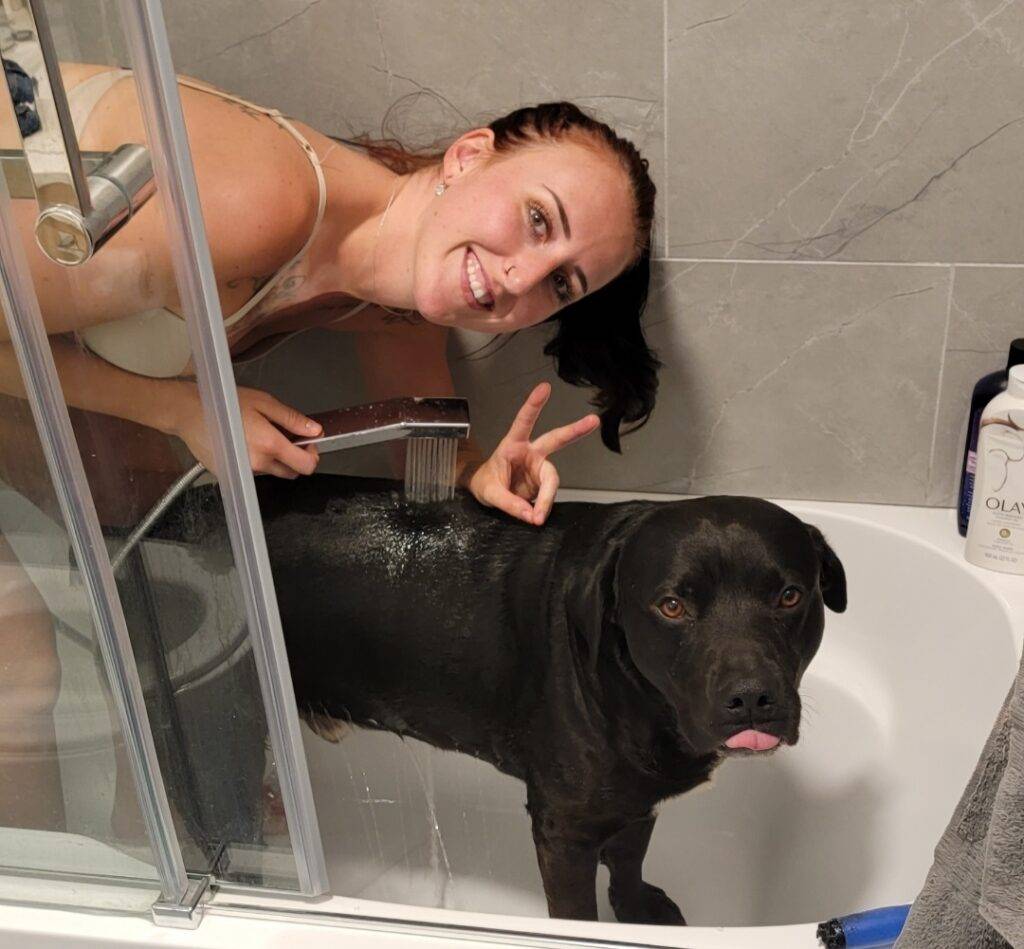 Oso has been adopted. Thank you for your interest!
Meet Oso, a Lab and Rottweiler Dog for adoption by owner in Edmonton Alberta.
Looking for a Black Labrador Retriever for adoption in Edmonton Alberta and area? Just 7 years old and weighing 85 kg, this lovely Rottie Lab mix dog has been fully vaccinated, crate trained, litter trained, house broken, leash trained, and obedience trained. Oso is good with babies, toddlers, small children, older children, dogs, cats, and small animals. Oso is such a good boy. He loves his people with all his heart, and is simply amazing in how good-natured, well-behaved, gentle and affectionate he is. He is the perfect family dog waiting for the perfect family to adore him.
Oso's owners are very sad to have to rehome their beloved dog. Unfortunately, their busy work schedules do not give them enough time to give Oso the level of care, companionship, exercise and attention he needs and deserves. They are dearly hoping to find a wonderful new home for Oso with a family who can give Oso what they cannot. They are looking for a family with some great kids, a big, securely fenced yard, and lots of time to spend with Oso;  someone who will keep Oso safe, happy and healthy for the rest of his life.
Oso will be rehomed with all supplies, including food, treats, collar, leash, crate and any other accessories they have on hand for him. Osos owners are hoping to stay in touch with his new family and are happy to offer any advice and support as Oso adjusts to life in his new home and family.
If you have room in your heart and home for Oso, please complete our online meeting request form. Once received, our Edmonton Dog Rehoming team will make arrangements for you to meet the owners and their adoptable Edmonton Lab and Rottweiler Dog. Adopt Oso today!
How To Adopt Oso
If you are interested in this special Lab and Rottweiler For Adoption in Edmonton Alberta, please fill out our online meeting request below. Once received and reviewed, our staff will ask the pets owner to reach out to you and arrange a meeting.
There is a $150.00 adoption processing fee. Supplies, accessories, and veterinary records will be included.
Questions about adopting Oso?
Text OsoT6W3W4 to (888) 833-2128 . We look forward to hearing from you!
---
All About Oso – Lab and Rottweiler Dog For Adoption in Edmonton Alberta
♥ Name of Pet: Oso
♥ Location: Edmonton, Alberta, T6W3W4
♥ Type of Pet: Dog
♥ Breed of Pet: Lab and Rottweiler
♥ Color / Coat Type: Black with white underbelly
♥ Age of Pet: 7
♥ Size of Pet: 85 kg approx
♥ Health Problems: No health issues
♥ Behavior Issues: None
♥ Gets along with: Babies, Toddlers, Small Children, Older Children, Dogs, Cats, Small Animals
♥ Pet is: Fully vaccinated, Crate Trained, Litter Trained, House Broken, Leash Trained, Obedience Trained
♥ Food: Other
Pedigree chicken brand
---
Oso – Lab and Rottweiler Dog For Adoption in Edmonton Alberta
---
Oso's Personality
Very playful and loving. Patient and learns quickly. Very loving towards everyone. Very good with children and other pets.
Oso has had some past history of getting out of the house and a few charges because of that so he's now under the restricted dog category.
Why is Oso Being Rehomed?
We do not have time anymore to be home enough for Oso, as well, because he's a bigger dog our apartment isn't big enough for him.
Oso is located in Edmonton AB, close to the following towns and cities:
Saint Albert AB,
Sherwood Park AB,
Devon AB,
Fort Saskatchewan AB,
Spruce Grove AB,
Morinville AB,
Leduc AB,
Bon Accord AB,
Stony Plain AB,
Calmar AB,
Millet AB,
Lamont AB,
Tofield AB,
Wetaskiwin AB,
Westlock AB,
Thank you for your interest in this deserving Lab and Rottweiler mix Dog for adoption in Edmonton Alberta.