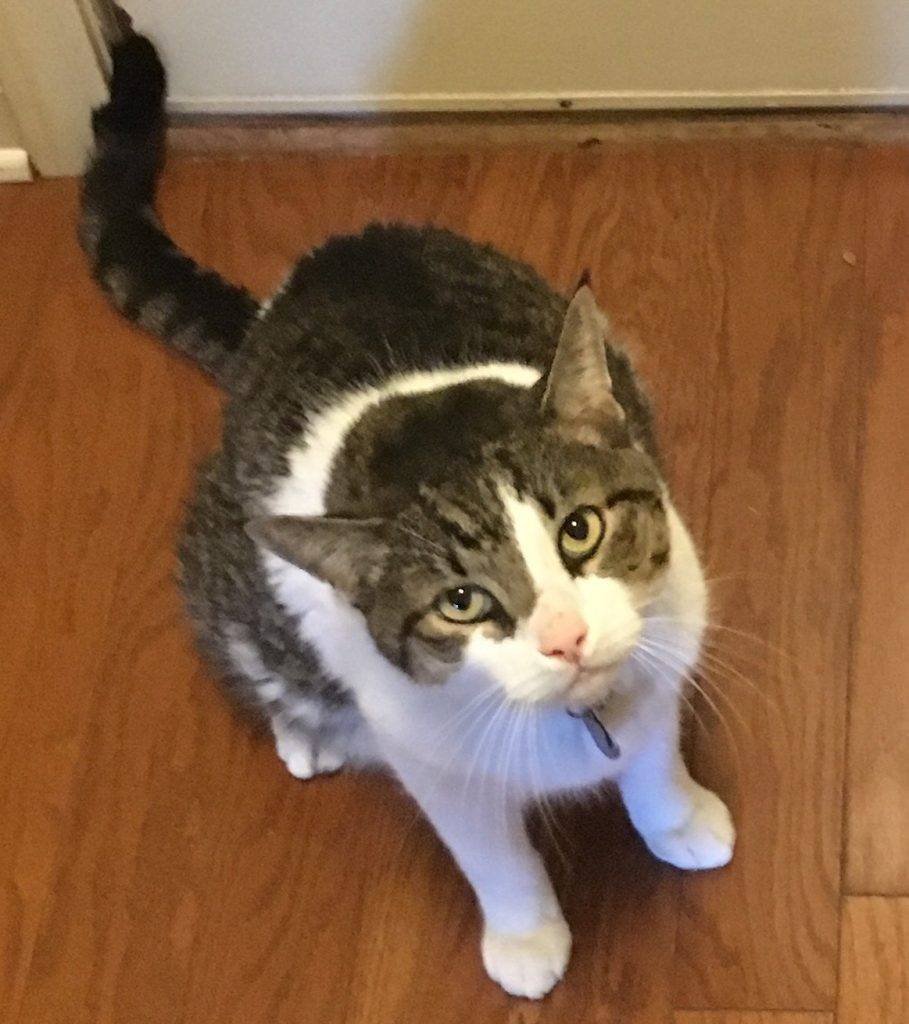 Meet Alex, Domest short hair Cat ADOPTED in Cordova TN
An adorable Tabby Tuxedo cat for adoption in Cordova, TN, near Memphis, Alex is a healthy, fixed and very affectionate 17 pound feline looking for a very loving home with cat lovers who will cherish him and keep him safe, happy and healthy for the rest of his life.
Alex is 11 years young. He is wonderful with small children and very accepting of other cats and dogs. Alex needs a new home due to severe cat allergies in his current home. He will be rehomed with vet records, all supplies, and the sincere friendship of his owners, who are devastated to have to make this very difficult decision for their healthy.
Need to rehome a cat in Memphis? Contact our Memphis Cat rehoming team today.  We look forward to hearing from you.
---
All About Alex – Domest short hair Cat ADOPTED in Cordova TN
♥ Name of Pet: Alex
♥ Location: Cordova, TN, 38018
♥ Type of Pet: Cat
♥ Breed of Pet: Domest short hair
♥ Color / Coat Type:Gray Tabby Tuxedo Cat
♥ Age of Pet: 11 years
♥ Size of Pet: 17 pounds
♥ Health Problems: No
♥ Behavior Issues: No
♥ Gets along with: Babies, Toddlers, Small Children, Older Children, Dogs, Cats, Small Animals, Strangers
♥ Pet is: Neutered, Micro-chipped, Fully vaccinated, Litter Trained, House Broken
♥ Food: Other
He mostly eats wet food such as Purina brand. He doesn't care much for dry foods (we have tried all kinds).
Alex's Personality
I have a cat named Alex who behaves more like a dog. He is quite friendly and loves attention.
He is fixed, house trained, and vaccinated (all the normal stuff).
-Great around small children
-Gets along with other cats and dog(s)
-he lives with a cocker spaniel
-very friendly and calm
-he is not bothered in the slightest by the vacuum!
He is 10 years old, but very healthy and active.
Alex does enjoy going outside. However, he was an indoor cat for years. So switching back to indoor only may be possible.
Why is Alex Being Rehomed?
My son and I have developed allergies to him and so we must find Alex a new home. I have had nasal surgery due to allergy complications and I also take 3 allergy meds a day to cope.