Soft Odd-Eyed White Shorthair Cat for Adoption in Edmonton (Stoney Plain) AB – Meet Mesmerizing Memow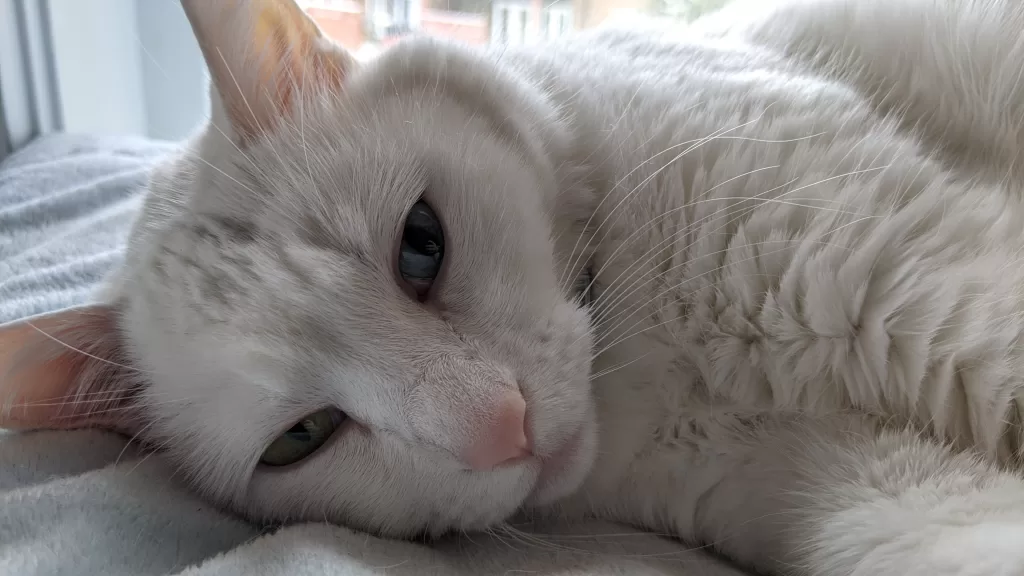 With one blue and one green eye and his soft lustrous white coat, Memow is an absolutely delightful companion.
Looking for a White Shorthair cat for adoption in Edmonton (Stony Plain), AB? Memow would love to be considered for the position of your cherished family companion.
Memow is a remarkable, pre-loved White Shorthair cat who is presently perched in Edmonton (Stony Plain), AB, patiently waiting for his purrfect new home. This magnificent male mouser, with his velvety coat, is eleven years young and as light as a feather at twelve pounds.
Memow is truly a treasure, with many marvellous quirks that make him one-of-a-kind. His fur is so soft, you'll find petting him as soothing as stroking silk. He has a delicate, delightful meow that is surprisingly gentle for a cat his size, and he rolls out a rapturous trill when he's thrilled to see you.
Get ready to giggle, as Memow has a set routine that would make a Swiss watchmaker proud. You'll hear him coming as he hits the same creaky boards every time he strolls down the hallway. And prepare to be mesmerized by his hypnotic heterochromic gaze.
His current caretakers are crushed at having to rehome their cherished cat, but unforeseen circumstances have left them with no other choice. They are hopeful to find a haven where this deserving darling will be doted on, kept safe, healthy, and contented.
If you're prepared to provide a palace for our wonderful Memow and ready to experience the true meaning of unconditional love, then offer a loving forever home today. Read on to learn how you can be the lucky one to add this fantastic feline to your family. Memow can't wait to meet his new best friend…could it be you?
5 Amazing Things About Memow:
He is VERY soft.
He has a delicate meow for a male cat his size.
He has a cute trill he does when he is excited to see you.
His routine is so set, he hits the same creaky boards every time he travels down the hallway.
He has a beautiful gaze with his heterochromia.
Memow's owners are very sad to have to rehome their cherished cat, but circumstances beyond their control have made rehoming a must-do.
They are hoping to find the right home where this deserving cat will be loved unconditionally and kept safe, happy, healthy and well-cared-for.
If you have room in your heart and home for Memow, then please offer a loving, forever home today. Memow can't wait to show you the true meaning of unconditional love.
---
How To Adopt Memow
Please fill out our online meeting request form via the button below. Once your application is received and reviewed, our staff will ask the pets owner to reach out to you and arrange a meeting.
[vcex_button url="https://pet-net.net/adopt-a-pet/" rel="nofollow" layout="block" align="center" font_padding="top:15|bottom:15″ font_size="d:18px|tl:18px|tp:18px|pl:16px|pp:16px" font_weight="semibold"]Request to Adopt Memow Here[/vcex_button]
There is a $50 adoption/rehoming fee. Supplies and veterinary records will be included.
Questions about Memow?
COMPLETE OUR QUICK QUESTIONS FORM NOW
---
All About Memow – White Shorthair Cat For Adoption in Edmonton (Stony Plain) AB
Name of Pet: Memow
Location: Edmonton (Stony Plain), AB, T7Z 0G1
Type of Pet: cat
Breed of Pet: White Shorthair cat
Sex of Pet: Male
Age of Pet: 11
Spayed/Neutered?: Yes
Health Problems: On a special food to prevent urine crystals from forming.
Behavior Issues: No
Up To Date on Vaccinations: No
Gets along with cats: Unknown
Gets along with dogs: No
Good with Children?: Yes
House Broken or Litter Trained?: Yes
Crate Trained?:
Accessories Included: Wifi pet feeder
Pet carrier
His favorite blanket
Moderately used cat tree
Litter box (manual roll to sift box)
Pet brushes.
Memow's Personality
He is an independent soul.
He likes to observe more than interact. He does like to cuddle on his terms.
He is into a routine, he gets up with me when I'm getting ready for work. And when I go to bed he lays at my feet for a while if I am still enough.
Memow's Favorite Toys, Foods, Activities?
Loves chasing laser pointers.
Since he is on a special diet, he scarfs down any treats you offer him.
He likes to sit on laps when he needs it, blanket recommended.
Cute Memow Story:
When I would come home to my apartment, he would be under a blanket on my bed.
I would say "I'm doing a bedbug search", and he would trill.
Then when I find him, he would trill, take a few pets and get back into his nest.
Why is Memow Being Rehomed?
I am a father of an 18 month old girl. And more and more I'm finding the cat is in my way when I am trying to care for my child.
It breaks my heart that he is being neglected, and I want him to find a home that can take the time he needs.
Memow's Perfect Adoptive Home Will Be:
They need to respect his space.
He does not exhibit most typical 'cat' behaviour.
With his heterochromia and being white, its common for those cats to be deaf.
He is not deaf, and may be sound sensitive.
Indoor cat his whole life. He fears doors that lead to the outside.
Only within the last 2 years he has had about 10 minutes on a patio. (2nd story balcony)
---
Memow – White Shorthair Cat For Adoption in Edmonton (Stony Plain) AB
Memow is a White Shorthair cat for adoption by owner in Edmonton (Stony Plain) AB. Memow is located close to the following towns and cities in AB, and can be adopted from anywhere within a reasonable distance.
Edmonton AB
Stony Plain AB
Adopt this deserving White Shorthair cat in Edmonton (Stony Plain) AB today.
In conclusion, Memow, a White Shorthair cat, is currently up for adoption in Edmonton (Stony Plain), AB. His location is accessible to a broad range of towns and cities within a reasonable distance in AB. This deserving cat is in need of a forever home, and those interested are encouraged to adopt him today.
Thanks for your interest in this White Shorthair Cat for Adoption in Edmonton.